The first estimate of Q4 GDP may have been a dud, with soaring imports resulting in a disappointing 2.6% annualized print, but that hasn't stopped the Atlanta Fed to unveil its most bullish GDP forecast in years: moments ago, the regional Fed revised its initial Q1 GDP nowcast estimate from 4.2% to a whopping 5.4% following today's strong ISM print.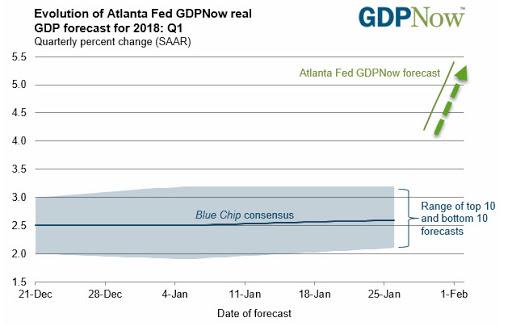 This would be the highest GDP forecast by the Atlanta Fed going back to Q1 2012: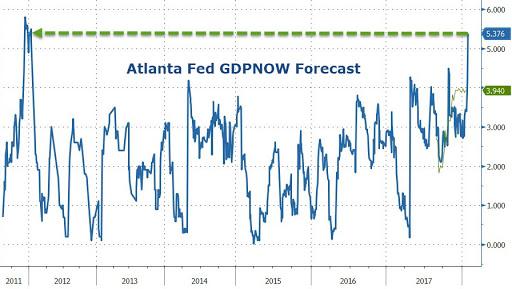 This is how the Fed justified its euphoria economic outlook:
The GDPNow model forecast for real GDP growth (seasonally adjusted annual rate) in the fourth quarter of 2017 is 5.4 percent on February 1, up from 4.2 percent on January 29. The forecast of real consumer spending growth increased from 3.1 percent to 4.0 percent after this morning's Manufacturing ISM Report On Business from the Institute for Supply Management, while the forecast of real private fixed-investment growth increased from 5.2 percent to 9.2 percent after the ISM report and this morning's construction spending release from the U.S. Census Bureau. The model's estimate of the dynamic factor for January—normalized to have mean 0 and standard deviation 1 and used to forecast the yet-to-be released monthly GDP source data—increased from 0.42 to 1.37 after the ISM report
Then again, the Atlanta Fed is best known for its initial high-balling of GDP estimates which then gradually fade as the quarter progresses and as real data replaces estimates from sentiment surveys such as the ISM.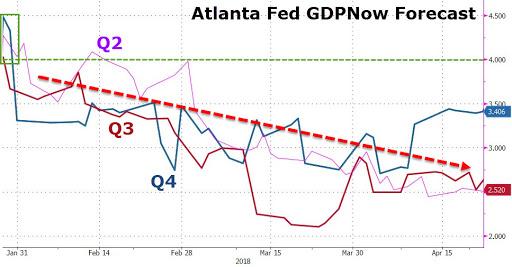 Finally, keep in mind that the blistering Q1 2012 GDP, which was also supposed to print north of 5% was eventually marked down to just 0.8%.