---
Cryptos Tumble After India Says It Will "Take All Measures To Eliminate" Their Use
India's government became the latest country to declare its opposition to bitcoin payments, saying it would do everything in its power to eliminate the use of cryptocurrencies.
"The government does not consider cryptocurrencies legal tender or coin and will take all measures to eliminate use of these crypto-assets in financing illegitimate activities or as part of the payment system," Finance Minister Arun Jaitley told lawmakers in New Delhi on Thursday. However, while blasting bitcoin, the Indian finmin announced that India would embrace blockchain "The government will explore use of blockchain technology proactively for ushering in digital economy."
The news sent the crypto space sliding, with Bitcoin now well below its recent support level around $10,000. Curiously, Ethereum has been largely spared the recent rout, and remains up +30% YTD, while Bitcoin is down -30% in 2018.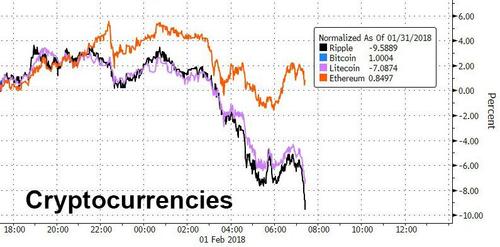 Since reaching a peak of almost $20,000 in early December after the introduction of futures contracts on regulated exchanges in the U.S., a series of negative news has buffeted Bitcoin and rival cryptocurrencies, with losses intensifying since the start of 2018. Bitcoin's January slide knocked $44.2 billion off the $200 billion in market value generated in all of 2017, the biggest one-month loss in dollar terms in the short history of digital assets according to Bloomberg.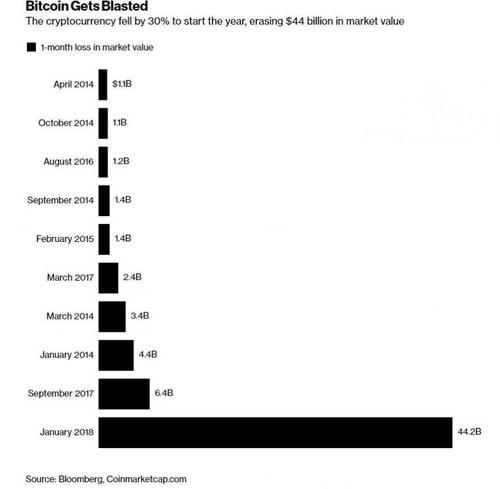 Having failed previously in the "control" of capital outflows via gold, the Indian government - following a Reserve Bank of India advisory - last month raided one bitcoin seller and issued a warning cautioning citizens against acquiring and trading virtual currencies. The scrutiny led to several exchanges in India to suspend operations amid fears they could violate anti-money laundering and financial terrorism laws. Indeed, as Bloomberg reports, India's income tax officials started investigating the exchanges for potential violations shortly after issuing the warning.
The federal government had also set up a panel to decide on India's stand on virtual currencies, people with knowledge of the matter said on Dec. 12.

The employees and owners of the country's crypto exchanges are, understandably, nervous.

"After today's announcement, people are getting scared," said Anshul Vashist, Delhi-based support manager at the cryptocurrency exchange Coinsecure. "We have seen some dumping of bitcoins." Coinsecure has a volume of about 100 coins a day, he said.
The announcement is the latest disappointing news to hit the price of bitcoin - which has dropped more than 50% in a little over a month - during one of the pioneering cryptocurrency's worst weeks in recent memory. It's latest leg lower began following reports that the CFTC subpoenaed Bitfinex - believed to be the world's most active bitcoin exchange - and Tether - a separate company that's run by the same people, stoking suspicions that the exchange could be hiding missing funds used to back a popular dollar-backed cryptocurrency called tether. On the other hand, concerns that South Korea - one of the world's biggest crypto markets - would shut down bitcoin trading were put to rest after the nation yesterday said it had no plans to pursue such a strategy, news of which catalyzed the first sharp move lower in cryptos.