Three attorneys representing Rick Gates have filed a motion to immediately withdraw as council for the former Donald Trump campaign aide, leaving recently hired white-collar attorney Tom Green - senior counsel with the Sidley Austin law firm.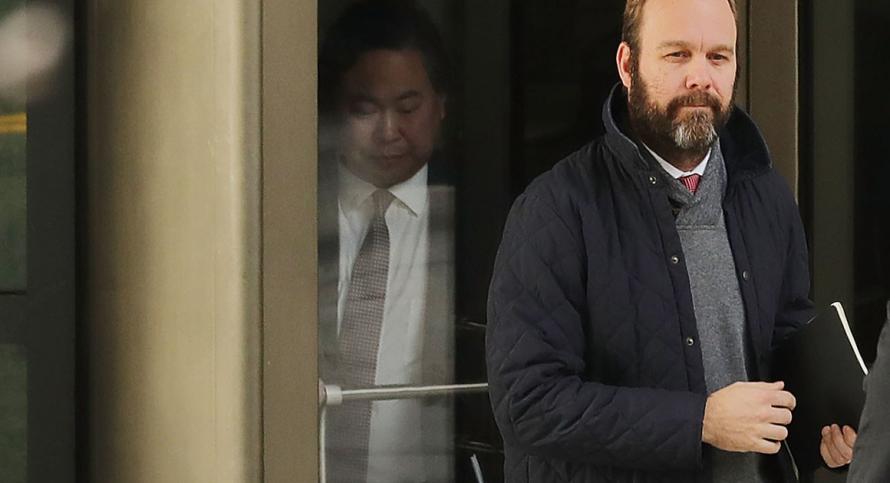 Three lawyers representing Trump associate Rick Gates in money-laundering case against him have asked to be dropped from the case. Meanwhile, Tom Green, a lawyer known for hammering out plea deals, stays on as counsel for Gates.

— Mike Levine (@MLevineReports) February 1, 2018
Green represented clients in the Watergate and Iran Contra scandals, and he has a long record of navigating complex white collar cases with legal and political elements. He most recently represented disgraced House Speaker Dennis Hastert. H/t @mattmosk

— Mike Levine (@MLevineReports) February 1, 2018
Rick Gates' lawyers are asking to withdraw immediately, per new filing — reasons aren't given in the public filing, they say they're in an exhibit "which is the
subject of a motion to be filed under seal" pic.twitter.com/ap3ywROzFB

— Zoe Tillman (@ZoeTillman) February 1, 2018
Green was quietly added to Gates' case last week, signaling a shift in strategy for the former Trump campaign aide who pleaded not guilty in October to eight counts of money laundering and failing to register foreign lobbying and other business.
Gates' longtime business partner, Paul Manafort, pleaded not guilty to nine counts in the same case. Manafort, Trump's short-lived campaign manager, was fired 48 hours after Donald Trump's first classified intelligence report which may have contained information regarding ongoing investigations.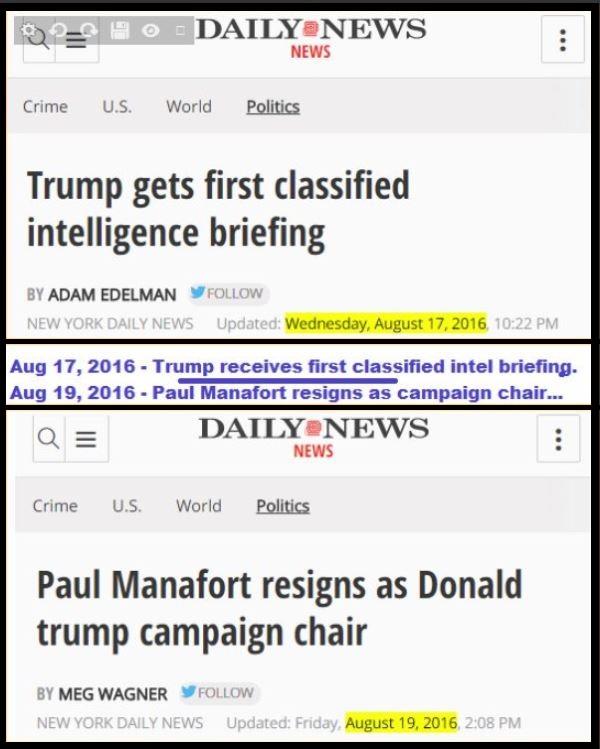 Following the motion to withdraw by lawyers Shanlon Wu, Walter Mack and Annemarie McAvoy, a team of Sidley Austin attorneys reportedly spent the afternoon inside Robert Mueller's office building - fueling specualtion that Gates may change his not-guilty plea as part of a plea bargain. 
BREAKING: Rick Gates' three attorneys who've been repping him in court withdrew from his case this afternoon.
AND THEN: A team of lawyers from Sidley Austin (which we connected to Gates last week) spent the afternoon inside Mueller's office building. https://t.co/jjTkZ6nLW9

— Katelyn Polantz (@kpolantz) February 1, 2018
An attorney briefed on the matter told ZeroHedge that Sidley Austin is "fairly anti-Trump liberal, but not as liberal as Perkins & Coie or Wilmer Hale in D.C." - the former of which was used by Hillary Clinton and the DNC to pay opposition research firm Fusion GPS for the infamous "Trump-Russia" dossier. 
Don't forget Podesta
While it appears that Gates may be negotiating some sort of deal with Mueller's team, it should be noted that the special counsel's probe reportedly set its sights on lobbyist Tony Podesta and his now-defunct firm, the Podesta Group, in connection with the Russia investigation, three sources told NBC News in late October 2017. Podesta left the Podesta Group shortly after Manafort's indictment. 
The firm, co-founded by Hillary Clinton's campaign manager John Podesta, was subpoenaed in late August along with three other public relations firms who worked with former Trump campaign manager Paul Manafort during a 2012-2014 lobbying effort for a pro-Ukraine think tank - the European Centre for a Modern Ukraine (ECMU) - tied to former Ukrainian president Viktor Yanukovych.
Yanukovych fled from Ukraine to Russia after he was unseated in a 2014 coup.
Two of the subpoenaed firms include Paul Manafort's Mercury, LLC and the Podesta Group, founded by John and Tony Podesta and operated by the latter.
Manafort's firm earned $17 million between 2012 – 2014 consulting for Yanukovych's centrist, pro-Russia 'Party of Regions.' During the same period, Manafort oversaw a lobbying campaign for the pro-Russia "Centre for a Modern Ukraine," a Brussels based think tank linked to Yanukovych which was pushing for Ukraine's entry into the European Union.
The Podesta group, operating under Manafort, earned over $1.2 million as part of that effort.
In a statement to NBC, a spokesman for the Podesta Group said the firm "is cooperating fully with the Special Counsel's office and has taken every possible step to provide documentation that confirms timely compliance. In all of our client engagements, the Podesta Group conducts due diligence and consults with appropriate legal experts to ensure compliance with disclosure regulations at all times — and we did so in this case."
Podesta Group and Russia
While Robert Mueller's investigation is primarily focused on the Trump campaign – having conducted a surprise raid on Paul Manafort's home in July, it will be interesting to see if the Special Counsel chooses to delve into the bevy of documented ties between the the Podesta brothers and Russia.
For example, Russia's Kremlin-owned Sberbank paid the Podesta group $170,000 over a 6 month period to lobby against 2014 economic sanctions by the Obama administration:
Podesta's efforts were a key part of under-the-radar lobbying during the 2016 U.S. presidential campaign led mainly by veteran Democratic strategists to remove sanctions against Sberbank and VTB Capital, Russia's second largest bank.

The two Russian banks spent more than $700,000 in 2016 on Washington lobbyists as they sought to end the U.S. sanctions, according to Senate lobbying disclosure forms and documents filed with the Department of Justice.

The Podesta Group charged Sberbank $20,000 per month, plus expenses, on a contract from March through September 2016. –Daily Caller
 In March of last year it was revealed that the Podesta group forgot to register as a "Foreign Agent" for their work with Sberbank.
Uranium One
The Podesta group also earned $180,000 lobbying for Russian-owned mining company Uranium One during the same period that the Clinton Foundation was receiving millions from UrAsia / U1 interests.
Last week, two bombshell reports published by The Hill revealed that the FBI - headed by Robert Mueller at the time - discovered that "Russian nuclear officials had routed millions of dollars to the U.S. designed to benefit former President Bill Clinton's charitable foundation during the time Secretary of State Hillary Clinton served on a government body that provided a favorable decision to Moscow" – a deal which would grant the Kremlin control over 20 percent of America's uranium supply, as detailed by author Peter Schweitzer's book Clinton Cash and the New York Times in 2015.
After Russia took control of the Uranium rights, the Podesta Group received $180,000 to lobby for Uranium One during the same period that the Clinton Foundation was receiving millions from U1 interests, and after Russia took majority ownership in the "20 percent" deal (source – you have to add up the years).
the Podesta Group received $180,000 to lobby for Uranium One during the same period that the Clinton Foundation was receiving millions from U1 interests, and after Russia took majority ownership in the "20 percent" deal (source – you have to add up the years).
Podesta Insider Spills
In October of last year, a former executive of the Podesta Group who has been extensively interviewed by Mueller's team, contacted Fox News host Tucker Carlson to reveal several key insights regarding Podesta and Manafort's operation.
Key highlights: 
Lobbyist and temporary Trump campaign manager Paul Manafort is at the center of the Russia probe - however the scope of the investigation has broadened to include his activities prior to the 2016 election.
Manafort worked with the Podesta Group since at least 2011 on behalf of Russian interests, and was at the Podesta Group offices "all the time, at least once a month," peddling Russian influence through a shell group called the European Centre for a Modern Ukraine (ECMU).
Manafort brought a "parade" of Russian oligarchs to congress for meetings with members and their staffs, however, the Russia's "central effort" was the Obama Administration.
In 2013, John Podesta recommended that Tony hire David Adams, Hillary Clinton's chief adviser at the State Department, giving them a "direct liaison" between the group's Russian clients and Hillary Clinton's State Department.
In late 2013 or early 2014, Tony Podesta and a representative for the Clinton Foundation met to discuss how to help Uranium One - the Russian owned company that controls 20 percent of American Uranium Production - and whose board members gave over $100 million to the Clinton Foundation.
"Tony Podesta was basically part of the Clinton Foundation."
Believing she would win the 2016 election, Russia considered the Podesta Group's connection to Hillary highly valuable.
Podesta Group is a nebulous organization with no board oversight and all financial decisions made by Tony Podesta. Carlson's source said payments and kickbacks could be hard for investigators to trace, describing it as a "highly secret treasure trove." One employee's only official job was to manage Tony Podesta's art collection, which could be used to conceal financial transactions.