2018 started off with a disappointment for the auto industry with total sales at 17.07mm SAAR (missing expectations and down from 17.76mm in Dec).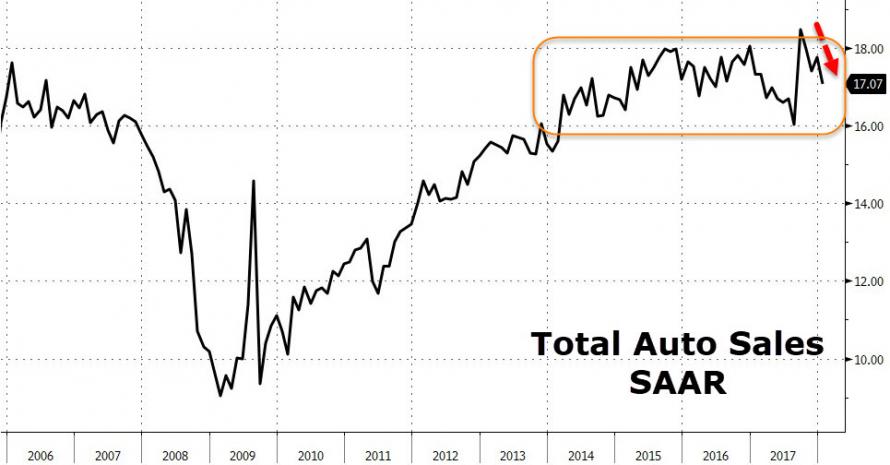 Domestic auto sales dropped notably to 13.10mm in January - that is the biggest Dec-to-Jan drop since 2010...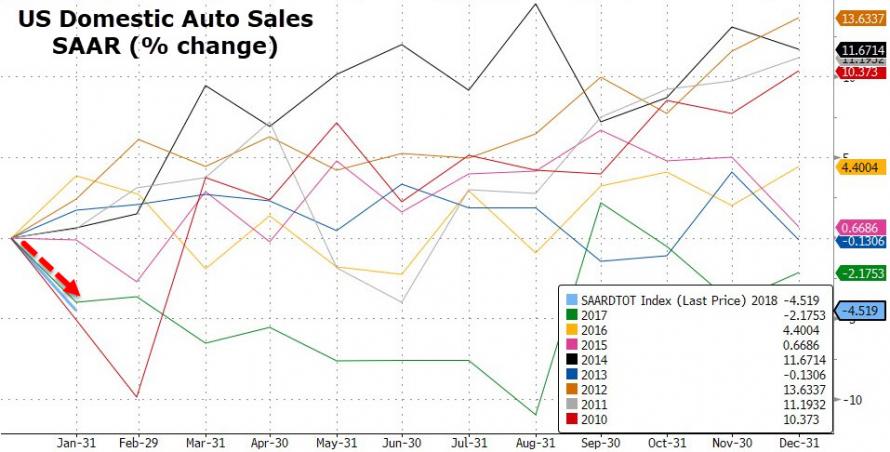 US automakers suffered the most (Ford sales -6.3%) but Japanese makers surged (Toyota, Nissan up double-figures).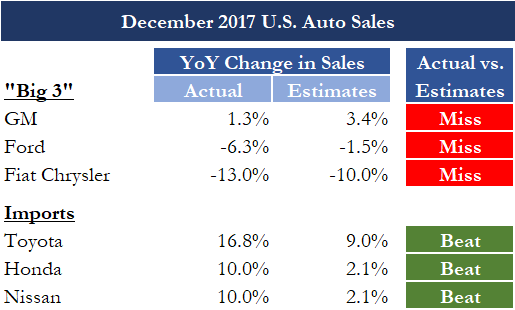 As Bloomberg reports, General Motors, Ford, and Fiat Chrysler all posted U.S. sales that fell short of analysts' estimates for last month, as demand plunged for domestic sedans including the Chevrolet Cruze and Ford Fusion. Toyota Motor, and Nissan Motor, meanwhile, boosted deliveries thanks to RAV4 and Rogue crossover models.
The Detroit Three are coming off the first annual sales drop in their home market since the recession and are having a harder time coping with consumers abandoning passenger cars. Some automakers also may have endured a bit of a hangover -- the industry ended 2017 with its best showings of the year, thanks in part to heavy discounting.
"This is a bumpier start to the year than we expected," Jeff Schuster, an analyst with LMC Automotive, said by phone. "Payback plays a role here after the robust fourth quarter of last year and the heightened level of incentives."
To be sure, January wasn't a slam dunk for the Japanese automakers. Honda reported a surprise decline. And Barclays Plc analysts who predicted the big jump for Toyota said in an email that the company boosted sales to fleets during the month.
About 29 percent of Nissan's U.S. deliveries were to fleet customers -- including its own dealers -- during the first 11 months of last year, according to Autotrader.
"It is safe to assume that Nissan will still rely heavily on rental sales to start 2018 to gain market share," said Zohaib Rahim, an analyst for the car-shopping website.
And there's a downside to automakers having managed to keep sales more or less steady: use of heavy discounts.
"In the face of very high consumer confidence, low interest rates, low gas prices, longer and longer loan terms, we're still seeing the pedal through the floorboards on incentives," said Mark Wakefield, head of the auto practice at consultant AlixPartners. "You're training consumers to look for the deal."