US Manufacturing, according to Markit, is at its strongest since March 2015 (as Services hits a 9-mo low) helped by strong new orders, employment, and output.
However, according to PMI, Manufacturing slipped to 59.1 with a tumble in New Orders.
Take your pick...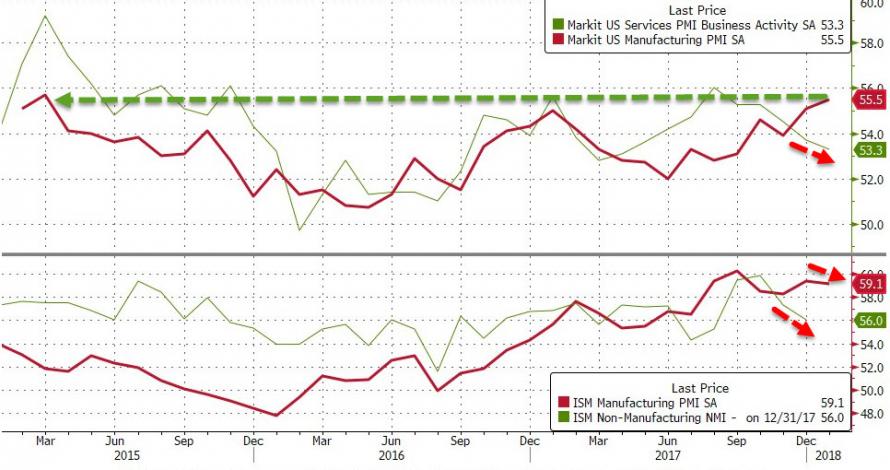 However, one small fly in the exuberant Markit PMI ointment is that for the thirteenth month running, vendor performance deteriorated as capacity pressures at suppliers led to longer lead times. Purchasing activity rose at the quickest rate since September 2014, stretching supply chains, and pre-production inventories accumulated at the fastest pace in twelve months.
Commenting on the exuberant final PMI data for January, Chris Williamson, Chief Business Economist at IHS Markit said:
"US manufacturing started 2018 in fine fettle, with the PMI up to its highest for over two-and-a-half years. Output growth accelerated in response to fuller order books, the latter buoyed by the twin drivers of robust domestic demand and rising exports.

"Factory payroll growth remained among the highest seen over the past three years, underscoring the bullish mood evident across the manufacturing sector.

"Pricing power is also returning as a result of strengthening demand, which should help bolster profit margins, but is likely to also feed through to higher consumer prices.

"The acceleration of manufacturing growth and upward price trends are grist to the mill for Fed hawks, adding to the likelihood of interest rates rising in March."
However, ISM completely disagreed with PMI, noting a big drop in new orders and employment...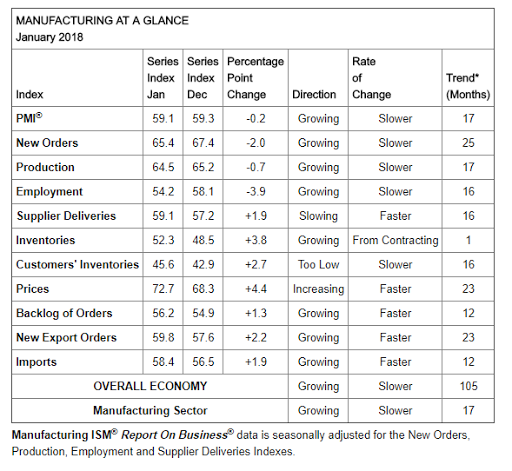 Not exactly what PMI suggested...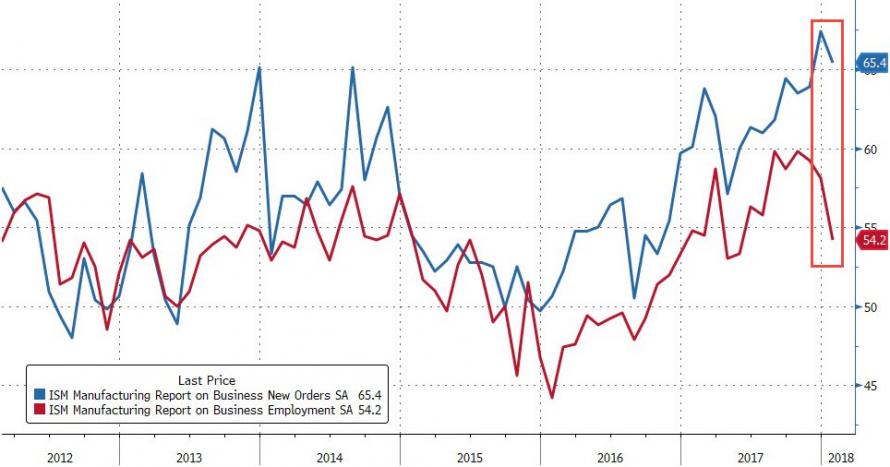 But still, for ISM, there was just one negative respondent out of nine...
"Sales nationally and internationally are strong in Q1. We are increasing our CapEx spend by 30 percent to 40 percent over [the] previous year." (Chemical Products)
"We have heard reports of additional business due to the recent reduction of tax rates." (Machinery)
"Business outlook is positive on all fronts right now with our customers. Budgets are being approved for new projects, and component prices from suppliers have temporarily stabilized." (Computer & Electronic Products)
"Our usual winter slowdown has not occurred, and we are very busy with new orders." (Furniture & Related Products)
"Slow start to 2018; pricing on metals is heading up and quotes/orders are picking up as well." (Fabricated Metal Products)
"Overall, business remains steady. With several key programs to begin ramping up in the industry, outlook looks good for calendar year 2018." (Transportation Equipment)
"Employment is very tight in our area." (Food, Beverage & Tobacco Products)
"Business continues to strengthen." (Paper Products)
"Business is starting the new year strong. Consumer confidence seems to be driving a lot of our customers' order requirements higher." (Plastics & Rubber Products)