Despite a roller-coaster dump-and-pump overnight, Apple stock is falling hard again today - along with many of the tech giants - and is now down over 10% from recent highs, entering a correction.
The latest leg comes after Moodys warned that Apple's plan to target net cash neutral is credit negative.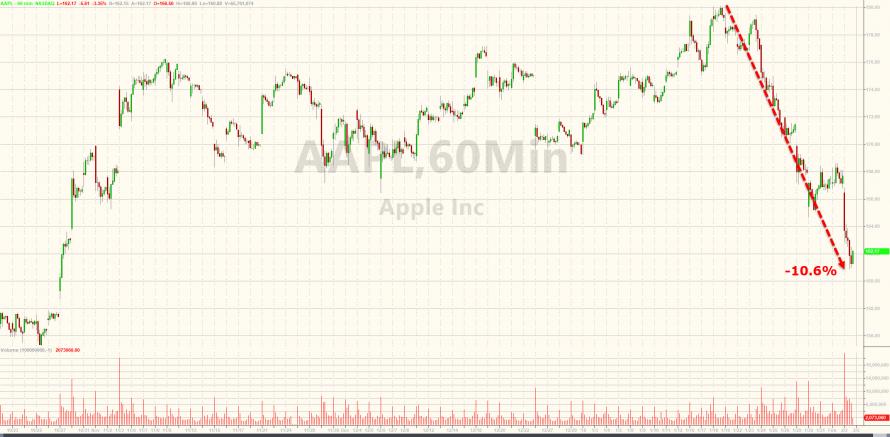 Full Moody's Statement:
Moody's Investors Service said Apple inc. indicated on its first quarter 2018 earnings call that it plans to become approximately net cash neutral over time. Though this change in financial policy is credit negative, the Aa1 senior unsecured rating and stable outlook remain unchanged. As of December 30, 2017, Apple holds a net cash position of $163 billion, comprised of $285 billion of cash and investments and $122 billion of debt. Management stated that it would provide specific capital allocation plans during its next earnings calls.

While the $163 billion reduction of cash and investment balances will represent a substantial weakening of its liquidity position, Moody's believes that Apple will remain well positioned in the Aa1 rating category given the enduring strength of the company's underlying business, including a large and global installed base of iPhones, tremendous customer loyalty, and our expectation of annual free cash flow of over $40 billion (after dividends). Even with a net debt balance of zero, Apple would have a robust financial profile with financial metrics that compare favorably with other highly rated companies.

As of December 30, 2017, adjusted debt to EBITDA was 1.6x, or just over 2x including the tax repatriation liability of $38 billion, which will be payable over 8 years. With tax reform, Apple will have greater flexibility to access its offshore cash flows. Accordingly, Moody's expects significant de-leveraging over the next several years as Apple will likely cease issuing debt to fund domestic capital allocation and repay maturing debt. Moody's expects healthy profit growth of at least high single digits over the next year spurred by the demand for the iPhone X, the momentum of the services business, and the return of growth in the greater China market. Within 2 years, Moody's would expect gross financial leverage to decrease to the low 1x range (or mid 1x including the tax liability, which will gradually decline with the required 8% annual payments for the first 5 out of 8 years).
It's not just Apple that is under pressure, Alphabet is getting hammered...