Update 1055ET: While it remains an ugly week...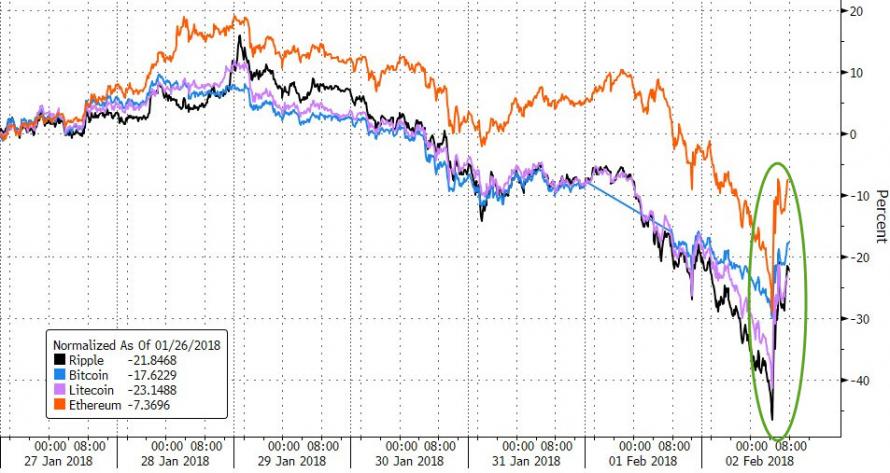 Cryptocurrencies have ripped back higher in the last 3 hours, smashing Bitcoin back up to unchanged on the day...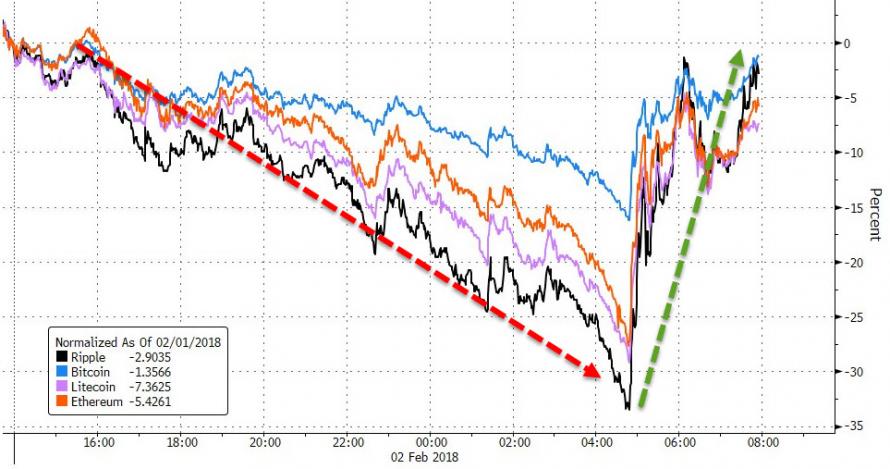 *  *  *
Update 0815ET: Just as we saw at yesterday's US stock market close, dip-buyers just stepped in to Bitcoin in a significant way, lifting the crypto currency over $1000 off the lows and back above $8000...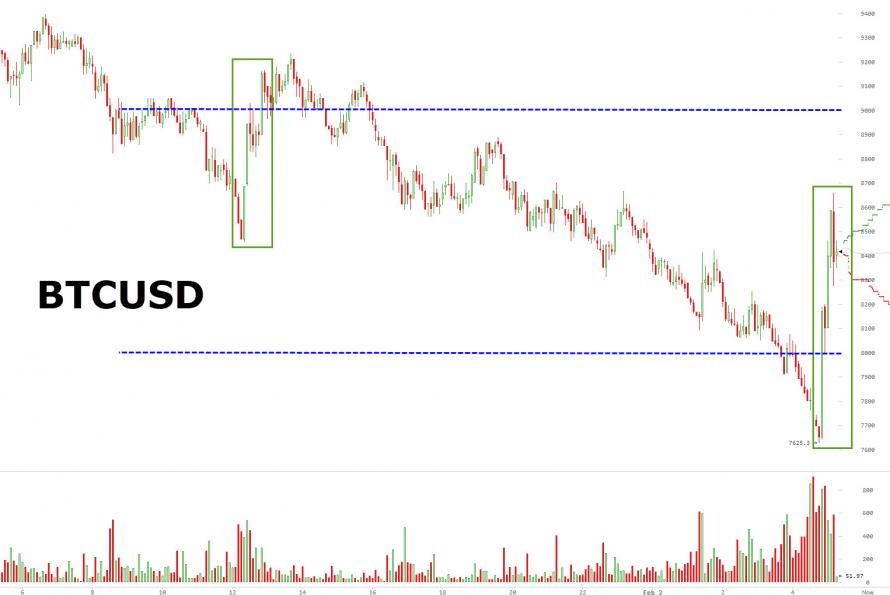 But the carnage remains... for now...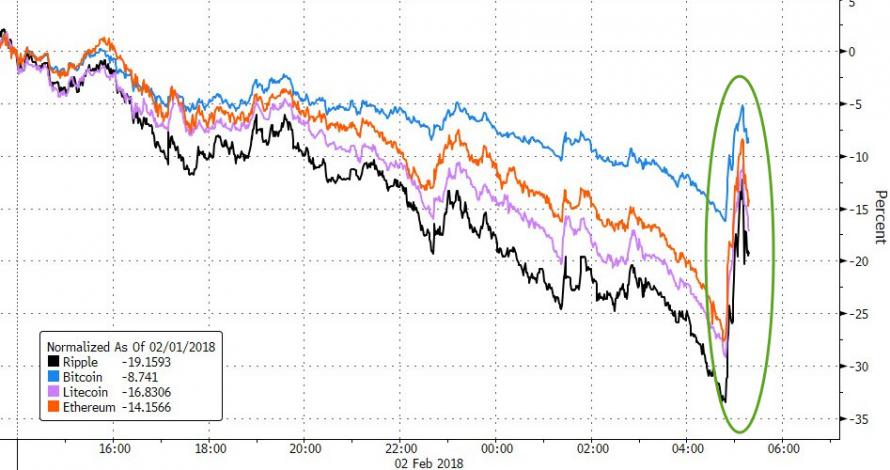 Notably, another exchange - BitMEX is down...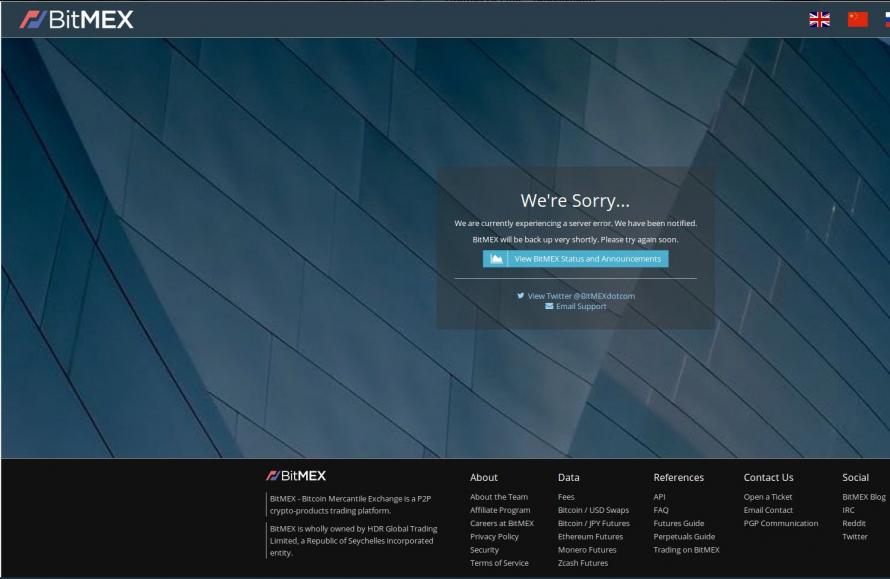 *  *  *
It seemed like just yesterday that every cryptocurrency bloodbath would be promptly bought, often sending the price of bitcoin and its peers to new record highs. Those days appear to be over, at least for now.
So far this year, cryptocurrencies have been beset with bad news: Bitfinex, by some accounts the world's largest exchange, was recently subpoenaed by the CFTC, along with Tether, a separate corporate entity that involves many of the same people from Bitfinex, as questions mount about the authenticity of its tether token. Tethers, which are widely used by crypto traders to quickly move in and out of different crypto pairs, are supposed to be backed by dollars, with one tether = one dollar. But Tether's decision to fire its auditor appears to validate the concerns of the exchange's critics.
Raising fears about another massive, Mt. Gox-like hack, Coincheck, a mid-sized Japanese exchange, reported this month that it suffered "the biggest crypto theft in its history" when hackers made off with $400 million worth of NEM tokens. On Friday, Bloomberg reported that Japan's Financial Services Agency raided Coincheck's offices a week after the hack, hauling out documents and computers as evidence.
The inspection was conducted to ensure security for users, Finance Minister Taro Aso said. On Friday morning, 10 FSA officials entered Coincheck's premises to gain a better understanding of how the exchange is operating in light of the regulator's business improvement order imposed earlier this week, an agency official told reporters in Tokyo. The exchange has until Feb. 13 to produce a report detailing the causes of the incident.
And as if the threat of cybertheft wasn't enough to scare off the marginal buyer, the threat of regulators trying to ban crypto - much like China did - has become a major concern. Regulators in India said explicitly declared yesterday that bitcoin is not legal tender and said it would take "all measures to eliminate their use," foreshadowing a coming crackdown in a market that many hoped would one day grow to one of bitcoin's largest. After a weekslong will-they-won't-they back and forth, South Korea's Ministry of Justice announced revealed that it had abandoned a proposal to ban crypto outright, but instead seek to regulate it, requiring exchanges to obtain details about customer identities.
After bitcoin's worst month in years, it dipped below $8,000 Friday morning in the US to levels it hasn't seen since November while Ethereum, Ripple and Litecoin all took double-digit beatings.
Meanwhile, as Bloomberg points out, bitcoin's rough month was even worse in South Korea. As of Friday morning ET, bitcoin has dropped more than 60% from its January high in Korea as South Korea struggles with how to prevent money laundering and tax evasion without throttling the ecosystem.
The selloff has many Korea traders fearing the worst.
"The bubble in cryptocurrencies has burst" in Korea, said Yeol-mae Kim, an analyst at Eugene Investment & Securities Co. in Seoul. Because of the intense demand from retail buyers, bitcoin trades at what's called "the kimchi premium" on SK exchanges. In January, the premium stretched to its widest level on record when bitcoin traded at $22,525 in Korea, $7,500 higher than the composite price at the time.