With positioning at extremes, and leverage at extremes, and valuations at extremes, Deutsche Bank's Binky Chadha raises the red flag as the correlation across asset-classes soars to record highs signaling extreme contagion risk.
Very strong momentum across asset classes has seen oil up, the dollar down, equities and bond yields up, with the average correlation between them rising to 90%.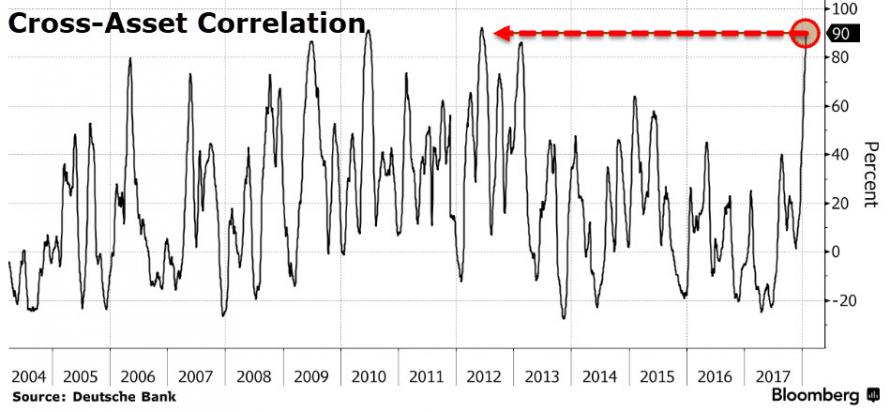 As Chadah conclude, whatever the fundamental case for each of the asset-class trades, extended positioning argues at a minimum for a breather and more likely a pullback soon.
Moreover, the tight correlation in the moves across the major asset classes (oil up, dollar down, equities and bond yields up) suggests a pullback in one for idiosyncratic reasons would likely spill over to the others.
So extended is the positioning that an unwind could occur even without a fundamental catalyst triggering a domino effect, says Chadha. To him, the dollar has "potentially the widest fundamental impact" across assets as its depreciation over the past year has helped support oil and equity prices while contributing to weak inflation that kept yields low.
But fixed income may represent the biggest risk as valuations are "completely out of line with growth" and reflect weak inflation, he said.