With attention firmly fixated on today's wage print, economists - not to mention the Trump administration - were delighted to see a 2.9% spike in average hourly earnings, the biggest jump since June 2009, suggesting inflation is about to make a roaring comeback, and prompted the likes of Bill Gross to predict that the 10Y would hit 3.0% in the very near future.
Well, not so fast, because as a closer look at the data reveals, the only reason why average hourly earnings rose, is because the total weekly hours worked posted a relatively steep decline, dropping from 34.5 in December to 34.3 in January, a 2.9% drop from the 34.4 last January.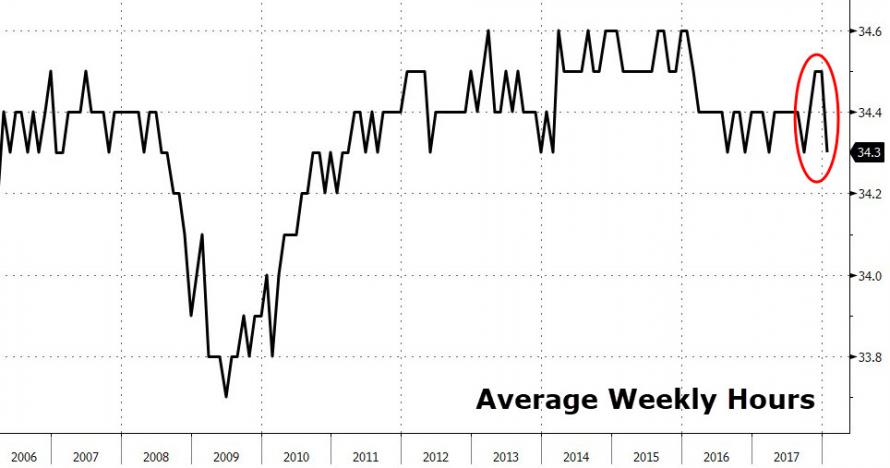 Meanwhile, average weekly earnings actually declined from December, dropping from $919.43 to $917.18 from December to January...
... which in turn meant no breakout in the average weekly earnings, which rose a far more modest 2.6%, and in fact declined from recent prints above 3.0%.
Finally, looking at the broadest segment of the labor force, the production and non-supervisory workers, average hourly earnings rose only 2.4%, indicating that the bulk of wage gains once again accrued to managers and supervisors.
So before dumping that 10Y or buying the dollar on the surge in "hourly" wages, maybe a question worth asking first is why did the average workweek decline by 2.9%, because if it had kept constantly, average hourly earnings would have barely increased, and the market's reaction would be vastly different.