Actress Rose McGowan helped kick off the #MeToo movement when she went on the record as one of the sources for the New York Times and New Yorker's stories about disgraced studio head Harvey Weinstein's decades-long history of sexual predation - she even foreshadowed the movement in a series of tweets sent in October 2016 insinuating that she had been assaulted by a powerful Hollywood executive.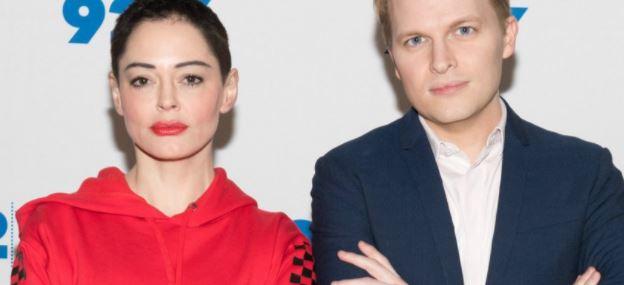 And now she's hinting about another bombshell revelation that might soon appear in the pages of the New Yorker. During a live discussion with Ronan Farrow - for whom McGowan served as a source - she hinted that a different Hollywood figure coerced her into having sex with him when she was just 15.
She declined to disclose his identity, but said he's "very famous."
Then Farrow brought up a new statutory rape claim, informing the audience that McGowan has also told him that she was assaulted by a "prominent" man in Hollywood long before Weinstein and when she was 15. Farrow says he knows the man's identity and asked McGowan if she was ready to come forward.

"In general? Sure," she said. "Right now at this moment? I've had a big day."

Adding that it's a "timing thing" in regards to being ready to identity the "very famous" man, McGowan explained that she actually hadn't realized that she had been molested until two weeks after Farrow's story first broke about Weinstein.

"This man picked me up when I was 15 years old," she said. "He took me home after he met me and he showed me a soft porn movie he had made for Showtime, under a different name. And then he had sex with me."

She said he left her standing on a street corner. "In my mind, playing it back, I had been attracted to him, so I always filed it away as a sexual experience." She then said to Farrow, "I don't have a normal trajectory, I don't know if you do either." The son of Woody Allen related to her, saying, "I do not."

McGowan said that until she started processing what had happened last fall, she always thought of the situation as, "That creep did this to a 15-year-old." Adding, "It was not until two weeks after your story broke — our story, our world's story — that I was in bed and I started saying, 'Oh my god. I think that's molestation.'"
McGowan, who recently published a book about her experiences being victimized by Weinstein and Hollywood more generally, said Weinstein is still going after her even though he's been stripped of his industry cache - not to mention that many expect he will be left bankrupt by a fusillade of lawsuits. She's also appearing in a docu-series called Citizen Rose.
As has now been reported by Farrow, and discussed by McGowan in Citizen Rose, Weinstein had hired private investigators to discredit his accusers and journalists attempting to report the story. Now, months after McGowan broke her silence to go public about Weinstein, the actress claims Weinstein is still "going after her." She said someone was recently offered a significant sum to tell the press what hotel room she was staying in, and that an altercation during her New York City book signing the night before was due to a "paid plant" in the audience sent there to engage in a screaming match.

"Who else cares? Who else is going to stalk me?" she asked. In response, Farrow said he could not comment about "ongoing" reporting.
Given the details about Weinstein's efforts to silence women who've threatened to speak out about their abuse at his hands - efforts that included hiring a private security firm staffed with ex-Mossad agents to harass her - no claim is too strange to be believed.