Mortgage lending has long been a "bread and butter" business for Wells Fargo, Warren Buffett's favorite bank. But between the months of September and December - while the bank's PR department was busy fending off another incipient scandal - demand for the bank's loans declined to its weakest level since the financial crisis. While we initially pegged this as a sign that the average US consumer can't afford to take out a loan with interest rates just 1% higher.
But as the CEO of Quicken Loans revealed today during a conversation with Crain's Detroit Business, another factor might also be at play.
Sales figures released by Quicken show that it surpassed Wells Fargo in volume of mortgage originations during the fourth quarter of 2017, bolstering the lender's claim that it is a viable alternative to the banks that have traditionally dominated the business (and also leveraged it to blow up the US economy a decade ago).
Quicken revealed that it originated $25 billion in home loans during the quarter, compared with Wells Fargo's $23 billion in home mortgages. Wells is the country's leading bank in home mortgages; Bank of America and JP Morgan Chase & Co. reported $13 billion and $11 billion that quarter, respectively. 
"I don't think we set out to close $25 billion - we just set out to do what we always do, which is take care of our clients and take care of our team members," Quicken Loans CEO Jay Farner said Thursday in an interview with Crain's.
Still, Farner disclosed that Wells' $114 billion in loans for 2017 surpassed the Quickens' full-year total. Quicken, which was founded by billionaire Dan Gilbert, is privately held, and doesn't disclose its annual earnings.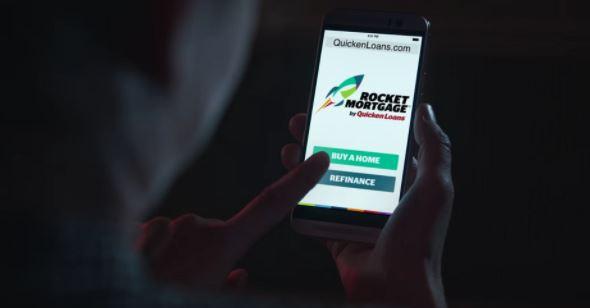 Per Crain's, Quicken has become an increasingly nettlesome challenger for industry leader Wells and other home-mortgage lenders, thanks to the company's primary innovation: Rocket Mortgage - its online loan application system. The business has swelled thanks to a savvy marketing that has featured high-profile Superbowl adds. The company is planning to air a new spot during Sunday's championship game between Atlanta and the Patriots.
In 2017, Quicken Loans began shifting to marketing what its CEO calls the Rocket Mortgage "experience" instead of the Quicken Loans brand in its advertising.

"I think you'll see it more and more, because it's the way we talk about this innovation in this space," Farner said of using the Rocket Mortgage brand in company advertising. "The Quicken brand is a foundational brand."

The new Super Bowl ad will be used to launch an advertising campaign that "will continue through the greater part of 2018," Farner said.
While Quicken's performance is admirable, the real story here, of course, is Wells' fluctuating position within the home loan market. Banks are increasingly finding it difficult to keep up with the "FinTech revolution" that has spurred other online lending platforms like SoFi and Lending Tree.
And judging by the nominal value of loans in Wells' all-important loan origination pipeline, there's reason to believe that the slump in loan originations isn't over.
The lagging mortgage originations number, which usually trails the pipeline by 3-4 quarters, was nearly as bad, plunging 39% sequentially from $72 billion to only $44 billion, "due to higher rates and seasonality." Since this number lags the mortgage applications, we expect it to post fresh post-crisis lows in the coming quarter.