The legalization of US oil exports may have "changed the game" for global oil prices - especially WTI - but that doesn't mean old pricing models like the inverse correlation between inventories and prices no longer apply.
At least that's what Art Berman, a petroleum geologist and the featured guest on this week's episode of MacroVoices, told host Erik Townsend back in October during a previous appearance on the program. Berman argued this to justify his bet that oil prices would continue to head higher while causing the spread between WTI and Brent to compress.
And as it turns out, Berman had it right: WTI climbed above $70 for the first time in three years last month, the strongest signal yet that the bear market in oil that's contributed to a string of bankruptcies in the oil patch and a devastating economic crisis in Venezuela is finally over, and that the long-anticipated "rebalancing" of inventories and prices has begun.
For Berman believes that, even though the price of oil has nearly doubled since June, the commodity has a long way to climb as accelerating economic growth and coordinated production cuts more than offset the impact of US exports and the booming shale industry in the US and Canada.
Berman explains, using slides from his latest chart deck, how OPEC's response to the growing threat from the North American shale industry has been the dominating factor in energy markets since 2014. By reducing production, OPEC has shifted the WTI futures curve from Contango to Backwardation - a strong signal that prices will continue higher.
But, as with many things that we've seen in this market since prices collapsed three years ago, the rules are different this time. And when we've seen long positions so outnumber the shorts in the past couple of years, it always leads to a correction. I think the reason for that is that those were periods of sentiment-based excursion from the yield curve.
Still, Berman admits that speculation ultimately is the guiding force for oil markets, and that the record net long positioning in WTI futures could trigger a sharp correction if something triggers a vicious short squeeze. Right now, WTI longs outnumber shorts 12:1.
...As with many things that we've seen in this market since prices collapsed three years ago, the rules are different this time. And when we've seen long positions so outnumber the shorts in the past couple of years, it always leads to a correction. I think the reason for that is that those were periods of sentiment-based excursion from the yield curve.

And I recognize that as such. Mike Bodell, who developed this approach, recognized it as such. So the correction was back to what the fundamentals suggested. Don't get me wrong, I'm not one of these total technical geeks who thinks that fundamentals rule the market. They don't. It's a speculative market. But eventually things have to regress to the norm based on fundamentals. And it can go on for a while. So what the fundamentals tell me, Erik, is that we are increasing in price for completely rational reasons as opposed to the excursions in early 2017 when it was an expectation of OPEC cuts. Or in early 2015 when it was expectation that happy days are here again and the oil price collapse wasn't real.

And so we're looking at a very strong and lengthy trend that's been going on since February – almost a year now. And until I see enough data points that say we're flattening or heading in the other direction, I'm saying this is the trend we're on.
As Berman explains, according to his model, prices are nearing their five year average. His models says WTI should hit between $70 and $75 if inventories fall another 10 million barrels. The series of drawdowns in the US - including a massive 11.19 million barrel crude drawdown last month that registered as the biggest drop since September 2016 - though there's definitely a limit to how much US exports will contribute to this trend.
As Townsend explains, Berman has an idiosyncratic approach to his pricing model for crude. Instead of using the EIA inventories data, he compares it to the same week from last year and works out a seasonally adjusted figure that gets plugged into his pricing model. His model shows US inventories have receded back to their five-year average.
In a slide deck created by Berman last week, the analyst illustrates how OPEC cuts have been chiefly responsible for the climb in prices to their recent highs.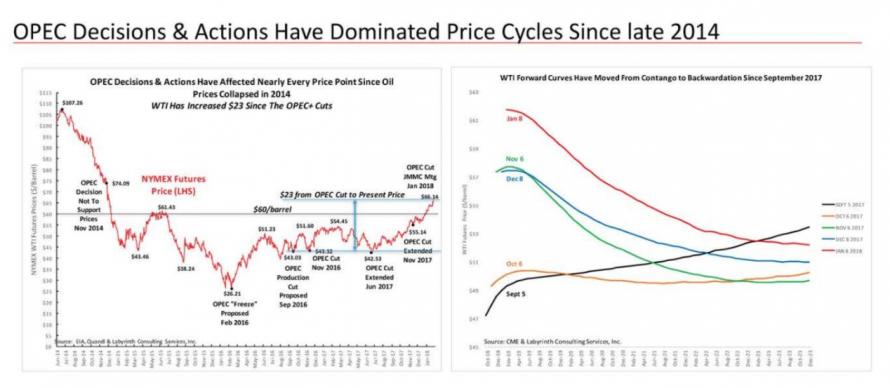 The chart shows the whole arc of OPEC's response to the plunge in prices, from August 2016 when it first floated the idea of cuts, to November of that year when they first implemented them, and beyond. One sign of the cuts' success is the shift in the forward curve toward backwardation, which incentivizes the drawdown of inventories.
If we look at the slide, I've got two light blue lines there and it goes through the history of OPEC getting proactive beginning back in late August–September of 2016 when they first floated the idea of a production cut (as opposed to a freeze, which they had talked about for
much of that year).

And, of course, then they actually did institute the cut in November of '16. They extended the
cut in June of '17.

If you put a line through all those, that's $43 a barrel more or less, WTI. And you look at where we are right now, or where we were a day or two ago when I made this chart, we were at about $66. That's $23. So do I want to attribute all of that $23 or so per barrel rise to OPEC? Yeah, I kind of do. It's got to do with taking an awful lot of oil off the market. And there's a slide that we can discuss that in more detail later on. But remember what the intent was of these cuts. The intent was to get inventory back to the five-year average. And the way you do that is to force the forward curve from contango, where the future price is greater than the spot price, into backwardation, where the spot price is greater than the future price, so that there is incentive to move oil out of storage.

And the graph on the right shows kind of a monthly progression from September through January. And we see September was clearly a contango term structure. October was – I'm not sure what it was. Maybe very, very slightly backwardation. By the time we got to November, December, January, unquestionable backwardation.
Next, Berman and Townsend delve into one of the most persuasive "conspiracy theories" circulating among commodity traders: That OPEC is deliberately trying to depress prices a few years out on the curve to make it more expensive for shale producers to hedge.
As Berman points out, it's a complicated question: Nobody outside of the cartel's leadership knows what it's strategy is. But judging by the impact that the cuts have had on inventories and prices, it's not an unreasonable suggestion. Of course, given that US production soared 10% last year, this strategy hasn't been quite as successful lately - though it's not the first time OPEC has been suspected of deliberately engineering policy to kneecap one of its most formidable rivals.
QUOTE
But I've contended all along that the narrative about a price war between Saudi Arabia and some of their OPEC members versus US shale is largely – it's an American invention. It's a hubris-based model that says we're so great that they're waging war on us.

I think the truth is, probably, they chose not to control prices back in late 2014 because they didn't want to repeat the mistake they felt they'd made back in 1982 – which was to take a tremendous amount of oil off the market and lose a huge amount of revenue – and not influence prices at all. I think that the OPEC oil minister at the time said, "I'm never making that mistake again." Of course, he wasn't actually the minister who made the mistake. So, yeah, there may be an element of that. But I think it's much more of a profit motive on their part. That if we can turn this thing around by withholding a relatively small amount of production for a relatively short amount of time, we're money ahead.

The other point of argument, I suppose, is Rystad Energy just published a chart yesterday, or this week anyway, showing the hedged positions of all the major US shale players. Of course they go from completely unhedged – some of the majors Anadarko (not a major but a big company) – to Pioneer – I don't remember the percentage but it's at least 75% hedged.
While Berman declined to speculate about the cause of last week's plunge in the premium between WTI and Brent.

Before that, the spread had widened dramatically, something Berman attributes to US exporters undercutting international competition by selling their oil at a discount, because they're still earning more than they would've in the US.
We're looking at the difference between the price of international oil or Brent and WTI or the Brent/WTI spread, and weekly crude oil exports that are now legal from the United States. And what we see pretty clearly there is that the increase from about 8 or 9 hundred thousand barrels a day clear up to 2 million barrels a day of exports coincides perfectly with the widening of that Brent/WTI spread.

And the reasons are very simple. It's an arbitrage issue. It shows there that the maximum was $7.24. If I can get $5 or $6 – even more – by selling the oil internationally than I can domestically, then I can afford to discount my price by a couple of dollars so that foreign customers have incentive to buy my oil as opposed to what amounts to higher-priced oil from someone else. And I'm still making more money than if I sold it here in the United States.

So arbitrage has been key. Now this graph is a week old, and that Brent/WTI spread has plummeted in the last week. It's gone down to about $2.50 or $2.75 just this week.
So, what drove the drop in Brent that resulted in the spread compression this past week? It's difficult to say, but Berman believes a new pipeline carrying light crude from Bakken directly to a large refinery in Tennessee, juicing the US export market and luring more buyers away from US producers' rivals.
But like many things in the oil market, Berman says the future of the still nascent market for US oil exports will play a limited, but still important role in both international and domestic prices. These issues will likely play out over the coming years as prices continue to climb.
Listen to the whole interview below: