Top House Judiciary Committee Democrat Jerry Nadler (D-NY) has circulated talking points to refute the four-page FISA memo created by GOP staffers for House Intel Committee Chairman Devin Nunes (R-CA), detailing abuses of US surveillance capabilities against the Trump campaign.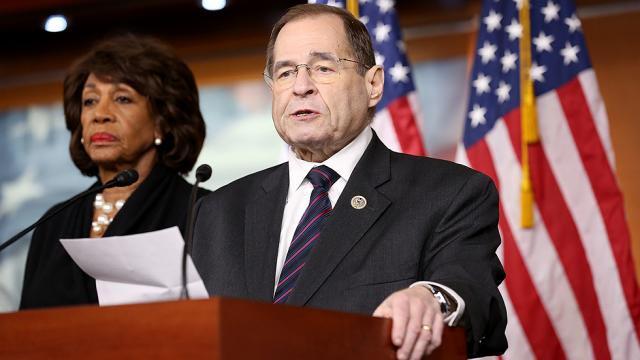 Maxine Waters (D-CA), Jerry Nadler (D-NY)
Nadler's talking points - which are separate from the official response by House Intel Committee Democrats - call the GOP-authored memo "deeply misleading," according to Bloomberg, and claims that Republicans are now "part and parcel to an organized effort to obstruct" Special Counsel Robert Mueller's investigation into Russian interference in the 2016 election. 
"Until now, we could only really accuse House Republicans of ignoring the President's open attempts to block the Russia investigation," Democratic members of the House Judiciary Committee said in the four-page letter released on Saturday. The document provided a point-by-point rebuttal to the Republican memo alleging bias in Mueller's probe of possible links between Russia and Trump's campaign, according to Bloomberg's summary.
"With the release of the Nunes memo -- a backhanded attempt to cast doubt on the origins of the Special Counsel's investigation -- we can only conclude that House Republicans are complicit in the effort to help the President avoid accountability for his actions and for the actions of his campaign," reads the talking points.
The "Nunes memo," as Democrats call it, claims that the FBI obtained a FISA warrant against one-time low-level Trump advisor, Carter Page.
"Carter Page was, more likely than not, an agent of a foreign power. The Department of Justice thought so. A federal judge agreed. The consensus, supported by the facts, forms the basis of the warrant issued," Nadler writes in the rebuttal. 
Meanwhile, President Trump tweeted on Saturday morning that the FISA memo had "totally vindicated" him - despite the "Russian Witch Hunt" continuing. 
This memo totally vindicates "Trump" in probe. But the Russian Witch Hunt goes on and on. Their was no Collusion and there was no Obstruction (the word now used because, after one year of looking endlessly and finding NOTHING, collusion is dead). This is an American disgrace!

— Donald J. Trump (@realDonaldTrump) February 3, 2018
Trump then quotes a Wall Street Journal article which says "the FBI became a tool of anti-Trump political actors. 
"The four page memo released Friday reports the disturbing fact about how the FBI and FISA appear to have been used to influence the 2016 election and its aftermath....The FBI failed to inform the FISA court that the Clinton campaign had funded the dossier....the FBI became....

— Donald J. Trump (@realDonaldTrump) February 4, 2018
...a tool of anti-Trump political actors. This is unacceptable in a democracy and ought to alarm anyone who wants the FBI to be a nonpartisan enforcer of the law....The FBI wasn't straight with Congress, as it hid most of these facts from investigators." Wall Street Journal

— Donald J. Trump (@realDonaldTrump) February 4, 2018
Ranking House Democrat Adam Schiff (CA) disagreed, tweeting "quite the opposite, Mr. President." 
Quite the opposite, Mr. President. The most important fact disclosed in this otherwise shoddy memo was that FBI investigation began July 2016 with your advisor, Papadopoulos, who was secretly discussing stolen Clinton emails with the Russians. https://t.co/2rGOE1jGg2

— Adam Schiff (@RepAdamSchiff) February 3, 2018
According to the New York Times, the FBI investigation into Russian collusion began after drunken Trump campaign volunteer, George Papadopoulos, reportedly told Australian diplomat Alexander Downer at a London bar in May, 2016 that "Russia had political dirt on Hillary Clinton." When DNC emails began to leak, Australia apparently contacted US intelligence to report the drunken admission by Papadopoulos – igniting the Russia probe.
WASHINGTON — During a night of heavy drinking at an upscale London bar in May 2016, George Papadopoulos, a young foreign policy adviser to the Trump campaign, made a startling revelation to Australia's top diplomat in Britain: Russia had political dirt on Hillary Clinton.

About three weeks earlier, Mr. Papadopoulos had been told that Moscow had thousands of emails that would embarrass Mrs. Clinton, apparently stolen in an effort to try to damage her campaign.

Exactly how much Mr. Papadopoulos said that night at the Kensington Wine Rooms with the Australian, Alexander Downer, is unclear. But two months later, when leaked Democratic emails began appearing online, Australian officials passed the information about Mr. Papadopoulos to their American counterparts, according to four current and former American and foreign officials with direct knowledge of the Australians' role. -NYT
This is in stark contrast to GOP leaders who say that the salacious and unverified 34-page opposition research dossier triggered the probe. 
For the New York Times – much like CNN's botched "Bombshell" report from a few weeks ago that Donald Trump Jr. was told about the WikiLeaks emails before their release, only to issue a major correction because Trump Jr. was told after they were made public (by a random person), this "startling revelation" by the NYT that Papadopoulos spilled the beans about Russia having dirt on Clinton was already public information.
The Washington Examiner's Byron York tore into the NYT report:
NYT reports George Papadopoulos was a 'driving factor' that led FBI to start Trump-Russia probe in July 2016. Dossier played no role. 1/4 https://t.co/ryMPMDEU8r

— Byron York (@ByronYork) December 30, 2017
So: 1) If Papadopoulos actions drove FBI probe, why wait til nearly Feb 2017 to interview him? If done to keep probe quiet before election, why wait more than two months after vote? 2/4

— Byron York (@ByronYork) December 30, 2017
2) When did officials brief Congress about Papadopoulos? They briefed Congress about Carter Page in late summer 2016. 3/4

— Byron York (@ByronYork) December 30, 2017
3) Did officials seek a surveillance warrant on Papadopoulos? They reportedly got one on Carter Page in summer 2016. Did they try to get one on Papadopoulos? If not, why not? 4/4

— Byron York (@ByronYork) December 30, 2017
Some have suggested that Trump is now contemplating firing Rosenstein while give Mueller 30 days to present all evidence gathered thus far before shutting down his probe, although that move is sure to be met with renewed claims by Democrats that Trump will launch a constitutional crisis should he interfere in the probe in any way.
Read the Democrat talking points here: