What is true for Apple is apparently true for the rest of the smartphone industry: Sales are falling as users opt to hold on to their old phones longer, presenting a challenge for the pattern of near-constant innovation that has seen Apple and its rivals produce new models every year.
According to the Guardian, the rising cost of new phones as Samsung and others join Apple in pushing the top end of the market to higher prices appears to be hurting overall sales - though total sales figures have been insulated by the higher cost of each individual unit sold. Data from Strategy Analytics shows global smartphone shipments shrank year-on-year from 438.7 million to 400.2 million in the fourth quarter of 2017 - a 9% drop. That's the biggest drop on record. According to the SA data, even iPhone sales declined by 1%.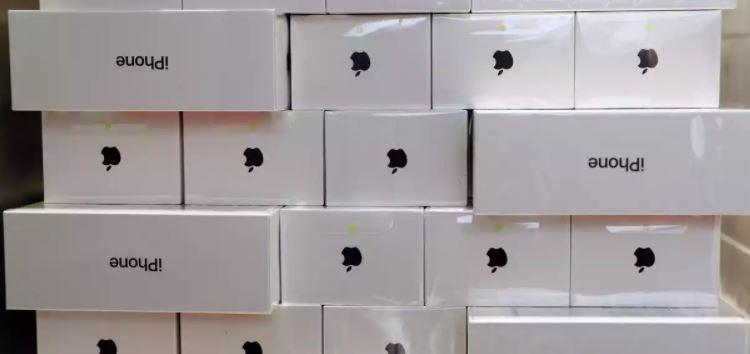 Linda Sui, director at Strategy Analytics, said: "It was the biggest annual fall in smartphone history. The shrinkage in global smartphone shipments was caused by a collapse in the huge China market, where demand fell 16% annually due to longer replacement rates, fewer operator subsidies and a general lack of 'wow models'."
Two weeks ago, JP Morgan analyst Narci Chang surprised the market by forecasting production of Apple's flagship phone would plunge of 50% Q/Q, "even larger than the decline of the iPhone 8/8+" and noted that the "weakness will continue in 1H18 as high-end smartphones are clearly hitting a plateau this year."
Last week, Chang was proven right when JPM's worst case outlook was confirmed by a report in Nikkei saying Apple will halve its iPhone X production target for the three-month period beginning in January from over 40 million units envisaged at the time of its release in November.
Still, in its earnings report last week, Apple managed to post record results, even with 1.3% fewers iPhone sold. Smartphone revenue rose 13% Y/Y to a record $61.58 billion due to the higher average price, even as total iPhone sales declined.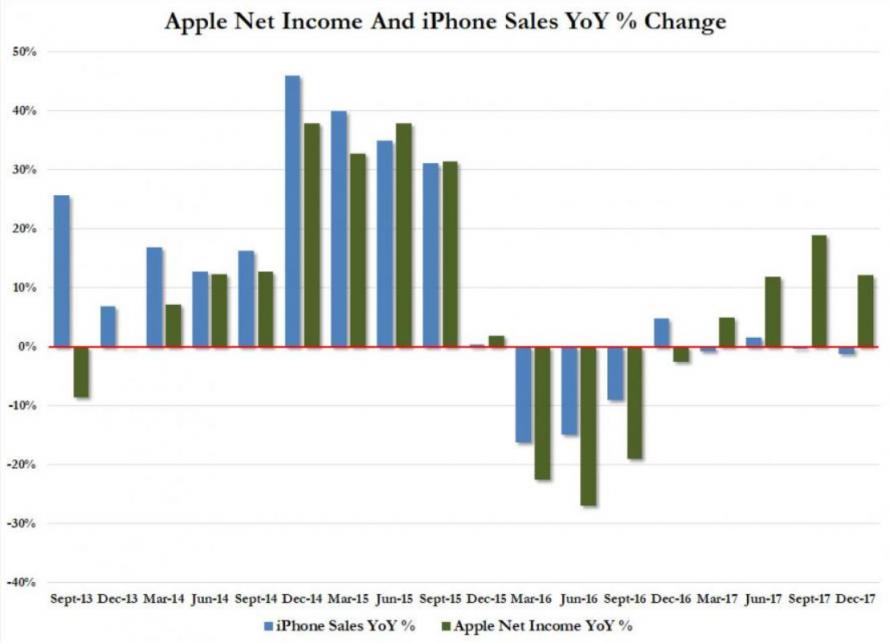 According to the Guardian, another reason for the drop in sales is that big leaps in smartphone features, such as ever better cameras, are now in the past. While the iPhone X adopted the market trend of all-screen designs that had been a hallmark of Samsung's phones, incremental increases in AI tech will likely dominate over the coming years, making new models less compelling.
"We're getting to the point where photo quality is already so good that the focus is turning to the smarts that you build beyond that," Google's vice president product manager Mario Queiroz, said last year.
As another analyst pointed out, iPhone sales volumes have been declining for more than a year.
"Global iPhone volumes have actually declined on an annual basis for five of the past eight quarters," said Neil Mawston, executive director at Strategy Analytics. "If Apple wants to expand shipment volumes in the future, it will need to launch a new wave of cheaper iPhones and start to push down, not up, the pricing curve."
Despite the shrinkage in the last quarter, the entire market crossed 1.5 billion smartphones shipped for the first time in 2017, up 1.3%.
But it is a far cry from the year-on-year increase of 158 million and 12.3% in 2015 and smaller still than the 48 million and 3.3% increase in 2016, as developed nations hit saturation point and first time buyers become upgraders, a much harder sell.