Something strange is going on in the market according to DB's cross-asset desk, and it could be a recipe for disaster if current trends do not change.
First, recall from our Saturday note  that even as Goldman's clients are getting more worried that today's market increasingly resembles that of 1987, they have extended their net long equity exposure to previously unseen levels, and as of February 1, equity futures positions were at record highs...
... which is understandable when one considers that trader sentiment as calculated by Goldman's proprietary model remains at 100, or the highest possible level, coupled with what until recently seemed unstoppable upward momentum.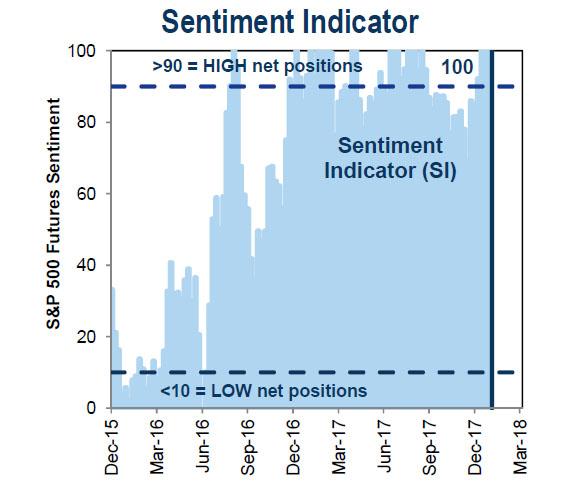 Yet where things get troubling, is when looking at the bond (and interest rate) side of things, where as Deutsche Bank shows, positioning is likewise stretched to unprecedented levels.
First, consider that total net specs across the entire rate space, including Eurodollar and Treasury futures are back to all time lows (i.e. shorts).
However, where the trader short bias is especially pronounced, is at both the short-end, i.e. the 2Y treasury, where net specs just hit a new record net short, as well as the other end, or the Ultra-Long futures, where net specs also just hit an all time low (i.e. short) position.
To be sure, the sharp spike in net shorts on the, well, short-end is something we cautioned two weeks ago, when we discussed that according to Bank of America, "Momentum Traders Wreak Havoc For 2Y Treasurys, Could Unleash Sharp Bond Liquidation."
Since then, the combination of pro-inflationary economic data, coupled with the ever greater pile-on of CTAs and other momentum traders adding to their short exposure at the 2Y spot of the curve, has ignited a broad treasury selloff not only across the entire US curve, but in Asia (where the BOJ was forced to intervene twice last week to prevent a yield spike), as well as Europe, where Bund yields spike to levels last seen during the 2015 Tantrum.
The obvious problem as anyone who observed last week's market action, is that the selloff in Treasurys was finally noticed by equities (see "How Long Before The Bond Selloff Slams Stocks? Wall Street Answers"), prompting a slew of post-hoc articles by Bloomberg this weekend, such as this one...
For almost a decade, investors have waited patiently for any hint of inflation in the U.S. economy, a sign the recovery can sustain itself without emergency stimulus from the Federal Reserve. Now they're getting it, and many are shocked at the reaction.
... trying to predict what trader reaction will be to the biggest weekly selloff since January 2016:
Accounts of how concerned investors should be ran the gamut, from confidence traders will rush in and buy the dip, to warnings this time is different -- that selloffs that begin in the bond market have a habit of snowballing.
The best part were the trader quotes, such as this one:
"It is now signaling, potentially, the end of this eight-year bull rally," said Rich Weiss of American Century Investments. "The Fed is going to have to move the interest rates, the bond market is recognizing that this incremental economic growth will spur on inflation from various sources."
And this:
"It's kind of a strange time and we seem to be driven by a fear of what everyone wants, and that's higher rates," said Joe "JJ" Kinahan, the chief market strategist at TD Ameritrade. "Higher rates confirm a stronger economy, and the market was very afraid of that all week long. And that's been a big reason for selling."
And, of course, the "bag of donuts" bet:
"'I'll bet you a bag of donuts that by Wednesday or Thursday of next week the equity market starts finding its footing against the backdrop of more stable bond yields," Purves said. "And then, like any bottoming process, the market tests it and tests it again and then all of a sudden, boom, new buyers come in."
But while everyone may have an opinion on what happens next, the reality is that nobody really knows with record positioning in both long equities and short treasuries which one snaps first as one of the two sides of this trade is about to be hurt, badly, once the squeeze begins.
However, one thing that is very likely is that risk-parity funds - those who benefit as long as both stocks and bond yields act in tandem - are set to suffer the biggest hit.
As we pointed out yesterday, Friday's equity market collapse and simultaneous bond market bloodbath was the biggest combined loss since December 2015, but perhaps more ominously, the week's combined loss in bonds and stocks was the worst since Feb 2009.
And as we further noted, judging by the major correlation regime shift between stocks and bonds that started on Monday, this is something considerably more worrisome for investors...
... and especially risk-parity traders, who already saw their worst weekly performance since the Taper Tantrum...
... and will be forced to significantly delever in the coming days - to the tune of tens of billions in net exposure - if the vol surge persists.
What the above means is that, with all due respect to JPM's head quant Marko Kolanovic who last week explicitly stated that he is not concerned about a quant puke as "the move was not large enough to trigger broad deleveraging" and "equity price momentum is positive and trend followers are not likely to reduce equity exposure", we disagree... and it's not just us, so does another prominent JPMorgan analyst, Nikolaos Panigirtzoglou, who voiced the same skepticism. This is what he wrote in his latest Flows and Liquidity letter:
The bond-equity correlation, which has been predominantly negative since the Lehman crisis, has been creeping up YTD towards positive territory. In turn, this raises concerns about de-risking by multi-asset investors who depend on this correlation staying in negative territory such as risk parity funds and balanced mutual funds
Visually, the regime change is shown in the chart below:
... and also through the lens of Deutsche Bank, which as we showed on Friday, warned that cross-asset correlation has suddenly surged to pre-crash levels.
Panigirtzoglou then explicitly warns under what conditions the risk parity derisking could spread to the broader market:
If these equity ETF flows which we believe are largely driven by retail investors start reversing, not only will the equity market retrench, but the resultant rise in bond-equity correlation would likely induce derisking by risk parity funds and balanced mutual funds, magnifying the eventual equity market sell-off.
Finally, note that his analysis does not include the threat of the record net equity longs and net treasury shorts, which was a profitable trade during the negative bond-stock correlation regime, but is a "recipe for disaster" as the correlation, which until recently was deeply negative, turns positive forcing one of the two sides to violently unwind.