While all eyes were glued to the collapsing stock market and soaring long-bond yields on Friday, the $2 trillion Treasury-bill market, where the U.S. government turns for short-term funding, was suddenly showing serious anxiety about the approaching deadline to raise the nation's debt ceiling.
As Bloomberg reports,  there's growing concern that the impasse over the debt limit will become entangled with efforts to keep the government open.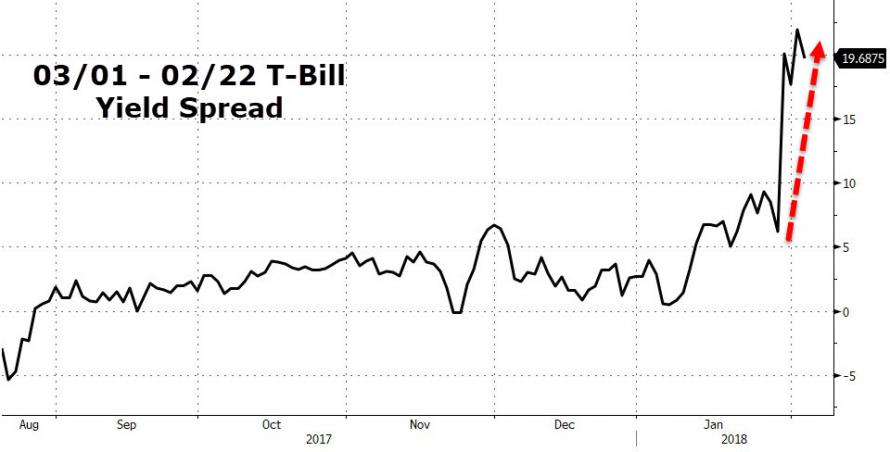 Critically, with Treasury expected to exhaust its borrowing authority as early as the first half of March, a four-week bill sale on Tuesday will serve as the latest gauge of investor anxiety.
Current federal funding expires Feb. 8, and the Republican-led Congress has been working on a stopgap measure to extend that into late March.
"People are kind of getting skeptical of March 8 bills," said Joseph Abate, a strategist at Barclays Capital in New York. "You might argue that the March 1 bill isn't necessarily vulnerable to payment delay because the Treasury probably has sufficient resources to meet outflows and thus might be able to last until" March 5.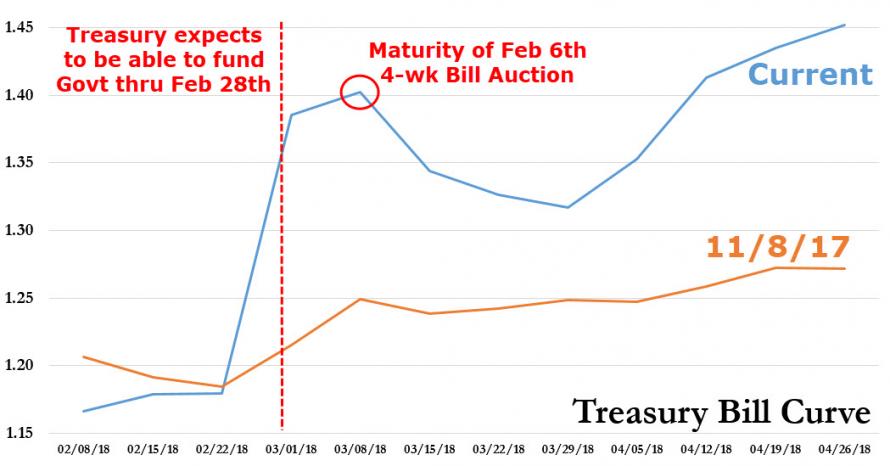 Treasury has placed the drop-dead date around the end of February. But investors are leaning toward the projection from the nonpartisan CBO, which said last week that the U.S. may run the risk of default without a debt-ceiling increase in the first half of March.
After the Jan. 30 auction of bills maturing March 1, the rate on those securities was higher than debt due a week later. Since then, the rate on debt expiring March 8 has climbed to 1.40 percent, exceeding that on bills due a week later.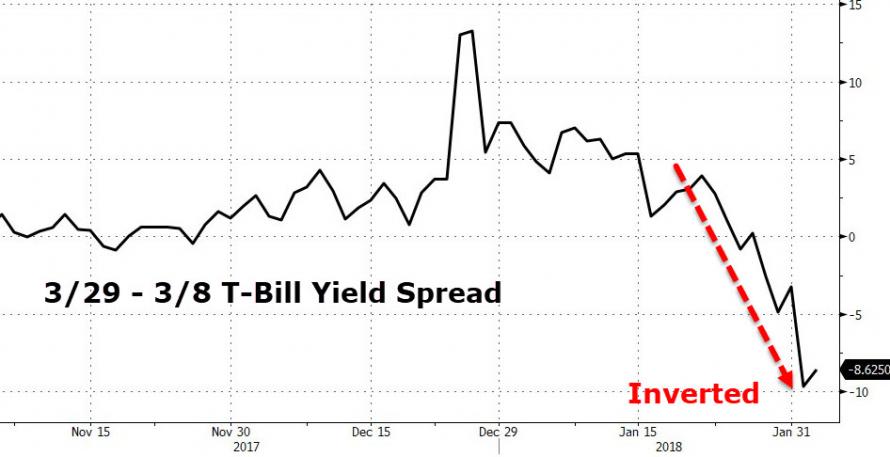 So far, Republican leaders' plan for keeping the government open doesn't include a move to lift the cap. As long as that's the case, dislocations in the bills market may persist.
"They reset the clock on extraordinary measures, but Congress hasn't moved on the debt ceiling since Dec. 8," Abate said. "They're running out of maneuvering room."
But hey, why worry? Stocks are only 2% off record highs, so everything must be awesome?