Update 1305ET: Bitcoin just traded at $7,000 for the first time since Nov 14th 2017.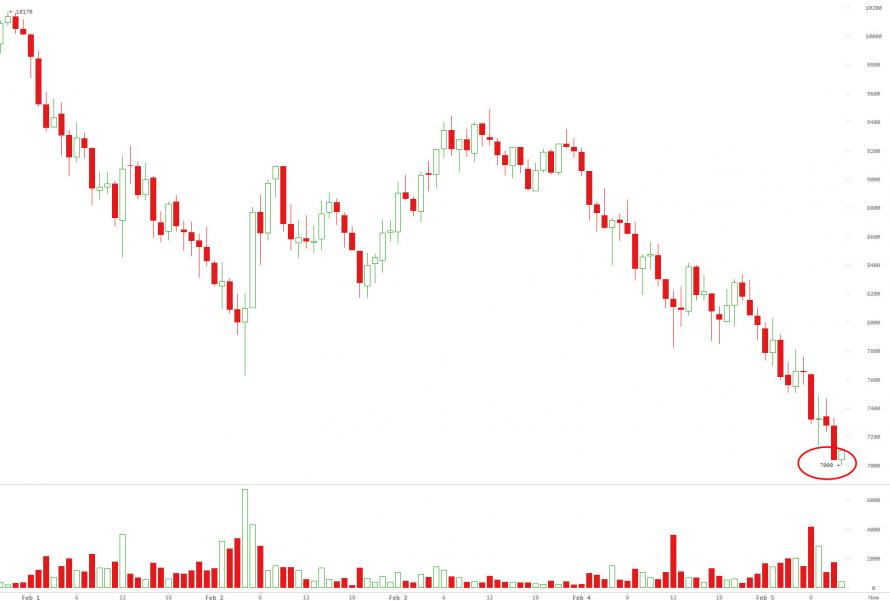 This leaves Bitcoin down 47% year-to-date, the worst start to a year for the cryptocurrency since inception...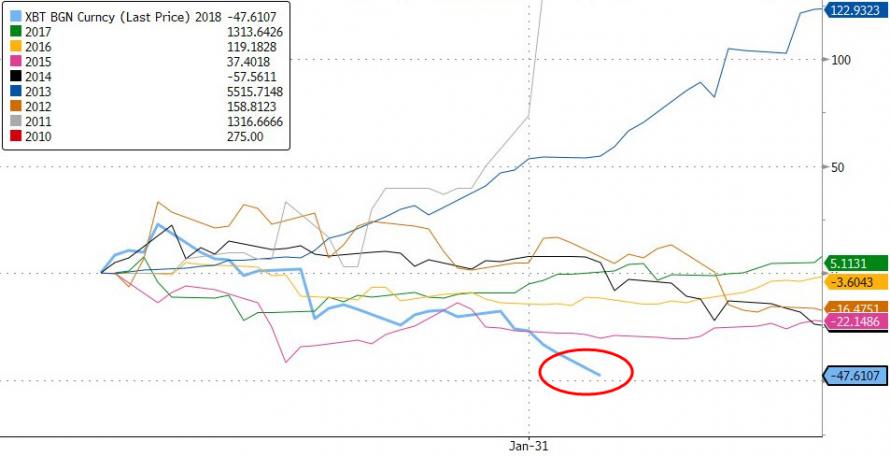 *  *  *
Update 1025ET: Bitcoin's collapse has continued through the morning to a low price of $7141...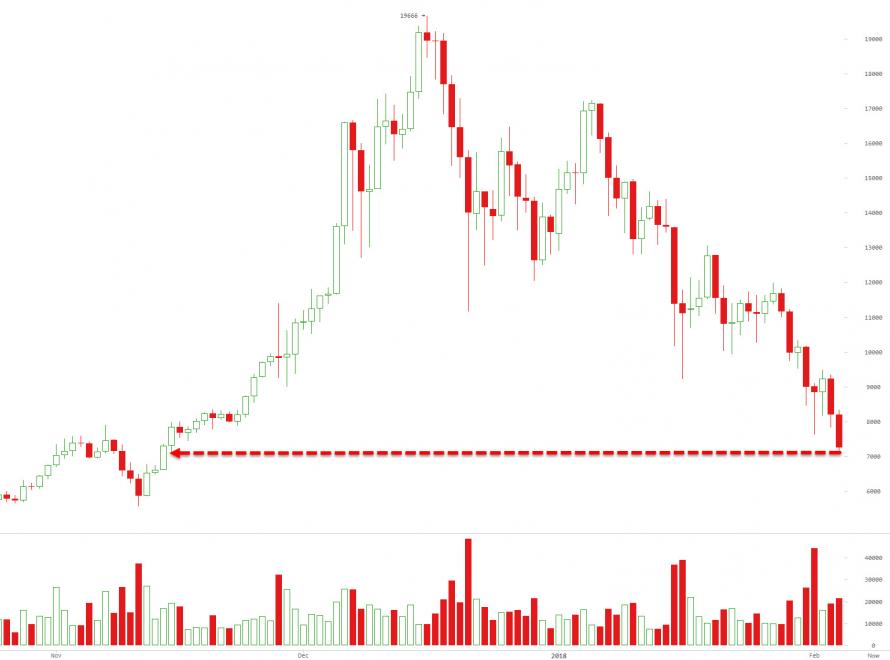 Meaning it is down over 63% from its record highs - one of the biggest drops in history...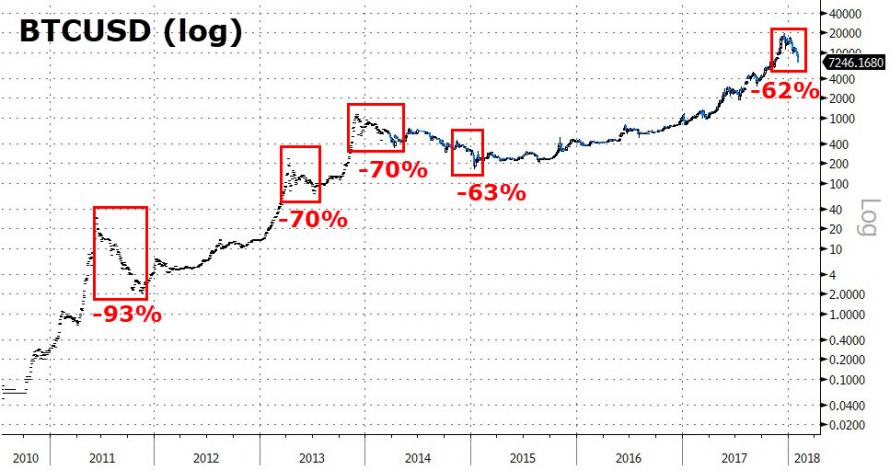 And if the VIX-BTC correlation has anything to say - there is more to come...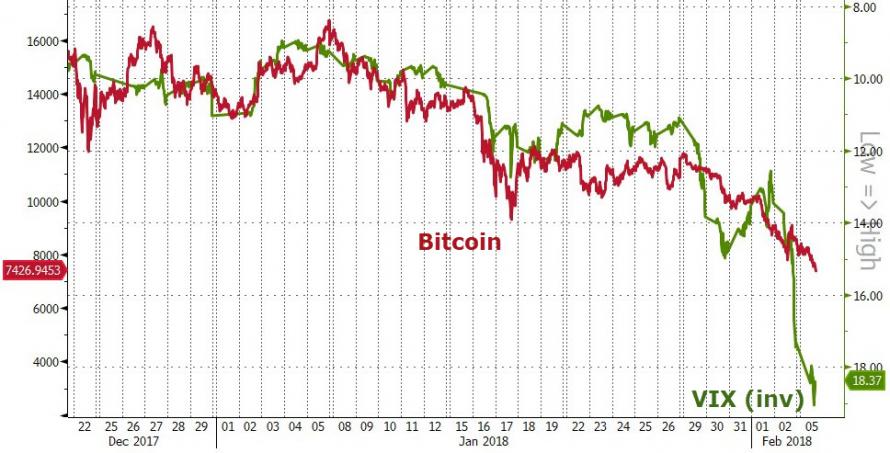 *  *  *
After surging to $20,000 less than three weeks ago, Bitcoin tumbled below $8,000 again overnight following a report from Chinese media that China will block all websites related to cryptocurrency trading and initial coin offerings (ICOs) – including foreign platforms – in a bid to finally quash the market completely, according to Sina.
On February 4, 2018, according to the Financial Times newspaper run by the People's Bank of China, a series of regulatory measures will be taken against ICO and virtual currency transactions at home and abroad, including banning the existence of relevant businesses and banning and disposing of domestic and foreign virtual currency exchange websites. -Sina (translated)
As SCMP adds, quoting an article published on Sunday night by Financial News, a publication affiliated to the People's Bank of China (PBOC), "To prevent financial risks, China will step up measures to remove any onshore or offshore platforms related to virtual currency trading or ICOs."
Meanwhile, reports are rolling in that crypto-related content are being actively blocked by Chinese search engines.
The rest of the major cryptocurrencies are taking hits as well:
The cryptoheatmap is, in a word, red.
In September of last year, Bitcoin plunged around 20% after seven Chinese ministries banned ICOs and shuttered local Bitcoin exchanges in their "Notice on Preventing the Financing Risk of Token Issuance." 
Fast forward to today, when China appears to have unleashed its latest crackdown on cryptos. In the Financial News article, it acknowledged that recent attempts to stamp out digital currencies by shutting down domestic exchanges had failed to completely eradicate trading.
"ICOs and virtual currency trading did not completely withdraw from China following the official ban … after the closure of the domestic virtual currency exchanges, many people turned to overseas platforms to continue participating in virtual currency transactions.
Chinese authorities pointed to Bitcoin's ability to facilitate "illegal fund-raising and other types of illegal financial activities," pointing to "pyramid schemes, fraud and other issues."  
In response, some of those business have simply sidestepped the September regulations by relocating their business off of mainland China to Hong Kong. Sunday's announcement is designed to mitigate that by banning domestic and foreign "virtual currency exchange websites" from web searches. 
"Overseas transactions and regulatory evasion have resumed … risks are still there, fuelled by illegal issuance, and even fraud and pyramid selling," the article said.
China's official Xinhua news agency quoted the PBOC on Monday afternoon as saying it would tighten regulations on domestic investors' participation in overseas transactions of ICOs and virtual currencies, as risks are still high in the sector.
To that end, Chinese search engines Baidu and microblog Weibo have begun blocking crypto-conent.
the South China Morning Post news site reported that when the terms, in Chinese, bitcoin, cryptocurrency, and ICO were searched on Chinese search-engine Baidu and microblog Weibo, no obvious paid sponsored content came up alongside the expected organic results.

While Baidu had stopped advertising cryptocurrency-related searches back in August 2016, it is unclear when they started allowing them again, and they have not confirmed any new crypto-based advertising block. Weibo has confirmed that they have banned cryptocurrency-related advertising. -Cointelegraph.com
"It is common for people to use VPNs [virtual private networks] to trade cryptocurrencies, as many exchange platforms relocated to Japan or Singapore," said Donald Zhao, an individual bitcoin trader who relocated to Tokyo from Beijing late last year, following the ban.
"I think the new move literally means it would be even harder to circumvent the ban in China … people promoting related business programmes may be arrested," Zhao said.
The tighter regulation from the PBOC will "definitely weigh on the cryptocurrency universe," said Wayne Cao, who runs a company that recently offered 10 billion tokens in an ICO. "Most of the Chinese ICO projects are invested in by Chinese investors. So if they are blocked, the whole cryptocurrency market will be dragged down."
* * *
As we reported on Friday, NYU economist Nouriel "Dr. Doom" Roubini, after taking a very, very long sabbatical from the media scene - told Bloomberg TV that Bitcoin is "the biggest bubble in human history" and that this "mother of all bubbles" is finally crashing.
Given that the skyrocketing price of Bitcoin and other cryptocurrencies has driven the price of video cards (used to mine cryptocurrency) through the roof - robbing eager PC gamers of their cutting edge rigs, it will be interesting to see if a protracted drop in the price of Bitcoin and other cryptocurrencies will result in a flood of cheap GPUs hitting the market. Shares of AMD and Nvidia - the primary manufacturers of cards used for crypto mining, should also be interesting to watch.