Amid a flurry of comments on what the market will do from here, with some analysts predicting a continuation of the selloff, especially if bond yields continue their upward ways, one especially bullish comment stands out.
According to Evercore ISI's technical analyst, Rich Ross, the equity selloff that hammered the S&P 500 3.9% over last week, its biggest drop since January 2016, is almost done as volume spike signaled "climax" selling.
According to Bloomberg, Ross said that the index is likely to be 1 to 1.5 percent away from reaching its nadir, he said.
Specifically, the Evercore technician eyes the 93% NYSE downside volume observed on Friday, the highest since September 2016, and not notes that it is "consistent with climax."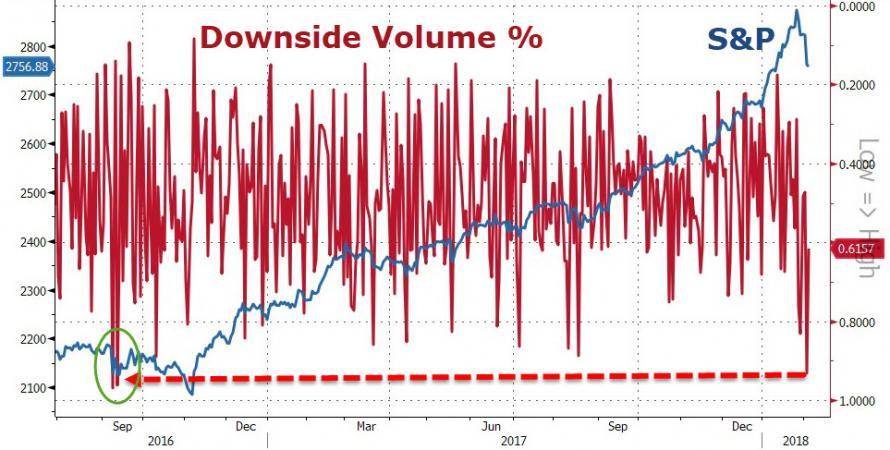 Meanwhile, he writes that the backdrop across currencies, commodities, and global equities remains "sound, bullish and intact", although he failed to mention yields which, of course, is what caused the selloff in the first place.
Finally, Ross notes the VIX's "doji" pattern which sets up for a "potentially exhaustive downside reversal."
And speaking of the VIX as a bullish signal, Oppenheimer's technical analyst Ari Wald agrees with Ross, and writes that last week's 50% rise in the VIX is a "buyable spike", which he defines as a reading that is 50% higher than its 3- month low, which helps normalize for different volatility environments
He adds that spikes in the VIX typically occur around short-term market lows and have found it's a more compelling signal when trend is positive. This can be seen in the chart below.
For now the S&P remains in no man's land, unchanged after starting the day deep in the red, helped by renewed tech strength as the Nasdaq surges to day highs.