If Congress doesn't pass another continuing resolution - what would be its fifth since September - by midnight Thursday, the federal government will shut down for the second time in the span of a month.
And as CNN points out, there are two pressing priorities that must be worked out if lawmakers want to eventually open the door to a more-permanent spending agreement.
Lawmakers are up against two key deadlines that were put in place as part of the negotiations to reopen the government last month, creating a short window to show substantial signs of progress on a deal to protect undocumented immigrants who came to this country as children and their families. Immigration negotiators say they've taken steps in the right direction, but no deal to address the contentious issue has thus far emerged.

The first deadline is Thursday, when government funding runs out. The second is to reach a long-stalled deal on immigration before Senate Majority Leader Mitch McConnell opens a promised freewheeling floor debate to try to settle the contentious issue.
Lawmakers from both parties insist there won't be another shutdown: But then again, they said that last month, before a three-day shutdown that ultimately left Democratic leaders looking impotent in the eyes of progressives who want them to show more of a backbone on immigration.
At the behest of their base, Democrats are insisting that Congress pass an immigration bill before they agree to a budget caps deal, which is needed to write a massive omnibus-spending bill for the rest of the fiscal year, as the Hill explains.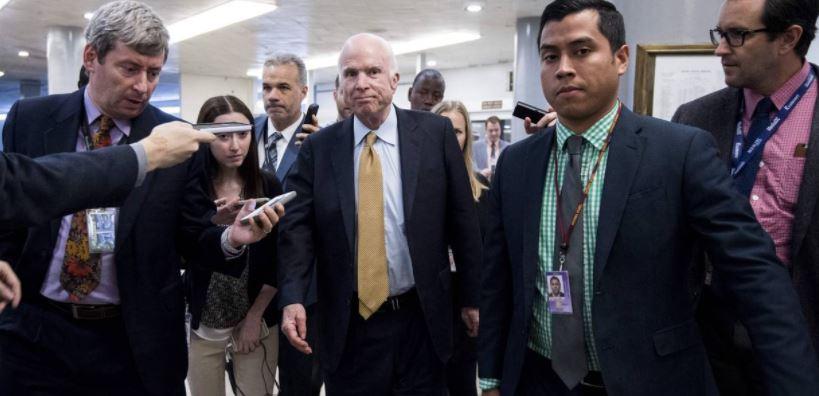 In a maneuver that's becoming a hallmark of legislative procedure during the Trump era, House Republicans are planning to hold yet another "wing it" vote, this time on a bill to keep the lights on until March 22. But if the past is any guide, we imagine the vote will be canceled at the last minute once it becomes clear that the bill has no chance of passing. The Senate hasn't planned a vote, and it's unclear if GOP leaders would be able to muster enough support in the House.
Bloomberg reported Monday morning that House Republicans are planning to meet tonight at 7 pm to discuss their plan to avert the shutdown.
Even if it were to pass in the lower chamber, 60 votes will be needed in the Senate, meaning at least nine Democrats must vote yes. It's too soon to know if they will back the House's six-week proposal - in part, because it blows past a March 5 deadline when the Deferred Action for Childhood Arrivals program expires.
This time around, there appears to be a degree of comity in the negotiations, as both Republican and Democratic leaders have said the negotiations have made strong progress and that they don't expect another shutdown.
Democrats apparently expect Mitch McConnell to uphold his promises about bringing an immigration bill for a vote and, as the GOP Senate leader so eloquently put it, "there's no education in the second kick of a mule," McConnell said about the short-lived shutdown."
Already, Republicans are signaling that they might be willing to agree on an immigration deal without including funding for 700 miles of border wall, as the White House has insisted.
According to CNN, John Thune, a member of Senate Republican leadership, told reporters last week that he favors narrowing the immigration debate from President Donald Trump's suggested "four pillars" to two: legal status for DACA recipients and border security.
The framework suggested by the White House would provide 1.8 million undocumented immigrants a pathway to citizenship in exchange for $25 billion for border security, in addition to the eradication of the diversity lottery and changes to curtail chain migration.
Senators John McCain and Christopher Coons have taken things one step further, announcing that they will introduce a bill Monday that omits funding for a southern border wall while providing a path to citizenship for more "Dreamers" than President Trump has agreed to, and calls for a study to determine whether additional border security measures are needed.
The announcement swiftly provoked a reaction from President Donald Trump, who tweeted that there will be no DACA without "STRONG border security and the desperately needed WALL".
Any deal on DACA that does not include STRONG border security and the desperately needed WALL is a total waste of time. March 5th is rapidly approaching and the Dems seem not to care about DACA. Make a deal!

— Donald J. Trump (@realDonaldTrump) February 5, 2018
If no immigration deal is reached this week, McConnell is expected to call for an open-ended floor debate to begin some time next week. The threat of an open debate is essentially another incentive to get a deal done quickly. An open debate would probably be extremely chaotic, resulting in marathon discussions until an agreement is hammered out.
Adding another layer of complications to the already fraught negotiations between Republicans and Democrats, conservative Freedom Caucus Republicans in the House are demanding spending hikes for the military and have already declared a deal without funding for the wall to be a non-starter.
In addition to the defense spending issue, lawmakers are also facing pressure to approve more disaster relief for areas affected by hurricanes and wildfires. And Democrats and some moderate Republicans are also calling for a deal to restore some of the federal cost-sharing for Obamacare that Trump scrapped last fall.
After months of negotiations, it appears lawmakers aren't substantially closer to striking an immigration deal - let alone solving these other priorities. That's certainly a lot of ground to cover in three days. And while lawmakers have tried their hardest to reassure markets, one detail that's been lost amid the shuffle is that lawmakers will also need to raise the US borrowing limit again to continue funding the government - a detail that has not been lost on the $2 trillion market for short-term Treasury bills.
Critically, with Treasury expected to exhaust its borrowing authority as early as the first half of March, a four-week bill sale on Tuesday will serve as the latest gauge of investor anxiety.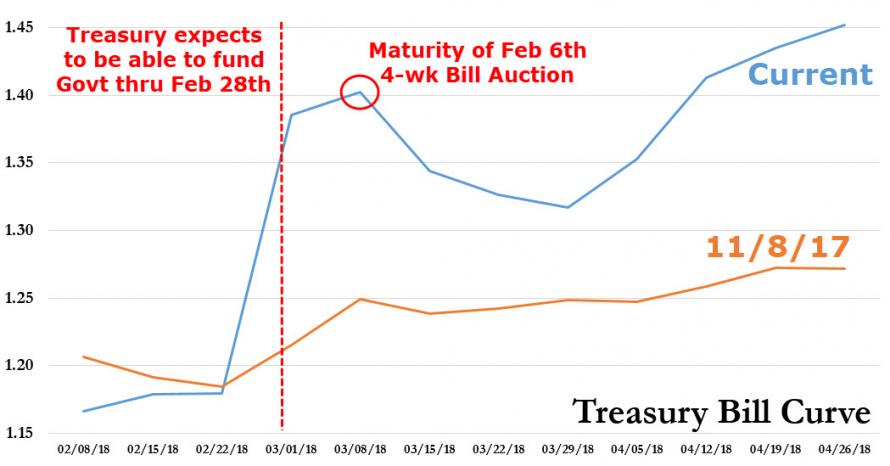 Indeed, the bill curve spread is already blowing out, as we pointed out earlier.