Remember: the catalyst for last Friday's 666 Dow point plunge had nothing to do with a surging VIX and everything to do with bond yields blowing out to 2.85% after the stronger than expected hourly earnings number (which was largely the result of a drop in weekly hours worked).
Well, it may be time to batten the hatches again because as we warned first thing this morning, it is time keep an eye on today's 10Y auction for an indication if last week's yield's jump would continue. It now appears that indeed the primary driver for the selloff may be here after an especially sloppy 10Y auction, following yesterday's subpar 3Y.
Here are the details: the 10Y auction stopped out at 2.811%, a 0.8bps tail to the When Issued 2.803%, and the highest since January 2014. The internals were also mediocre at best: the Bid to Cover dropped from 2.69 in January to 2.34% in February, and below the 6 auction average of 2.43. Indirects also pulled back, with foreign buyers taking down 67.5% of the auction, down from last months' 71.4%, if modestly better than the 6 month average; Directs were awarded 5.4%, also below January's 6.5% while Dealers were left with 27.1%, an increase from last month's 22.0%.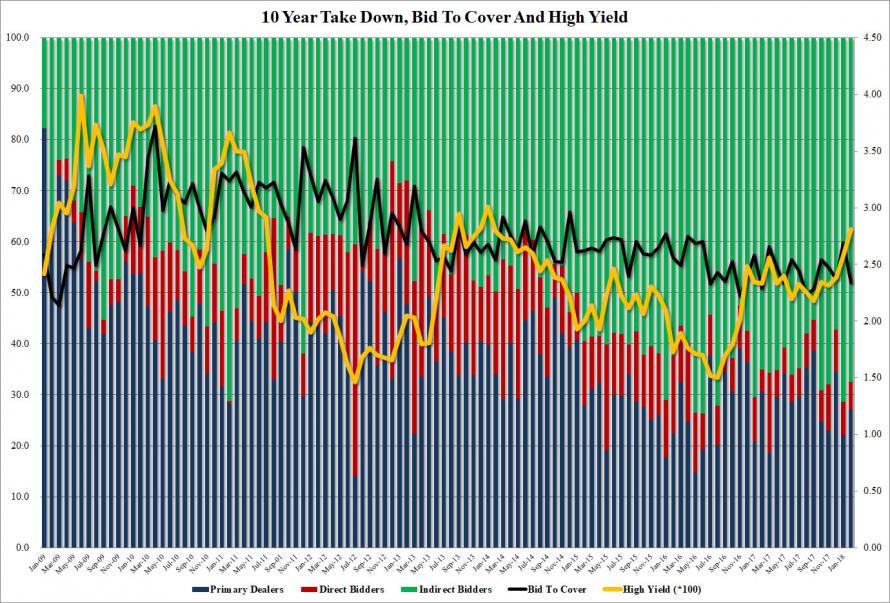 Overall, this was a surprisingly poor auction, which however may be mitigated by the fact that it took place just minutes after the Senate announced a bipartisan deal which sent yields to session highs.
And, in kneejerk response to both the Senate deal announcement and this poor auction, the 10Y is now at 2.83%, and fast approaching the level which prompted the equity selloff last Friday.