Two weeks after Goldman reported its worst revenue growth in two years - driven by a 50% plunge in bond trading - the push by the FDIC-backed hedge fund, which has realized that traditional trading just won't cut it any more in a low vol world - into traditional banking and consumer finance reached a new milestone when the WSJ reported that the investment bank, which famously evaded responsibility for its role in disseminating toxic mortgage securities, is in talks to provide financing for iPhone purchases. 
This would mean customers purchasing a $1,000 iPhone X could soon take out a loan from Goldman's recently launched consumer loan unit, Marcus, instead of charging it to credit cards that often carry far high interest rates.
And with interest rates climbing and consumer revolving credit - a fancy term for credit-card debt - reaching all time highs, according to the latest data, the competition to offer affordable loans is intensifying.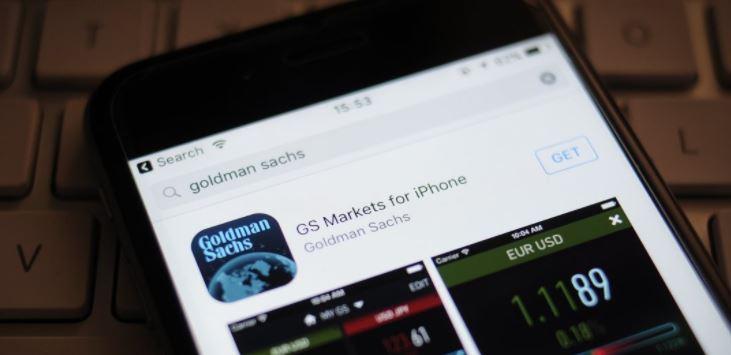 While talks between the companies are reportedly still in progress - and the deal could still fall apart - the deal would be a crucial victory for Goldman as it struggles with falling trading revenues thanks to the unprecedented placidity across markets due to post-crisis centrally planned markets (though if the turbulence from earlier this week proves resilient, traders could find themselves back on top of the bonus pool).
Goldman's retail-banking push began in 2015, when it became an FDIC-insured lender capable of accepting customer deposits by acquiring GE Capital Bank's online deposit platform, including $8 billion in online checking deposits and $8 billion in brokered CDs - thereby providing Goldman with a virtually costless source of $16 billion in funds. It since launched other consumer-facing products, like Marcus, an online credit-card refinancing tool.
The partnership would be a coup for Goldman as it tries to grow its new consumer bank. Better known as an elite adviser to corporations and governments, Goldman is embracing retail banking and plain-vanilla lending in pursuit of growth as some traditional areas of strengths, namely trading, slump.

In 2016 Goldman launched Marcus, an online lender that helps people refinance credit-card debt. The firm is now building a "point-of-sale" financing business that will offer loans to shoppers at checkout, according to people familiar with the firm—effectively finding those customers one step earlier.
This combination of consumer offerings verges on deviousness: First, Goldman's Marcus tool can help you refinance your credit card debt; then Goldman will help you plunge right back in with a "low-interest, don't-miss" financing offer for that shiny new phone.
Per WSJ, shoppers in 2017 borrowed more than $200 billion using retailer-affiliated credit cards or point-of-sale loans, consulting firm First Annapolis estimates. Some $80 billion of that was spent on big-ticket items like furniture and electronics, which can take months to pay off, all the while accruing interest charges.
By offering a lower-cost loan, Goldman hopes to siphon off some of that business. Partnering with a consumer-tech giant like Apple would almost certainly bring in millions of customers that Goldman wouldn't have had otherwise.
That said, this wouldn't be the first time Apple partnered with a bank to offer zero-interest loans on upgrades and "other options" on different devices. And as Tim Cook reminded us, even though the "sticker shock" from the iPhone X could be daunting, consumers should think of it more like giving up "a few coffees a week."
Apple introduced a program in 2015 with Citizens Financial Group Inc., in which the regional bank offered zero-interest loans for iPhone upgrades and higher-interest options for other device purchases. Part of Goldman's talks with Apple involves taking over some form of the upgrade program. It is unclear whether anything will change with the handling of the outstanding Citizens loans. The Providence, R.I.-based bank didn't have an immediate comment.

The program started as wireless providers were scaling back subsidies for iPhones. It allows customers to pay for a new iPhone with a 24-month financing plan and upgrade to a new device after making 12 payments, a strategy that helps keep customers coming back for the newest models.

For Apple, the upgrade program is taking on increasing importance as its high-priced devices create sticker shock for some. Facing questions about the affordability of the new $1,000 iPhone, Chief Executive Tim Cook said it works out to $33 a month. "That's a few coffees a week," he told analysts during an earnings call in November.
Goldman's move into online consumer banking also puts it at odds with fintech companies like Affirm Inc., which also provides consumer credit online.
While consumer banking is subject to myriad more consumer protections, the death of the CFPB could make it easier for lenders to take advantage of their customers. The question now is, will the Vampire Squid treat regular Americans with the same ruthlessness that it treats its corporate clients?
To be sure, the deal is a two-way street: by pursuing this transaction, Apple is confirming sales are slowing, and the company is seeking to boost sales at any APR as that "sticker shock" we mentioned above has apparently convinced its legions of loyal customers to hold on to their old devices for just a little bit longer, despite Apple's questionable practice of deliberately slowing down older phones, which recently attracted the scrutiny of federal investigators.