In a deal that will spare the American people the anxiety inducing last-minute political brinksmanship that precipitated last month's government shutdown, the leaders of Senate Democrats and Republicans have announced a two-year budget deal that will include funding for opioid abuse treatment, badly needed disaster relief and funding for some of President Trump's infrastructure plan.
According to Bloomberg, the plan will allocate nearly $300 billion more for defense and non-defense spending. While BBG said the deal will likely avert a shutdown and end months of squabbling over funding the federal government, To be sure, leaders in the House haven't signed on yet.
As it stands, the agreement would raise defense spending by $80 billion over current law in this fiscal year and $85 billion in the one that begins Oct. 1, an unnamed "Congressional official" told Bloomberg. Non-defense spending would rise by $63 billion this year and $68 billion next year.
Of course, Congress must still finish the appropriations for this fiscal year, then complete the 2019 appropriations.
Is called a "two year budget deal" because it lifts defense/non-defense spending caps by nearly $400 billion for next 2 yrs. But Congress must still finish APPROPRIATIONS for this fiscal year & also tackle FY '19 appropriations.

— Chad Pergram (@ChadPergram) February 7, 2018
While the agreement provides a framework to lift spending caps, Fox reported that lawmakers will still need to pass an omnibus spending bill by March 23.
The Senate package means they still need to approve an omnibus spending package by March 23…to fund the government for the rest of this fiscal year. The interim spending bill would just be PART of the budget caps package.

— Chad Pergram (@ChadPergram) February 7, 2018
The compromise also includes defense spending that is a top priority of conservative Republicans, while raising domestic spending by a commensurate amount.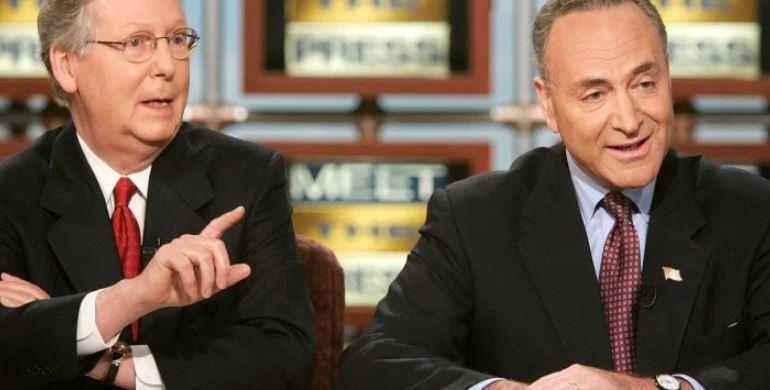 Notably, the deal would also suspend the US debt ceiling for two years.
To secure the agreement, Republican Senate leader Mitch McConnell reiterated his promise to allow a free-wheeling debate over an immigration compromise next week that he said will be "fair to all sides."
Meanwhile, Senate Democratic Leader Chuck Schumer said the deal was "good for the American people" - a remark likely made with one eye on the polls ahead of November's mid-term elections.
The leaders also touted the deal as a bipartisan triumph:
*MCCONNELL: BILL IS SIGNIFICANT BIPARTISAN STEP FORWARD
*MCCONNELL: IMMIGRATION DEBATE WILL BE FAIR TO ALL SIDES
*MCCONNELL SAYS DEAL INCLUDES DISASTER AID, INFRASTRUCTURE
*MCCONNELL SAYS NEGOTIATORS AGREE ON BUDGET DEAL*SENATE LEADERS ANNOUNCE BIPARTISAN TWO-YEAR BUDGET DEAL
*MCCONNELL SAYS DEAL ISN'T PERFECT BUT COMMON GROUND FOUND
*MCCONNELL SAYS DEAL ENDS BUDGET CAPS UNDER SEQUESTRATION
*MCCONNELL: DEAL INCLUDES FUNDING FOR OPIOID ABUSE
* * *
"The compromise we've reached will ensure that for the first time in years our armed forces will have more of the resources they need" and ensure funding for disaster relief, infrastructure and work to combat opioid abuse, McConnell said from the Senate floor.
* * *
Treasury yields shot higher after the deal thanks to spending increases embedded in the plan: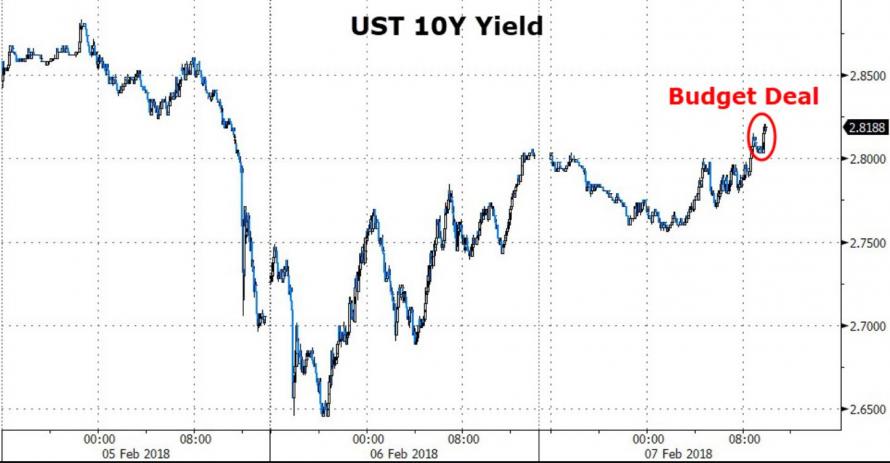 The dollar also moved higher...