As the world held its breath, in November 2016, for President Trump's election, we noted that equity market implied correlation is flashing a 'panic' warning according to BMO quant Mark Steele as the little-known derivative indicator suggests traders fear a major 'high correlation' event and are aggressively hedging systemic risk.
And now, amid the massive unwind of the Short-Vol trade, implied correlation - the other fear index - is flashing red, as Bloomberg notes, the wild market fluctuations of recent days are sending bets for equity correlations to levels not seen since before the election (and Brexit).
Out of 505 S&P 500 Index stocks, a record 503 fell on Monday as the gauge experienced its worst decline since August 2011, and options markets are suggesting that extreme co-movement is likely to continue...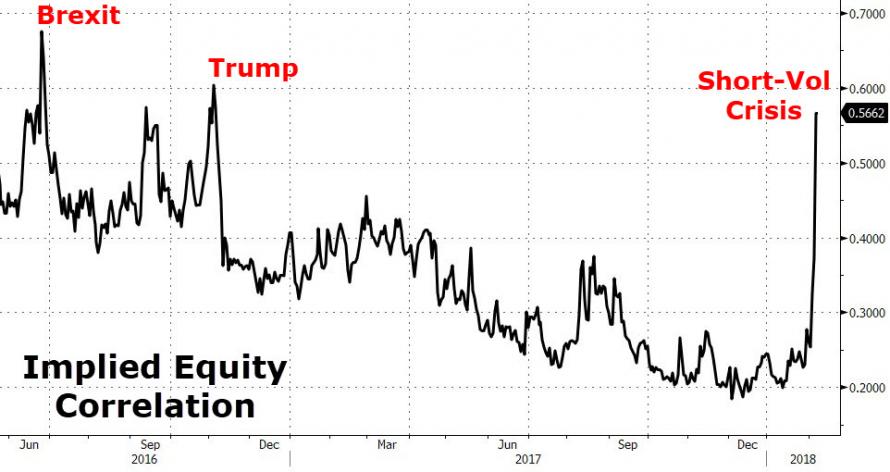 As a reminder, implied correlation measures the relative demand for macro overlays (index hedges) vs micro risk (individual stock hedges/concerns). The higher it is, the more systemically worried investors are and the more traders believe a high correlation 'event' is due (typically the high correlation event is a big downturn in stocks).
While VIX is well off its overnight '50' highs, volatility expectations have certainly returned to global financial markets, with a Bank of America Merrill Lynch measure of risk across asset classes jumping to its highest level since April.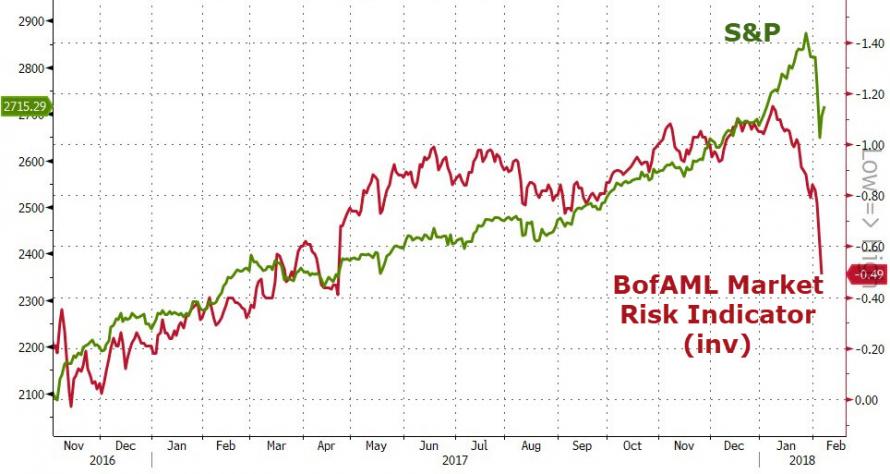 (The Market Risk indicator is a measure of future price swings implied by option markets in global equities, rates, currencies and commodities.  Levels greater/less than 0 indicate more/less stress than is normal. )
Going back to what BMO's Steele concluded in the run-up top the election in Nov 2016, just as we saw with Brexit, a rebound in sentiment "can be just as ferocious, and that carries the day for broad equity markets," seemingly suggesting to buy the dip as he notes there's "no sign of a banking system threat" that pressures equities systemically.
That may be what investors are thinking today with its XIV-pulled ramp, but one thing is different from Nov 2016 - central bank balance sheets are expected to shrink and rates are normalizing...