Update: In a statement that could create problems for Democratic and Republican leaders in the Senate, Paul Ryan said Thursday that he won't call a vote on DACA unless he receives the president's approval - putting a bipartisan agreement to suspend the borrowing limit and start the process to lock in a two-year budget deal in jeopardy.
Though he told MSNBC's Hugh Hewitt that he thinks he has the votes to push the bill through the House, the party's conservative wing - the Rep. Mark Meadows-led House Freedom caucus - has balked at the senate plan, which they argue would lead to an unacceptable blowout of the deficit (of course, this didn't stop them from supporting the president's tax-reform plan).
Meanwhile, Democratic House leader Nancy Pelosi has said she and her caucus will oppose the spending bill unless Ryan commits to bringing an immigration compromise bill that includes DACA protections to the floor next week.
Paul Ryan said he won't call a vote on DACA unless the President supports it. This is the same President whose Chief of Staff just called these young immigrants 'lazy.'

Paul Ryan puts his party and the President ahead of working people just trying to get by, yet again.

— Randy Bryce (@IronStache) February 7, 2018
If lawmakers can't pass a spending bill tonight, the government will shutdown at 12:01 am Friday morning. Though Trump has said in the past that he would support legislation to enshrine protections for the so-called Dreamers - undocumented immigrants who were brought to the US as children - he has said he won't approve of any bill that doesn't also include generous allocations for border security, changes to certain legal immigration rules and of course, funding for his signature border wall.
In what appears to be an attempt to placate House conservatives, Paul Ryan tweeted that the House would vote on a bill that includes long-term defense spending provisions today.
The single most important thing we can do to uphold our constitutional mandate to provide for the national defense of the United States is to fully fund our military. This vote is happening in the House soon.

— Paul Ryan (@SpeakerRyan) February 8, 2018
* * *
In back-to-back speeches last night, Democratic leader Chuck Schumer and Republican Majority leader Mitch McConnell heralded what they described as a promising and fair two-year budget plan - what would be the first of the Trump era - replete with legislative priorities demanded by both sides: Raising spending caps for domestic programs and the military by a combined $300 billion, providing a generous disaster relief package for states and territories wracked by hurricanes and wildfires, generating funding to combat the opioid abuse epidemic and - crucially for US debt markets - agreeing to suspend America's borrowing limit for two years.
With at least nine Democratic votes needed to pass the bill. McConnell was forced to agree to open a freewheeling debate next week on immigration to help pass a bill that will enshrine DACA into law, include funding for border security and revamp some legal immigration laws.
As it stands, the agreement would raise defense spending by $80 billion over current law in this fiscal year and $85 billion in the one that begins Oct. 1.. Non-defense spending would rise by $63 billion this year and $68 billion next year. Though Congress would still need to pass appropriations bills for both this year and next.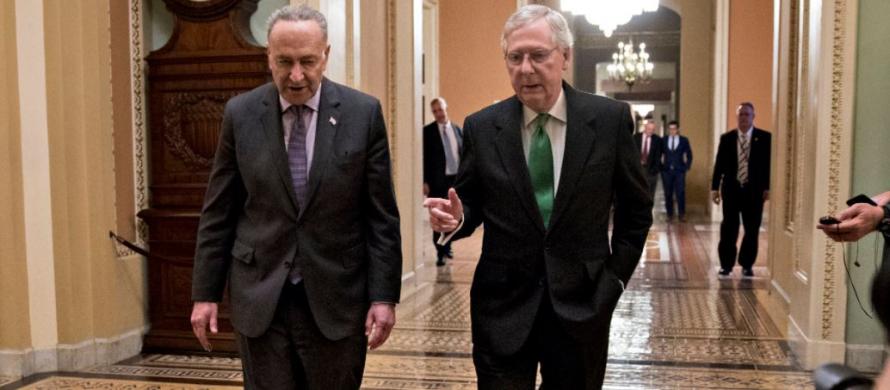 But unfortunately for Schumer and McConnell, the deal has not been met with the same enthusiasm in the House. As we reported last night, members of the Freedom Caucus angrily rebelled against the deal, with one calling it a "Christmas tree on steroids".
And on the Democratic side of the aisle, Nancy Pelosi vowed during an unprecedented eight-hour speech yesterday to oppose the bill unless Speaker Paul Ryan agrees to open debate on an immigration bill - something he has so far been reluctant to do.
Combined with the recently passed Republican tax cuts, the US budget deficit even more than recent troubling forecasts such as those from Goldman, which recently predicted  US debt issuance would more than double, rising from $488bn in 2017 to $1,030 billion in 2018...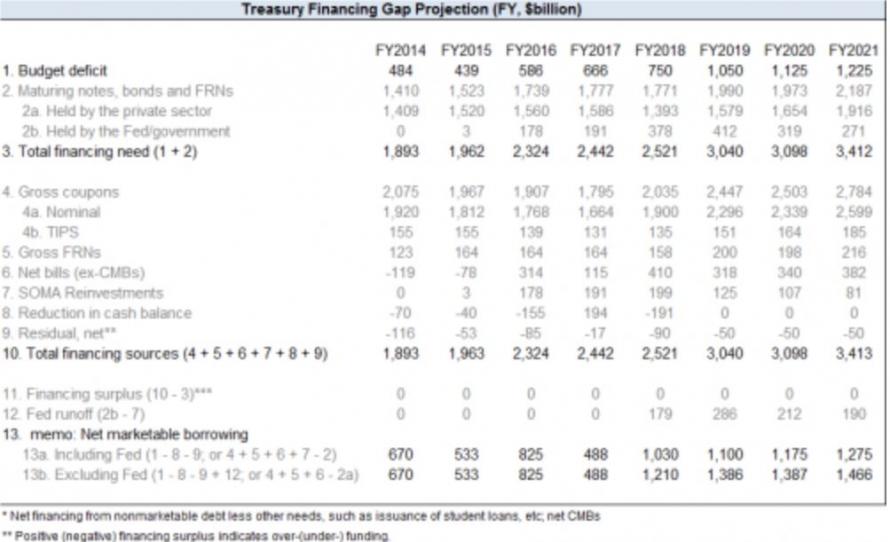 Still, as Bloomberg reports, even without the agreement from Ryan, Pelosi hasn't explicitly advised her caucus to vote against the bill, and some - particularly red state Dems who fear they might've taken too big of a political hit from last month's government shutdown - might still vote for it.
But more progressive members have vowed to oppose any bill unless a DACA deal has been reached first.
Representative Luis Gutierrez, an Illinois Democrat, said a budget deal is unacceptable without protection for the young undocumented immigrants and he wants Pelosi to pressure other Democrats to vote no.

"The deal has everything the Democrats wanted except immigration, because immigration is the glue that holds the Republican Party together," he said.

However, another Democratic lawmaker said some members didn't want Pelosi to make a stand on immigration after the party took a political hit over forcing last month's three-day shutdown. The lawmaker asked for anonymity to discuss private conversations.
More details about the House whip count will likely emerge Thursday morning following a meeting of the House Democratic caucus.
Even if they do agree, President Trump, who has frequently inveighed against the direction of immigration negotiations, could threaten a veto.
But the real question for Democrats is whether McConnell will keep his word and following through with the immigration debate next week. With the deadline for cancellation of DACA protections rapidly running out, Democrats are facing a difficult choice: Risk hurting their 2018 chances with another shutdown, or risk alienating their base by failing to preserve DACA.
With government funding set to expire tonight at midnight, expect frenzied negotiations to continue for most of the day - if not into the evening...
For now, the market seems to believe the government will not shutdown as the Bill curve has normalized...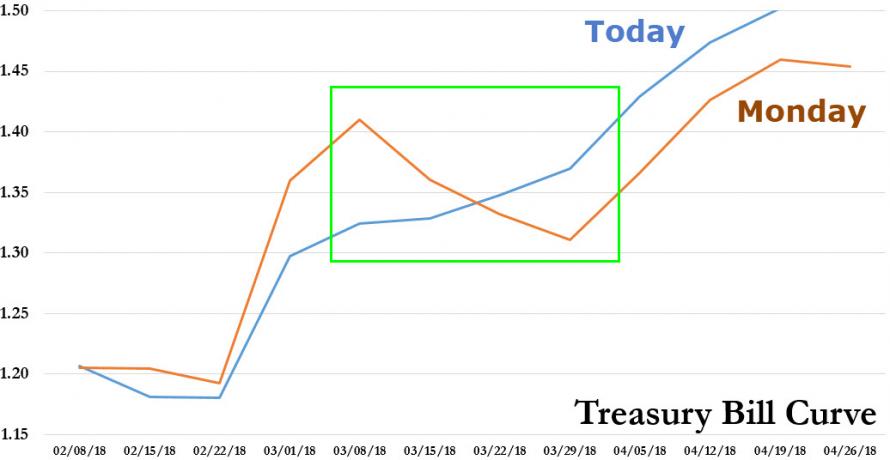 And the longer-end of the yield curve is pricing in the additional supply implied by the budget deal...