An senior Justice Department official who was involved in oversight of the Hillary Clinton email investigation as well as the Russian interference probe has stepped down, citing personal reasons.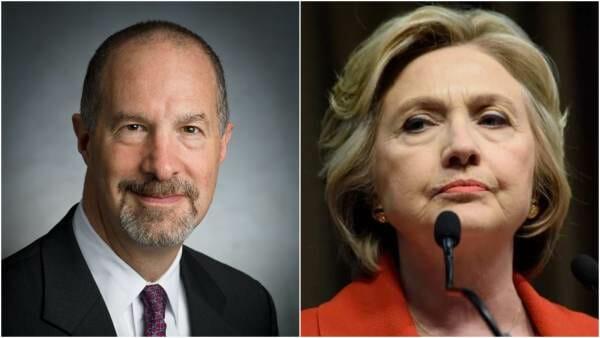 David Laufman, 59, was the DOJ's chief of the National Security Division's Counterintelligence and Export Control Section - working his way up the FBI ranks after beginning his career in 1980 as a CIA analyst. Laufman obtained a law degree from Georgetown University.
"It's tough to leave a mission this compelling and an institution as exceptional as the Department of Justice," said Laufman, 59. "But I know that prosecutors and agents will continue to bring to their work precisely what the American people should expect: a fierce and relentless commitment to protect the national security of the United States."
The Washington Post goes to great lengths to describe Laufman as a conservative - citing an incident in which a Democrat wouldn't write a letter recommending him for a job as the Pentagon's inspector general:
"I asked a lawyer friend of mine, a Democrat, to sign the letter," Thompson recalled. The lawyer, a former Justice Department official, consulted Democratic colleagues, who told Thompson they considered Laufman "a conservative — someone they couldn't support, and so she declined. -WaPo
However The Post then points out that Laufman contributed around $880 to Obama's two presidential campaigns, according to FEC records - which caused critics to label him a "holdover." 
Journalist Mike Cernovich, who broke the Susan Rice "unmasking" story, claimed that Laufman was the source of "several national security leaks" to the media. 
Laufman is hardly the first official to leave the DOJ or FBI in recent months. Last week, former FBI Director James Comey's assistant, Josh Campbell, left the FBI in order to take a new position at CNN - Defending the FBI according to a flyer for a party thrown by the agency. 
EXCLUSIVE: I obtained a copy of former @Comey assistant @joshscampbell's goodbye flyer at the FBI. It invites attendee's to "celebrate his new endeavor defending the bureau as an LE analyst at @CNN" https://t.co/JgjzVSJd1m pic.twitter.com/BXStmSgzcq

— Saagar Enjeti (@esaagar) February 6, 2018
In a New York Times op-ed, Campbell wrote, "To be effective, the F.B.I. must be believed and must maintain the support of the public it serves. … These political attacks on the bureau must stop, adding "If those critics of the agency persuade the public that the F.B.I. cannot be trusted, they will also have succeeded in making our nation less safe." 
In late January, James Comey's chief-of-staff resigned as well. 
KEY FBI MAN OUT - James Rybicki, who was chief of staff to former FBI Director James Comey and continued in the post under current Director Christopher Wray, is leaving the bureau, Fox News has learned. https://t.co/x5J5rrHhlR pic.twitter.com/8YZjxP00vn

— Fox News (@FoxNews) January 23, 2018
Finally, Deputy Director Andrew McCabe also stepped down in late January, following what was reportedly a forced retirement according to Fox News. 
McCabe, who briefly served as acting director last year after Trump fired Comey, first let it slip to the Washington Post late last year that he would be retiring in the coming months as Congressional Republicans targeted him for criticism surrounding his pro-Clinton bias (McCabe's wife even secured campaign funding from Clinton ally Terry McAuliffe, something he initially failed to disclose).