Leaked audio of a private meeting between a Newsweek executive and the magazine's editors on Wednesday reveal that the beleaguered news organization is tearing apart at the seams following allegations of financial crimes; including tax evasion, money laundering, and defrauding a federal agency in an ad revenue scheme.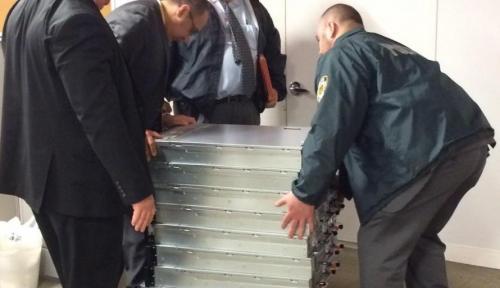 Audio of the 90 minute meeting between Newsweek Chief Content Officer Jonathan Davis and editors was obtained by the Daily Beast, in which the editors took Davis to the woodshed...
Last week we reported that the magazine had fired editor-in-chief Bob Roe, executive editor Ken Li, and journalist Celeste Katz - who had written articles covering the active investigation into parent company Newsweek Media Group. Davis blames Katz's reporting for doing "real damage" to Newsweek's business relationships, and that it "ruined a business deal abroad." 
Davis grew increasingly defensive, saying Newsweek's own journalists had written "hit pieces" which "attacked" the company, adding "if we had integrity we should be defending the company."

"Why do we need to do this necessarily to ourselves?" Davis asked. "In the name of integrity?" -Daily Beast
Katz also wrote a recent article critical of Newsweek Chief Content Officer Dayan Candappa, who was placed on leave after Katz's article detailing allegations that he sexually harassed women while he was a top official with Reuters.
Following Candappa's suspension, Davis stepped in as interim CCO - however Candappa was reinstated in the role today. 
In an email sent to staffers on Friday, the company said that after a "thorough investigation," an independent law firm "did not find evidence to substantiate the reported allegations of sexual harassment during his tenure with his previous employer." -The Wrap
Davis admitted that editors Bob Roe and Ken Li were let go after they ignored management's calls to stop publishing Katz's ongoing coverage of the Manhattan DA's ongoing financial investigation of Newsweek - whose New York offices were raided January 18. Katz reported that authorities were investigating a potential "money trail" between former Newsweek Media Group executives and Olivet University, a California Christian College.
90 Minutes of Gold
During the 90 minute recorded meeting between CCO Jonathan Davis and editors, Davis repeatedly had his wig split by the staff which appears to be on the verge of mutiny.
Via the Daily Beast:
"[The raid] led to the BuzzFeed article about the fake clicks, which you orchestrated," breaking news editor Gersh Kuntzman said. "So you should be honest with everybody in this room: Are we running a money laundering operation? Are we evading taxes? You need to tell us that because we can't work here if you're a liar."
Davis deflected, citing the ongoing investigation by the Manhattan DA.