Scheduled on Squawk Box tomorrow ~ 7:05 ET to talk financials.  This market is entirely momentum driven, as proven by the recent roller coaster ride.  Central banks have injected a huge degree of inflation into asset prices, all the while pushing down visible volatility.  Financials are among some of the most overbought names, even today.
As noted in The IRA, we are all short volatility whether we like it or not. And the long term game is inflation.  You can't buy enough VIX.  
The Street insists that "fundamentals are strong," but the only thing that has been strong recently is the wind blowing from Constitution Ave. Now the wind is subsiding, but just to humor everyone in the television audience, let's talk fundamentals.
* Of the top four banks, WFC is arguably the best "value" because of the sell off following the Fed sanctions. WFC is still the best performer of the group in terms of earnings vs assets.  The regulatory problems should not significantly impact bank's performance since growth really was not a big priority for the bank.  Mortgage lending could be a negative for WFC in Q1 as market conditions are abysmal in residential originations.  
All of these banks are seeing slowing lending growth and have relatively pedestrian forward revenue numbers.  Earnings growth estimates are off the charts from the Sell Side, who seem to have forgotten what happened when financials got near 2x book as group. WFC, JPM, C and BAC all are "fully valued."  
* JPM is 1.7x book with an 26% EPS growth number and 4% revenue growth.  Both of those forward estimates will fall as year progresses.  
* BAC is arguably the most overvalued of the top four at 1.3x book, with a 3.6% revenue growth number from the Street and and a 35% EPS growth number.  Stock is up 35% LTM and revenue is flat as a pancake.  No growth.
* WFC at 1.6x book is at the LT average.  Stock is basically flat for the year and Street has 0% revenue growth for the year.  Street still has a 22% EPS growth target which will obviously come down through the year.
* C is the latest object of affection for the Sell Side analyst group.  C is up almost 30% LTM.  Street has a 3% revenue growth estimate for '18 and a 15% EPS growth target, which will obviously come down. C has the weakest business mix of the top banks and lowest risk adjusted returns.
BTW, if you want to talk about something other than money center banks, NSM is being acquired by the old Washington Mutual holco.  Is there light at the end of the tunnel in the much maligned mortgage complex?  Maybe. Should you be buying MSRs?  Yes.  A badly needed consolidation in the mortgage sector seems to be starting as lending volumes and spreads fall again this year (see chart from MBA).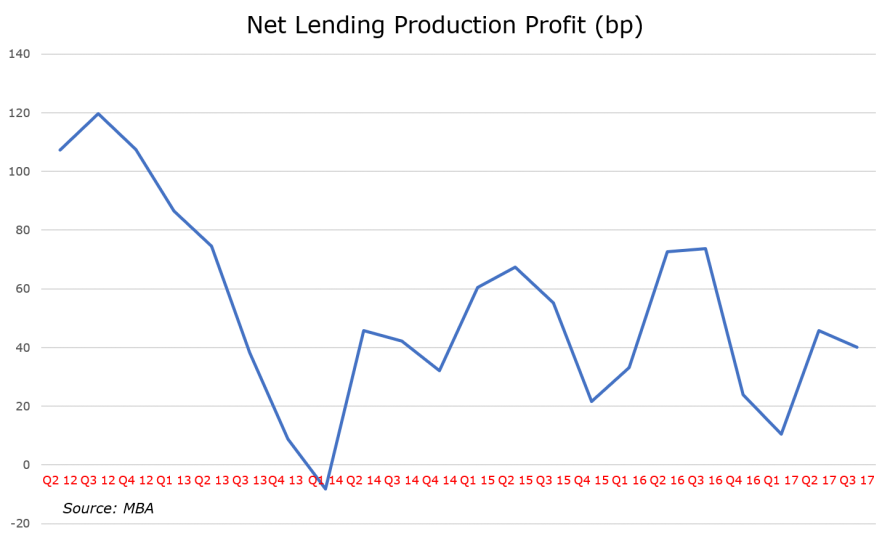 Remember, though, that financials and other stocks have been gunned by the mad economists who've been running global central banks these past years and now own a third of all securities. Unceasing, endemic inflation – what Federal Reserve Board Chairman William McChesney Martin called "a thief in the night" – is the key backdrop to the discussion of debt and equity markets today.  
A shortage of assets and a plentitude of capital has driven financials up +30% in the past year.  When you see zombies running this fast, time to run yourself.