It has not been a good week for Japan's economic outlook as following last night's dismal GDP print, tonight shows Japanese Machine Orders collapsed 11.9% MoM in December - the biggest crash since Japan raised the sales tax in May 2014...
Against expectations of a modest 2.0% drop (after November's 5.7% rise, Machine Orders collapsed...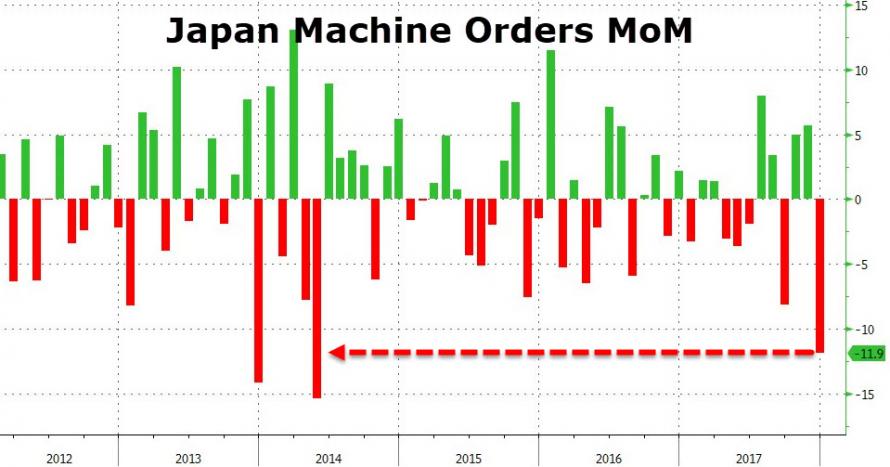 Foreign Orders cratered 13.2% led by manufacturers suffering a 13.3% MoM drop.
This drops Japanese Machine Orders back to practically unchanged since May 2013...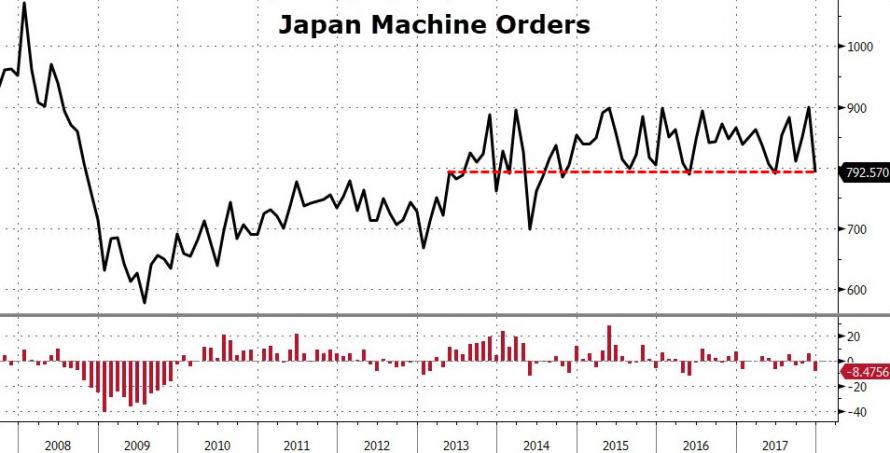 Now that's stagnation!
As Goldman writes, December machinery orders fall sharply, reverse to lower end of range.
Private sector core machinery orders (excluding orders for ships and from electric power companies, core orders hereafter), a leading indicator of capex, declined sharply by 11.9% mom in December, erasing the increase in Oct-Nov (+10.9% in aggregate). Core orders have generally trended within a ¥800-¥900 bn monthly band since the end of 2014, and the ¥899.2 bn orders in November was at the upper end of this range. However, December orders of ¥792.6 bn reversed to the lower end of the range. The Cabinet Office revised its basic assessment, saying while orders were showing signs of improvement, they declined sharply in December.

Oct-Dec orders declined 0.1% qoq (Jul-Sep: +4.7%).

By demand sector, December manufacturing orders declined sharply by 13.3% mom (November: -0.2%). For Oct-Dec, manufacturing orders rose 4.0% qoq, the third straight quarterly increase. Meanwhile, core non-manufacturing orders (excluding orders for ships and from electric power companies) declined 7.3% mom in December (November: +9.8%), and also turned down again in Oct-Dec by 2.0% (Jul-Sep: +1.6%).

According to a survey of the order outlook for Jan-Mar, also announced on February 15, core orders are expected to recover slightly by 0.6% qoq. The outlook calls for manufacturing orders to decline 5.7%, the first downward correction in four quarters, while core non-manufacturing orders are expected to rise sharply by 7.4%.

External demand also corrects sharply in December: External machinery orders, a leading indicator of capital goods exports, declined sharply by 13.2% mom in December (November: +4.9%). Oct-Dec external machinery orders inched up 0.1% qoq (Jul-Sep: +9.2%). The Jan-Mar outlook calls for -5.5% qoq, which would represent the first decline in a year.
The reaction is another leg lower in USDJPY...