Back in May 2016, Lithuania central bank head, and ECB governing council member, Vitas Vasiliauskas said that contrary to widespread perceptions of central planners as clueless hack economists who would not survive one day in the private sector and who can only inflate asset bubbles, then watch them burst and replace them with even bigger asset bubbles, central bankers are really "magic people."
"Markets say the ECB is done, their box is empty," Vasiliauskas told Bloomberg in the spring of 2016. "But we are magic people. Each time we take something and give to the markets -- a rabbit out of the hat."
It now turns out they also appear to be corrupt, criminal people because on Saturday, Vasiliauskas' next door peer, Latvian central bank Governor, Ilmars Rimsevics who is also a member of the European Central Bank's governing council, was detained by Latvia's anti-graft bureau, prompting calls for him to step aside to prevent harming the country's financial sector.
In a statement to Reuters, Latvia's Prime Minister Maris Kucinskis did not say why Rimsevics had been detained or what he was being investigated for. However, he attempted to reassure people that the economy was stable.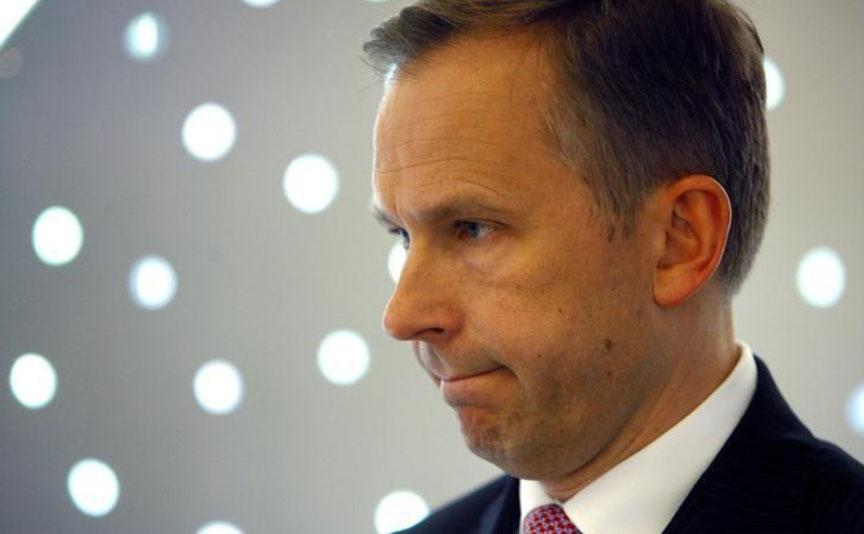 Rimsevics, 52, has worked at the Baltic nation's central bank since graduating with an MBA from Clarkson University in Potsdam, New York, in 1992. After first taking the role of deputy governor that year, he was promoted to governor in 2001. He's been a member of the ECB governing council since 2014, when Latvia adopted the euro.
Hardly encouraging confidence, the statement said that "there are no indications that would suggest threats to the financial system of Latvia," Kucinskis said, confirming that it is very likely that there are copious threats to the financial system of Latvia, whose central banker may soon be in prison for graft.
As a result, finance minister Dana Reizniece-Ozola said Rimsevics should step aside for the time being to protect the Baltic country's reputation.
"Given that the governor of the central bank is a symbol for every country, [then] I think that it would be sensible at this moment that Mr. Rimsevics, at least during the investigation, steps down," Reizniece-Ozola told a news conference.

"Under the current circumstances... every day that Mr. Rimsevics remains in the post of governor of the central bank, the situation (for the reputation of Latvia's financial system) substantially worsens," she said.
Latvia's Economics Minister Arvils Aseradens, speaking on Radio Latvia, also said the governor should consider resigning. The home and office of the central bank's governor were searched on Friday, the state broadcaster said on Saturday.
Meanwhile, Rimsevics' lawyer told local media that the detention was unlawful. "A complaint is being prepared at the moment," the lawyer, Saulvedis Varpins, told news agency LETA without elaborating. Varpins, who spent more than eight hours at the anti-graft bureau in Riga with Rimsevics before the governor was taken away in a bureau van, said his client was being held at the state police station and hasn't been charged, according to Leta. Varpins, who didn't answer repeated calls and text messages, cited the reason for the detention as alleged acts from years ago.
Reiznice-Ozola said the country was suffering a crisis of reputation over ABLV, which has denied all accusations from the U.S. Treasury and said it will work with U.S. officials and provide information so that doubts about it can be laid to rest. Latvia has asked the U.S. Treasury to discuss and share data on ABLV, she said. The central bank is helping the lender with liquidity, said Edvards Kusners, a member of the monetary authority's board.
As Bloomberg adds, this is the latest setback for Latvia's banking sector, which last week was hit by allegations by the U.S. Treasury Department's Financial Crimes Enforcement Network that its third largest financial institution by assets, ABLV Bank, has institutionalised money laundering, claiming it helped entities allegedly linked to North Korea's missile program process transactions -- charges the lender denies.
The ECB declined to comment, according to Bloomberg. Another ECB governing board member, Bank of Greece Governor Yannis Stournaras, is also being accused of bribery, an accusation he vehemently denies, alleging political persecution aimed at forcing him to resign.