A former Trump campaign aide and longtime business partner of Paul Manafort, Rick Gates, will plead guilty to fraud-related charges in the coming days, and has indicated that he will testify against Manafort in upcoming proceedings, the LA Times reports.
"Rick Gates is going to change his plea to guilty,'' the LA Times quoted a person "with direct knowledge of the new developments", who added that the revised plea will be presented in federal court in Washington "within the next few days.''
The move follows weeks of speculation and a change in legal representation for Gates, who dropped lawyers Shanlon Wu, Walter Mack and Annemarie McAvoy for Sidley Austin senior counsel and personal acquaintance of Robert Mueller, Thomas C. Green. 
Three lawyers representing Trump associate Rick Gates in money-laundering case against him have asked to be dropped from the case. Meanwhile, Tom Green, a lawyer known for hammering out plea deals, stays on as counsel for Gates.

— Mike Levine (@MLevineReports) February 1, 2018
Mueller is prosecuting Gates and Manafort in conjunction with his wide-ranging investigation into Russian interference in the 2016 election, and whether crimes have been committed by Trump or members of his campaign before, during or since the election. 
Manafort, who served as Trump's campaign manager for approximately two months, was fired within 48 hours of Trump's first classified intelligence briefing as a candidate - leading some to speculate that Trump found out about an active investigation against the lobbyist in relation to his activities in Ukraine with Gates and Tony Podesta - who stepped down from his now-defunct lobbying firm after Manafort's indictment.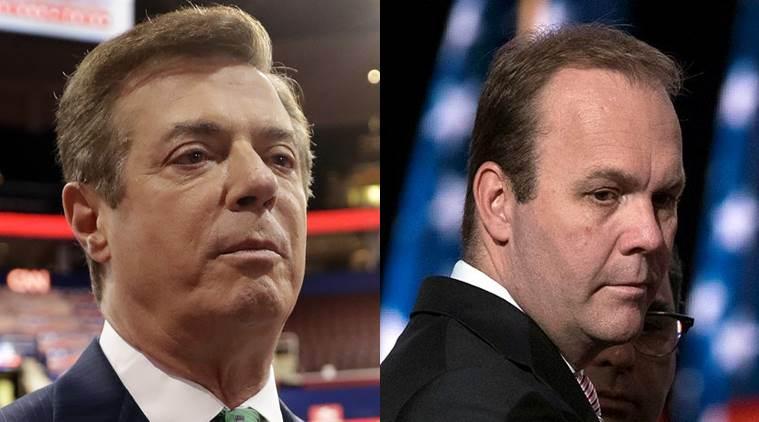 Last October Manafort pleaded not guilty to eight counts of money laundering and failing to register foreign lobbying and other business, while Gates - who faces 10 years in prison - pleaded guilty to nine counts in the same case.
According to a person familiar with Gates' new plea bargain, the longtime political consultant can expect "a substantial reduction in his sentence" if he fully cooperates with the investigation, thought to be around 18 months, however the agreement will not be specified in writing. 
Gates "understands that the government may move to reduce his sentence if he substantially cooperates – but it won't be spelled out.'' -LA Times
Gates, a 45-year-old married father of four, does not appear to be able to financially sustain a high-powered legal defense. "He can't afford to pay it,'' said one lawyer who is involved with the investigation. "If you go to trial on this, that's $1 million to $1.5 million. Maybe more, if you need experts'' to appear as witnesses.
The October 27 indictment reveals a mountain of evidence against Manafort and Gates - who were longtime business partners in political consulting for around a decade - engaging in a series of complicated and allegedly illegal transactions rooted in Ukraine. Both men operated as unregistered agents of the government of Ukraine, and hid millions of dollars of payments from U.S. authorities according to the indictment. 
Additional Charges?
As we previously reported, Paul Manafort was hit with a new bank fraud claim revealed in a court document unsealed on Friday related to the lobbyist's bail hearing. "[T]he proposed package is deficient in the government's view, in light of additional criminal conduct that we have learned since the Court's initial bail determination," reads the court filing. "That criminal conduct includes a series of bank frauds and bank fraud conspiracies."
"Conspiracies" indicates that more than one person - ostensibly Rick Gates, was involved in the "additional criminal conduct" Mueller's team has discovered. 
Manafort, Podesta and Ukraine
Manafort worked closely with Tony Podesta - co-founder of the Podesta Group lobbying firm with his brother and Clinton campaign manager, Tony Podesta. Mueller subpoenaed the Podesta Group last August along with four other public relations firms who worked with Manafort on a 2012-2014 lobbying effort for a pro-Ukraine think tank tied to former president Viktor Yanukovych. Yanukovych fled from Ukraine to Russia after he was unseated in a 2014 coup.
Manafort's firm earned $17 million consulting for Yanukovych's centrist, pro-Russia 'Party of Regions.' During the same period, Manafort oversaw a lobbying campaign for the pro-Russia "Centre for a Modern Ukraine," (ECMU) a Brussels based think tank linked to Yanukovych which was pushing for Ukraine's entry into the European Union.
The Podesta group, operating under Manafort, earned over $1.2 million as part of that effort.
While the Podesta group and Paul Manafort both failed to file paperwork related to the Pro-Russia Centre for a Modern Ukraine, retroactive disclosures filed by the Podesta group on August 17 reveal dozens of previously unreported communications with high level democrat officials related to the lobbying campaign – including Hillary Clinton's State Department and the office of former Vice President Joe Biden.
Peddling Oligarchs
A former longtime executive of the now-defunct Podesta group who has been "extensively" interviewed by Robert Mueller's team revealed to Fox  that Manafort and the Podesta group had been working together since at least 2011 on behalf of Russian interests, and that Manafort was at the Podesta Group offices "all the time, at least once a month," peddling influence through the ECMU think-tank. Manafort allegedly brought a "parade of Russian oligarchs" to Congress for meetings with members and their staffs, however, Russia's "central effort" was to get to the Obama administration." 
The former PG exec also told Tucker Carlson (and presumably Mueller's team) that the Russians, believing that Hillary Clinton would win the 2016 election, considered the Podesta Group's connection to Hillary highly valuable. Moreover, Carlson's source said payments and kickbacks could be hard for investigators to trace, describing it as a "highly secret treasure trove." One employee's only official job was to manage Tony Podesta's art collection, which could be used to conceal financial transactions.
It appears that while the 68-year-old Manafort is likely to spend the rest of his days behind bars, his business partner Rick Gates may end up serving 18 months after flipping his plea to guilty on the advice of his new, Mueller-pal attorney Tom Green. Meanwhile, nobody has heard a peep about Tony Podesta. We wonder if he's vanished to some undisclosed Japanese island.