China issued a stern rebuke of enhanced US sanctions on North Korea on Friday, saying the unilateral targeting of Chinese firms and individuals accused of supplying Pyongyang with prohibited cargo risks harming international cooperation on the problem. 
"The Chinese side firmly opposes the US imposing unilateral sanctions and 'long-arm jurisdiction' on Chinese entities or individuals in accordance with its domestic laws," said the Chinese Foreign Ministry in a statement. "We have lodged stern representations with the US side over this, urging it to immediately stop such wrongdoings so as not to undermine bilateral cooperation on the relevant area."
The fresh sanctions were slapped on 27 companies and 28 ships linked to the North Korean shipping trade, while the U.S. urged the United Nations to blacklist entities known or believed to be smuggling prohibited cargo in or out of North Korea. Energy and shipping firms based in mainland China, Hong Kong, Taiwan and Singapore are primarily affected by the sanctions, which block US-held assets belonging to violators, and prohibit US citizens from conducting business with them. 
China is North Korea's largest trading partner, supplying 90 percent of North Korea's total trading volume according to the Council on Foreign Relations.
China provides North Korea with most of its food and energy supplies and accounts for more than 90 percent of North Korea's total trade volume. In the first three quarters of 2017, Chinese imports from North Korea actually fell by 16.7 percent, though exports were up by 20.9 percent. Despite announced trade restrictions in textiles, seafood, and oil products, there are reports of North Korean businesses still in operation in China.
"Today's actions will significantly hinder North Korea's ability to conduct evasive maritime activities that facilitate illicit coal and fuel transports," Treasury Secretary Steve Mnuchin told reporters on Friday. "And limit the regime's ability to ship goods through international waters."
President Trump warned last week of a "phase two" that could be "very, very unfortunate for the world" if the new sanctions weren't adhered to. 
Beijing has pushed back, saying it has been "comprehensively and strictly implementing" UN Security Council resolutions, and "fulfilling its international obligations" in regards to the sanctions - preventing its citizens and companies to circumvent them. China says it will "seriously handle" violators in accordance with the law. 
"China resolutely opposes the US side enacting unilateral sanctions and 'long-armed jurisdiction' in accordance with its domestic law against Chinese entities or individuals," the ministry said.
An October report reportedly showing US spy satellites catching Chinese vessels offloading oil to North Korea suggest otherwise, however.
Even as China signals that it will toughen its stance toward North Korea—though stopping short of challenging its survivability—there is mounting skepticism that China alone can resolve the North Korea problem. Chinese officials have emphasized that they do not "hold the key to the issue." Some analysts say that China's tightening of economic ties are unlikely to deter Kim's nuclear ambitions, while others say the North Korean leader no longer cares what China thinks of its actions. -CFR
As we reported earlier, the Trump administration is coordinating with key Asian allies in the region to enforce the enhanced sanctions, according to Reuters. 
The joint effort between the U.S. Coast Guard and regional partners including Japan, South Korea, Australia and Singapore, would go further than ever before to physically block deliveries of banned weapons, components for its nuclear missile program and other prohibited cargo. Suspected violators could be targeted on the high seas or in the territorial waters of countries which cooperate with the coalition. Up to now, suspect ships have been intercepted on a far more limited basis. 
During Friday's presser, Treasury Secretary Mnuchin could not rule out physically boarding suspect ships for interdictions: 
QUESTION: Can you rule out the United States boarding and inspecting North Korean ships...

(CROSSTALK)

MNUCHIN: No, I -- I cannot rule that out.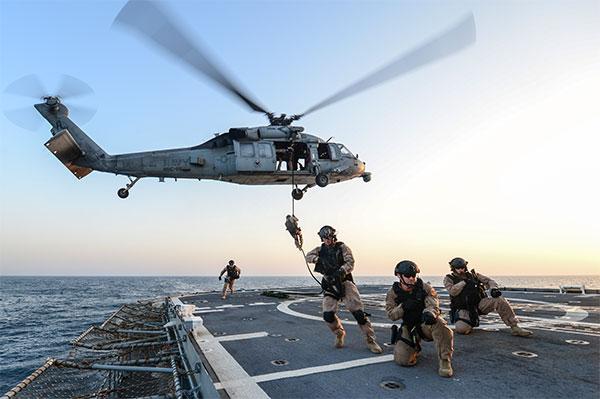 "Those who trade with North Korea do so at their own peril," added Mnuchin. "The United States will leverage our economic strength to enforce President Trump's directive that any company that chooses to help fund North Korea's nuclear and ballistic missile programs will not be allowed to do business with anyone in the United States."
Both China and Russia have cautioned against overly harsh sanctions on North Korea, proposing a "double freeze" initiative which would entail the US and its allies ceasing military exercises in the region if Pyongyang agrees to suspend its nuclear and ballistic missile program. Washington outright rejected the suggestion. 
Russian envoy to Pyongyang, Alexander Matsegora, suggested that a total ban on oil exports to North Korea could be considered a declaration of war by Kim Jong-un.