Originally published at iBankCoin.com
Don't say I didn't warn you this time. Had you read the prospectus you would've know to dear god that it was not only within Proshares right, but also their duty to take away your money and flush it down the toilet. Last night they announced a leverage change for their SVXY and UVXY products. This is especially deleterious for out of the money call buyers who wanted black swan bets on volatility. A lot of investors utilize these trades to hedge downside. Now those people have been eliminated from the field of play.
ProShares Advisors announced changes to its investment objectives to reduce leverage on its Short VIX Short-Term Futures exchange-traded fund (ticker SVXY) and Ultra VIX Short-Term Futures ETF (ticker UVXY). The former, which allowed investors to bet against a rise in volatility, is now aiming to deliver returns equal to one-half the inverse move of the S&P 500 VIX Short-Term Futures Index. Previously, the product had sought to be a perfect mirror image each session.

 

On Feb. 6, Credit Suisse announced the redemption of a fund similar to SVXY -- the VelocityShares Daily Inverse VIX Short-Term exchange-traded note (ticker XIV) -- after a record one-day spike in the VIX wiped out 90 percent of the value in the inverse product. The popularity of exchange-traded products that allowed investors to wager on enduring market calm exacerbated the downside for U.S. stocks that week, according to some analysts, helping to catalyze a technical correction.

 

ProShares's shifts will be effective as of the close of trading on Feb. 27, according to a press release. However, a permanent change of these investment objectives will require regulatory approval, the exchange-traded product provider said.

 

"Buyers of either calls or puts have paid premia that were based on much higher implied volatility values than will be prevailing post the proposed changes," said Athanassios Diplas, principal at Diplas Advisors. "Similarly, anyone directly trading these two ETPs, either long or short, whether for hedging or direct investment, will have to adjust their exposures, and incur the associated costs of rebalancing."
In other words, you're now paying exorbitant management fees for less leverage, and of course in the process wiping out premium across the entire option matrix. With the market up double digits, SVXY is higher for the day -- but options holders, especially out of the money holders, got REKT.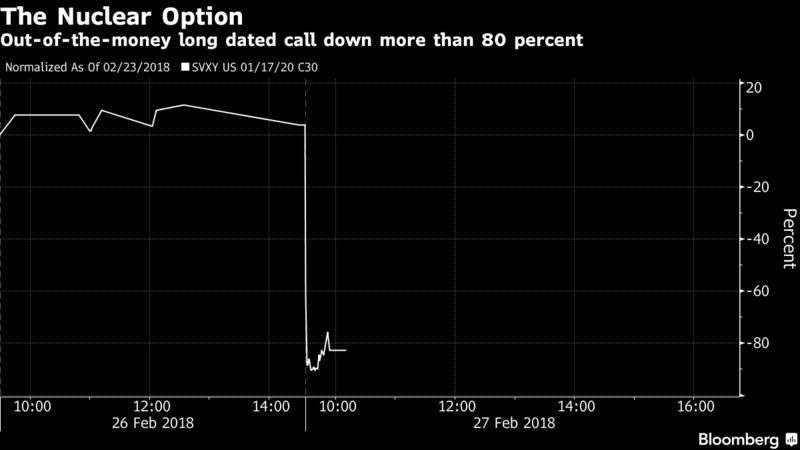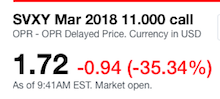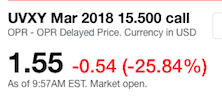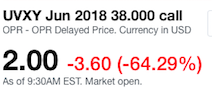 The silver lining.
"The reduction in leverage reduces the amount these products need to trade daily, and makes SVXY less likely to blow up again," said Pravit Chintawongvanich, head of derivatives strategy at Macro Risk Advisors. "It's harder for VIX futures to go up 200 percent in a single day compared to going up 100 percent in a single day."
Traders on Twitter aren't so enthusiastic.
options got smoked, especially SVXY. spoke to Proshares, they pretty much absolve themselves of the mess, saying they are not responsible for the derivatives of their products.

— Al Orn (@AlexOrn) February 27, 2018
Implied volatility on options has dropped by approximately 25% reflecting the drop in realized volatility that $UVXY will have with the lower 1.75X multiplier.

— Vance Harwood (@6_Figure_Invest) February 28, 2018
@GunjanJS Can you look into @ProSharesETF $UVXY $SVXY, they just screwed option holders overnight. @WSJ The OCC #42683 memo said "no adjustment" but why can't options already agreed by buyer/seller trade on the agreed prior terms.

— RobotandFrank (@RobotandF) February 28, 2018
NO fun if you were long anything accept deep ITM Options on $SVXY or $UVXY. Highlights unexpected danger of trading options on leveraged products. #TVIX #TVIZ

— Scott Somer (@ScottnearSMF) February 28, 2018
You're now paying ProShares 139bps/yr to force you to keep some cash around your $SVXY allocation, like you could have done before for free

— Matt Thompson, CFA (@dynamicvol) February 28, 2018
$UVXY $SVXY thanks for playing have a nice day

— It's a trap! (@_FIREnow_) February 28, 2018
$SVXY and $UVXY options holders today, after RULES change. NOTE: IT WAS IN THE PROSPECTUS pic.twitter.com/VwhKvVzRRm

— The_Real_Fly (@The_Real_Fly) February 28, 2018