While Elon Musk is more concerned with what music will be played inside the night clubs of his Martian colony, Tesla's top executives continue to flee his all too terrestrial company, and in just the last few days the electric automaker- which continues to burn unprecedented amounts of cash - lost its two top financial executives.
According to Bloomberg, Tesla's corporate treasurer and vice president of finance, Susan Repo, quit to become the CFO of another company, just days after Chief Accounting Officer Eric Branderiz parted ways for personal reasons last week, the company disclosed.
Bloomberg's attempts to reach Repo, who joined Tesla in 2013 according to her LinkedIn profile, were not successful, while the person who confirmed her departure wasn't authorized to speak publicly and asked not to be named.
In addition to Repo and Branderiz, Jon McNeill, Tesla's president of global sales and service, also left the company to become the COO of Lyft in February. Musk said at the time that McNeill's department would report directly to him and that there were no plans to search for a replacement.
The departure of Tesla's former CFO Jason Wheeler in April of last year launched an avalanche of executive departures from ridiculously cash burning automaker. Since then, other prominent management departures reported by Bloomberg and others have included Lyndon and Peter Rive, Musk's cousins who had joined him in co-founding SolarCity; Chris Lattner, an Apple hire who left after leading Tesla's Autopilot engineering team for less than six months; Kurt Kelty, a longtime battery executive; and Diarmuid O'Connell, vice president of business development.
The following list is a summary of the publicly disclosed departures in the last few years.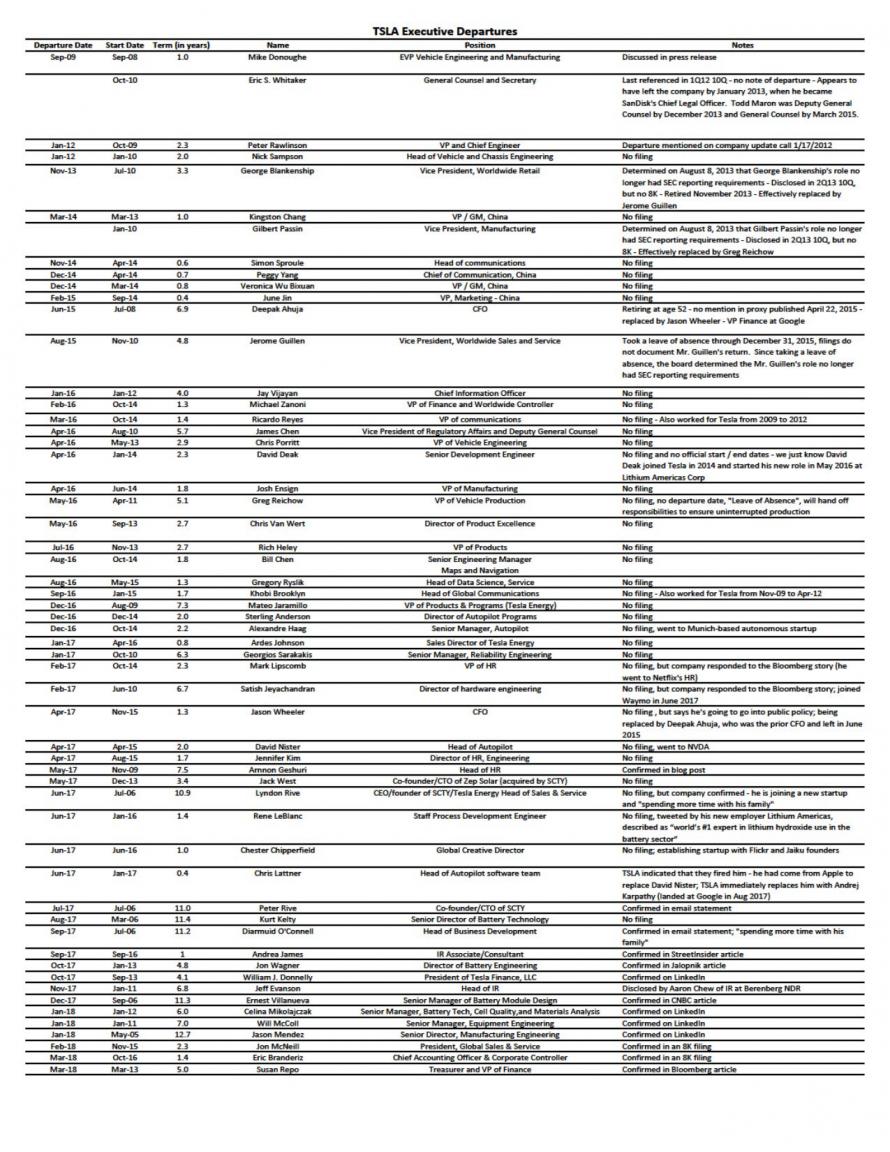 The departures come at a sensitive time for Tesla, which is expected to report production and deliveries early next month that will be closely watched for whether the company hit a target to make 2,500 Model 3 sedans a week by the end of the first quarter (down from 5,000 previously). Elon Musk has delayed manufacturing goals several times for the car that Tesla has spent billions on to reach more mass market consumers.
"Elon Musk has to be careful to stabilize his company" amid reports of quality issues with the Model 3, a recent production pause for the car and the spate of management changes, said Ferdinand Dudenhoeffer, the director of the University of Duisburg-Essen's Center for Automotive Research. "That doesn't look very comfortable."
And speaking of Elon Musk, it is perhaps no wonder why he is hiring "Onion" staffers - he needs more distractions... fast.
Hot on the heels of news of even more executive departures, CNBC reported today that Tesla employees have warned the company is manufacturing "a high ratio of flawed parts and vehicles that need rework and repairs." The electrical vehicle maker has had to ship some flawed parts to remanufacturing facilities to avoid scrapping them, rather than fixing them in-line, according to CNBC sources.
One current Tesla engineer estimated that 40 percent of the parts made or received at its Fremont factory require rework. The need for reviews of parts coming off the line, and rework, has contributed to Model 3 delays, the engineer said.

Another current employee from Tesla's Fremont factory said the company's defect rate is so high that it's hard to hit production targets. Inability to hit the numbers is in turn hurting employee morale.
While TSLA was already sliding in today's session, it extended its losses on the news, and was down over 3% on the day.