There is one way to assure that your supply chain is not impacted by the upcoming trade wars: bring all your manufacturing to the host nation and no longer rely on foreign suppliers.
That's precisely what Apple appears to be doing because in a move that may cause a dramatic shake-up among the key vendors to the world's biggest company, Bloomberg reports that Apple is designing and producing its own device displays for the first time, using a secret manufacturing facility near its Cupertino headquarter to make small numbers of the screens for testing purposes; if successful the numbers will grow far bigger.
In the latest indication that Tim Cook wants to eliminate any supply bottlenecks, and really, any suppliers - recall the historic crash of Dialog Semi which plunged the most in 16 years after a report that Apple would bring its power-management chip production in house - the tech giant is making a significant investment in the development of next-generation MicroLED screens, according to Bloomnerg sources.  MicroLED screens use different light-emitting compounds than the current OLED displays and promise to make future gadgets slimmer, brighter and less power-hungry.
Since MicroLED screens are more difficult to produce than OLED displays, not to mention expensive, the company almost killed the project a year or so ago, but since then engineers have been making progress and the technology is now at an advanced stage, though consumers will probably have to wait a few years before seeing the results.
Bloomberg adds that, as noted above, this ambitious undertaking "is the latest example of Apple bringing the design of key components in-house." And while the company has designed chips powering its mobile devices for several years (see Dialog) its move into displays has the long-term potential to hurt a range of suppliers, from screen makers like Samsung Electronics Co., Japan Display Inc., Sharp Corp. and LG Display Co. to companies like Synaptics Inc. that produce chip-screen interfaces. It may also hurt Universal Display Corp., a leading developer of OLED technology.
As one would expect, the stocks of several key Apple suppliers have been whacked early in the Asian session, with Japan Display dropping as much as 4.4%, Sharp tumbling up to 3.3%, Samsung sliding 1.4% and BOE Technology Group down 2.7%.
Analysts, especially Apple bulls, are ecstatic at the opportunity:  Ray Soneira, who runs screen tester DisplayMate Technologies, told Bloomberg tgat bringing the design in-house is a "golden opportunity" for Apple. "Everyone can buy an OLED or LCD screen," he says. "But Apple could own MicroLED."
Because arguably, customers care if the phone they can't afford at over $1,000 has OLED or MicroLed (spoiler alert: they don't, what they care about is the price tag).
And speaking of the price tag, it will only go up as mass producing the new screens will require new manufacturing equipment, and massive new sunk costs. Furthermore, by the time the technology is ready, something else might have supplanted it. Apple could run into insurmountable hurdles and abandon the project or push it back.
Somewhat bizarrely, Bloomberg downplays its own scoop by saying that "ultimately, Apple will likely outsource production of its new screen technology to minimize the risk of hurting its bottom line with manufacturing snafus. The California facility is too small for mass-production, but the company wants to keep the proprietary technology away from its partners as long as possible, one of the people says. "We put a lot of money into the facility," this person says. "It's big enough to get through the engineering builds [and] lets us keep everything in-house during the development stages."
Which is not good for the stock: any dollar that goes into silly R&D and projects is one less dollar that can be used to buyback AAPL stock.
Some more details on the not-so-secret project:
The secret initiative, code-named T159, is overseen by executive Lynn Youngs, an Apple veteran who helped develop touch screens for the original iPhone and iPad and now oversees iPhone and Apple Watch screen technology.

The 62,000-square-foot manufacturing facility, the first of its kind for Apple, is located on an otherwise unremarkable street in Santa Clara, California, a 15-minute drive from the Apple Park campus in Cupertino and near a few other unmarked Apple offices. There, about 300 engineers are designing and producing MicroLED screens for use in future products. The facility also has a special area for the intricate process of "growing" LEDs.

Another facility nearby houses technology that handles so-called LED transfers: the process of placing individual pixels into a MicroLED screen. Apple inherited the intellectual property for that process when it purchased startup LuxVue in 2014.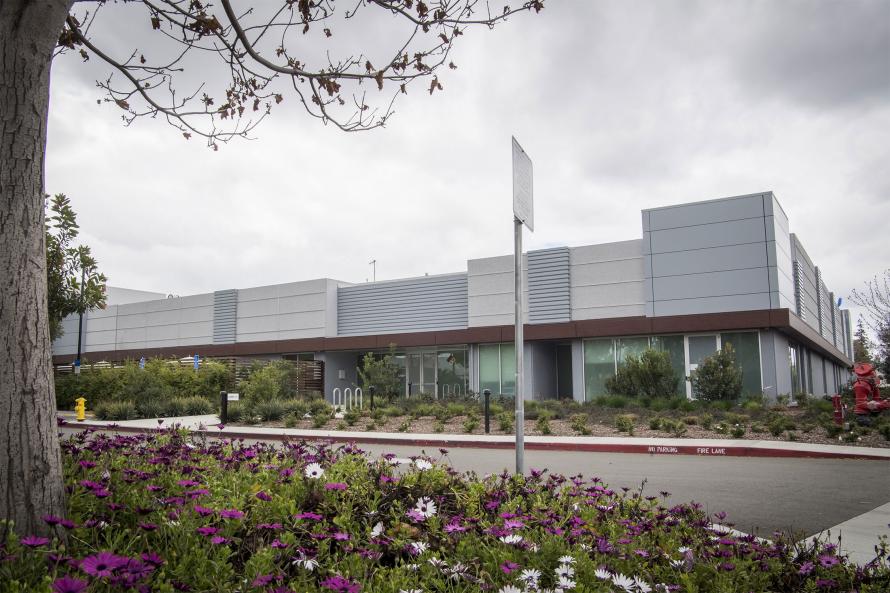 The complexity of building a screen manufacturing facility meant it took Apple several months to get the California plant operational. Only in recent months have Apple engineers grown confident in their ability to eventually replace screens from Samsung and other suppliers.
But not for a long, long time.
As Bloomberg calculates, it's unlikely that the technology will reach an iPhone for at least three to five years, the people say. While the smartphone is Apple's cash cow, there is precedent for new screen technologies showing up in the Apple Watch first. When it was introduced in 2014, the Apple Watch had an OLED screen. The technology finally migrated to the iPhone X last year.
So until MicroLED is ready for the world to see, Apple will still - at least publicly - be all-in on OLED. The company plans to release a second OLED iPhone in the fall, a giant, 6.5-inch model, and is working to expand OLED production from Samsung to also include LG.
Until then, however, Apple has bigger problems: in a note released on Sunday, Nomura analyst Anne Lee was the latest to slash iPhoneX volume estimates to 12million / 8 million units from previous forecast of 18 million/13m "as many component suppliers have seen very low shipments since February, which could cause low plant capacity utilization rate and poor mix for 1H. She warned that 1Q results could still cast earnings downside risk vs. market expectations.
And with a market cap of over $900 billion, and a forecast that is priced to perfection, while Tim Cook may be hoping to distract from the overall woes plaguing the company which gambled on ultraexpensive phones and lost with MicroLED factories and other diversions, should demand for the company's top products continue to deteriorate, Apple's shareholders are about to be rudely introduced to "imperfection."