---
Bitcoin Soars $1000 Off The Lows After G-20 Rejects Crypto Crackdown
While advertising bans and Mt.Gox Trustee overhangs remain, the FUD of a possible global regulatory crackdown in the G-20 Communique was a major driver of this weekend's weakness... until Les Echos confirms FSB has rejected calls for regulation.
After headlines suggesting a global crackdown on cryptocurrencies spooked the markets on Friday, Reuters reports that the global watchdog will pivot more toward reviewing existing rules and away from designing new ones, resisting calls from some G20 members to regulate cryptocurrencies like bitcoin.
The reaction was immediate as a relief rally - on heavy volume - sent Bitcoin $1000 higher, erasing Friday's losses...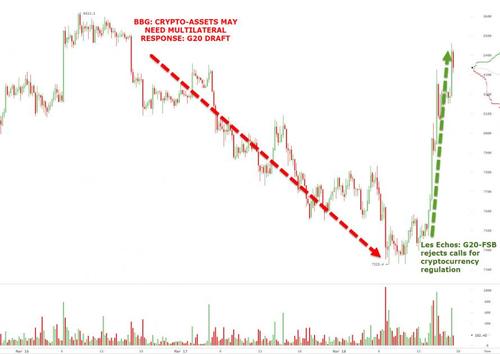 Interest in cryptocurrencies surged last year as prices rocketed only to tumble in recent months, triggering warnings from regulators. But in a sign of too little consensus for radical action, Reuters reports that the FSB said more international coordination was needed to plug data gaps in monitoring the rapidly evolving but still tiny sector worth less than 1 percent of global GDP at its peak.
"The FSB's initial assessment is that crypto-assets do not pose risks to global financial stability at this time," FSB Chair Mark Carney said in a letter to G20 central bankers and finance ministers who will meet in Buenos Aires on Monday and Tuesday.
All major cryptocurrencies are rallying on the news...