Nearly a month after Reuters reported  that Liu He - a Harvard-educated senior government bureaucrat and longtime friend of Xi - had become the frontrunner to replace outgoing PBOC head Zhou Xiachuan, surpassing banking regulator head Guo Shuqing and veteran banker Jiang Chaoliang who were said to be leading contenders for the PBOC job until last October's Congress, today the WSJ reported that President Xi Jinping has somewhat unexpectedly picked PBOC deputy governor Yi Gang to run the country's central bank.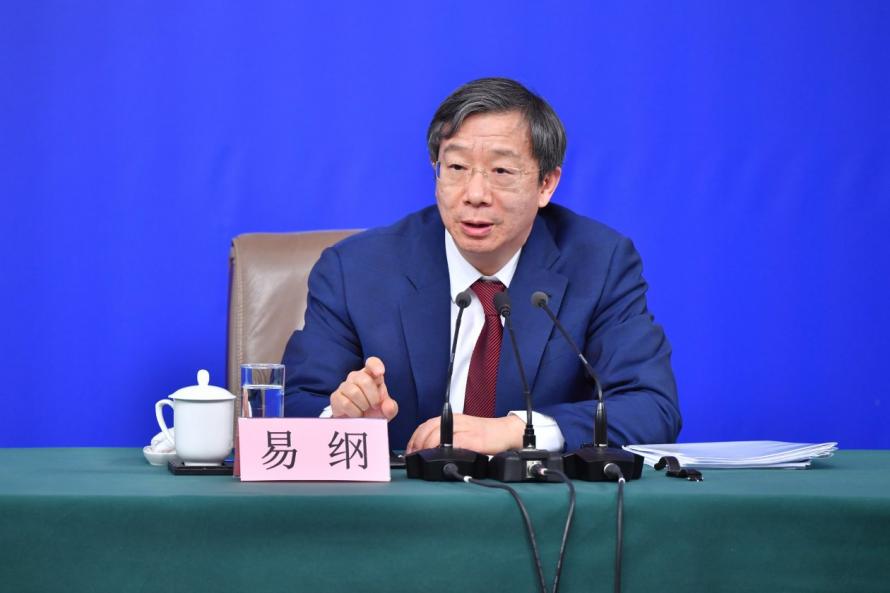 Yi, an American-trained economist who has long pushed for pro-market overhauls will take over from his mentor Zhou Xiaochuan, who has run the People's Bank of China for a decade and a half and who "steered the institution through the global financial crisis, overhauled monetary policy tools and oversaw the elevation of the yuan to reserve-currency status during his record 15-year term" as Bloomberg recaps.
Yi's nomination, which was reviewed by nearly the 3,000 delegates to the National People's Congress on Sunday afternoon, is set to be approved by China's "rubber-stamp" legislature in a formal vote on Monday.
And for those wondering, no Gang never worked for Goldman Sachs.
* * *
As the WSJ writes, the changing of the guard at the central bank, part of a broad reshuffle of party and government posts following last fall's inauguration of a new Communist Party leadership, is a key component in Mr. Xi's effort to shape an economic team, which now mostly consists of his trusted allies in order to cement himself as China's "president for life".
Some background from Bloomberg:
Yi joined the central bank in 1997 and served in a succession of roles before promotions to deputy governor and administrator of the State Administration of Foreign Exchange. As head of the currency regulator, he presided over expansion of the world's largest foreign reserve stockpile, which peaked in 2014 at nearly $4 trillion, along with more loosening of currency trading restrictions and greater emphasis on increasing the yuan's international use.

Like Zhou, Yi is also a fluent English speaker with longstanding links to global economic leaders. Yi earned a business degree at Hamline University in St. Paul, Minnesota, and a Ph.D. in economics at the University of Illinois before moving to Indiana University at Indianapolis as a professor in 1986, according to his official PBOC biography.
And now comes the hard part: Yi inherits a central bank which while more influential at home and abroad than the one that Zhou took over in 2002, faces much more complex challenges. The biggest threat will be the PBOC's "calibration" of its response to 3 or more Fed rate hikes this year, while pushing forward with Xi's financial cleanup and deleveraging campaign without crashing an economy whose debt/GDP according to the IIF is already well above 300%.
Meanwhile, the PBOC will be keeping a watchful eye on accelerating inflation too, and if that wasn't enough, Yi will also be tasked with maintaining a stable currency just as Trump prepares to launch a trade war with Beijing.
"The PBOC is in more of bind than ever with its monetary policy," said Zhao Yang, chief China economist at Nomura. "While it was fine to just look at inflation and economic growth targets in the past, the central bank now has to strike a balance among more targets, some of them conflicting."
Furthermore, the PBOC faces those tasks at a time of major institutional changes. As we reported last week, in a sweeping, $43 trillion overhaul, China merged its bank and insurance regulators, a move which gave the central bank power to write rules for the financial sector, and likely makes it the most powerful body in the new Financial Stability and Development Committee.
Perhaps the biggest unknown is how Lie will respond to a developed world that is shifting away from years of easy money. Jerome Powell succeeded Janet Yellen as Fed chair in February and Bank of Japan Governor Haruhiko Kuroda is set to begin another term. And though European Central Bank President Mario Draghi doesn't conclude his time in office until late next year, jostling over his replacement has already begun, while the ECB is preparing to end its QE by the end of the year.
* * *
In conclusion, here are the five most pressing tasks that Yi Gang will be facing on his first day as the new PBOC governor, via BBG:
1. Financial Sector
If the $40 trillion financial sector is a ticking time-bomb, then the PBOC governor will be among those sweating over which wire to cut. Reducing risky inter-bank lending, weeding out dangerous behavior by asset managers, and corralling internet credit will all be key tasks, all while trying to prevent funding to the real economy from cratering.
While it's done a decent job so far with that balancing act, the central bank now also must find its place in a new regulatory structure for the bodies in charge of oversight. Whether the PBOC is the leading light of this effort or one among many may depend on the profile of the new governor. And the clock's ticking -- the financial sector faces further shakeups now that authorities have lifted some curbs on foreign ownership.
2. Policy Framework
How the PBOC interacts with markets in pursuit of its nominal policy goals -- maintaining stability in the value of the currency and thereby promoting economic growth -- is undergoing a shift. From the credit quotas of the planned-economy era that focused on the quantity of money in the system, the central bank is ultimately headed toward letting short-term interest rates set the price of money, as its global peers have long done.
Under Zhou, the PBOC has developed a bewildering array of instruments to guide market rates -- but now it's trying to focus attention on just two at a time when it's actually increasing the range of maturities it uses.
Streamlining the policy framework will be a key task for the new governor, especially as the central bank has already announced that it's moving to a "two-pillar" system that pairs rates policy with tools geared to regulate prices of financial assets.
3. Communication
Of the world's major central banks, the PBOC talks the least. Whereas Federal Reserve and European Central Bank officials give hundreds of policy speeches each year, Zhou does just a handful.
There are signs, though, that the central bank wants to better explain itself to markets, and has slowly increased commentary this year. In an ever-more complex market environment, Zhou's successor may have to engage in open-mouth operations a little more.
4. Currency Management
Managing China's massive capital inflows and outflows, and their effect on the yuan, complicates PBOC efforts to regulate the amount and price of liquidity in the market. It's a task they may ultimately be glad to be rid of, but for now heading toward a freer-floating yuan is something that the next governor is likely to continue.
Moving in that direction may aid another big goal for Beijing: boosting global use of the yuan. Despite the International Monetary Fund conferring a reserve-currency status last year, the currency's share of global payments is down from a 2.79 percent peak in August 2015.
5. Inflation
With hefty financial-sector and currency tasks already on its plate, it would be easy for the PBOC to forget a little about its inflation mandate. With a damaging episode of runaway inflation in the 1990s in mind though, Zhou's successor should keep a close eye on developments.
Consumer prices adjusted for food and fuel held at their fastest since 2011 in October, evidence that surging factory prices are beginning to feed through. The government's drive to reduce pollution could also spur inflation, making a tightening of policy not unthinkable.
While PBOC has to take instruction from the State Council for major policies, the governor can always leverage his knowledge and experience to guide the direction of the policy debate, said Ding Shuang, chief economist for Greater China & North Asia at Standard Charted Bank Ltd in Hong Kong.
"It's an important ability to make good arguments for its policies to top leaders, which helps the PBOC find a louder voice among policy makers, even though it may not enjoy full independence," he said.