---
FANG + Apple Now Account For A Quarter Of The Nasdaq, And Some Are Getting Worried
While many parts of the market have experienced a rise in price volatility in recent months, it has largely been a one-way street for the tech darlings of Wall Street: Apple, Facebook, Amazon, Netflix and Google, also known as FANG + Apple, have grown their collective market value by more than 40% in the past year to $3 trillion, and now accounts for a staggering 25% of the Nasdaq Composite...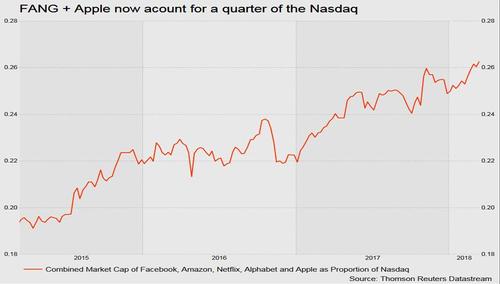 ... with Apple ($900BN in mkt cap) and Amazon ($760BN) racing to see which company hits the historic $1 trillion in market cap first.
However, what was until recently seen by most investors as the least risky market sector, has experienced some unexpected "heaviness" in the past week, with some strategists warning that investors reliance on just this handful of momentum stocks exacerbates the risk of a steep downturn.
For one thing, there's valuation, which on a forward basis remains mostly in the nosebleed levels. Below we show the Bloomberg consensus forward estimates for these five companies:
Amazon: 2018P non-GAAP EPS: $16.75; 2018 Adj. Net Income: $7.56BN; fwd P/E 189.9x
Netflix: 2018P non-GAAP EPS: $3.07; 2018P Adj. Net Income: $1.435BN; fwd P/E 116.4x
Google: 2018P non-GAAP EPS: $12.11; 2018P Adj. Net Income: $8.55BN, fwd P/E 27.3x
Facebook: 2018P non-GAAP EPS: $8.388; 2018 Adj. Net Income: $24.65$BN; fwd P/E 25.6x
Apple: 2018P non-GAAP EPS: $11.51; 2018P Adj. Net Income: $58.5BN, fwd P/E 15.5x
Adding across, the 5 companies are projected to make just over $100BN in adjusted net income in 2018 (far less on a GAAP basis), much of which is expected to come from ad sales. Which means that as a sector, these 5 companies are now trading at a 30x blended forward P/E multiple.  Hardly cheap.
Just as concerning is that as Goldman recently showed, technology stocks are the most "crowded trade" on Wall Street - with Amazon, Facebook and Google 3 of the top 4 most widely held hedge fund stocks - which is great when times are good and prices keep rising, and problematic to say the least in case of a downturn with a significant potential for a volatile selloff if sentiment changes and the "hedge fund hotel" begins evacuation.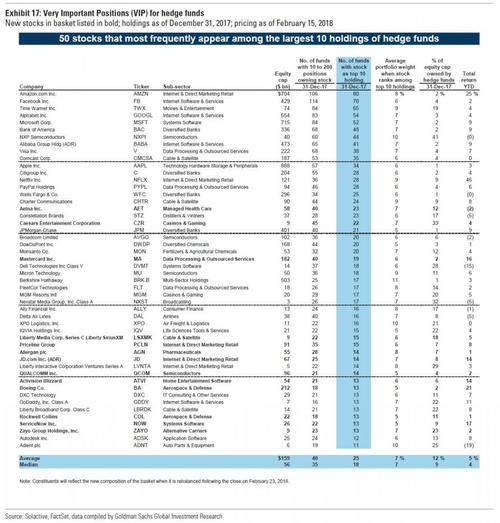 "It's a big momentum trade, investors don't care if they're paying 15 or 20 or even 50 times earnings," Mike O'Rourke, Chief Market Strategist at Jones Trading told Reuters. "The problem is, once those names start giving up those gains, then the market starts to have problems."
To be sure, for now the fundamental upside story has dominated, and investors have been attracted to those stocks for good reason: Amazon's revenue ballooned 31% to $178 billion last year - despite razor thin margins - while Netflix is expected by analysts on average to more than double its net income.
Furthermore, the expected interest rate hikes by the Fed, the first of which is due this Wednesday, may not have as  strong an effect on technology companies, which generally rely less than other kinds of companies on debt, providing some additional shelter from the storm.  Ironically, it would only make this sector even more concentrated, and even more prone to a sudden crash.
To be sure, some early yellow flags have emerged. The S&P 500 info-tech index dipped by 0.3% in the five-session period following the Fed's four most recent rate hikes, in line with S&P 500.
One concern, as noted above, is valuation.
Take Amazon, which is pushing beyond online retail and cloud computing into supermarkets and even healthcare, sending its forward P/E to a mindblowing 190x, nearly double up 100x a year ago. Meanwhile, the broader tech sector's forward P/E has nearly doubled since 2011, and is now trading just shy of 20x. By comparison, the S&P 500 is trading at about 17 times expected earnings.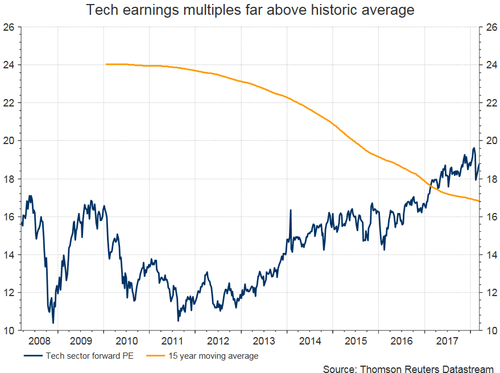 "If you ask anyone right now, if it's a business owner they'll say they're afraid of Amazon. If they're an investor, they'll tell you Amazon is going up forever," said Andrew Bodner, president of Double Diamond Investment Group in Parsippany, New Jersey.
"Overall, it creates more volatility for the market because everyone owns Amazon, and if Amazon goes down you'll see that reflected," Bodner told Reuters.
Then there's the ETFs factor: "Investors' increased reliance on passively managed index funds has also contributed to the rally in technology shares because the companies' inclusion in the S&P 500 and other indexes means money will be poured into them even if they have expensive earnings multiples", O'Rourke said.
One reason why the Swiss National Bank, for example, has been aggressively buying Apple shares is due to the "magic" of indexing: the more others buy Apple, the more the Swiss central bank has to buy, sending AAPL stock even higher, and so on in a positive feedback loop.
However, momentum for some major technology stocks is already showing signs of moderation. Facebook has fallen 5% after hitting a record high at the start of February, with some investors worried that people are spending less time on the social media platform, while others are concerned about Zuckerberg's increasingly more frequent appearances in Congress as a result of ongoing "fake news" scandals.
Finally, there is the threat of a late-cycle - if not recessionary - slowdown. While S&P 500 information technology earnings per share are expected to grow by a healthy 17.5% this year, that's less than last year's 21% surge and lower than the 19.5% earnings expansion expected for the entire S&P 500. One reason is that tech companies will benefit less than others from corporate tax cuts enacted this year, according to CFRA investment strategist Lindsey Bell.
Then again, even as the S&P 500 wavered over worries that President Donald Trump might spark a trade war, the bid for tech stocks seemed unfazed, and on Monday the Nasdaq closed at a record high, more than bouncing back from a deep selloff across Wall Street only a month ago.
"People are going with what works, and if tech was working before the shakeout in February, then they're going to stay in it," said Joe Saluzzi, co-manager of trading at Themis Trading, loosely paraphrasing Chuck Prince's legendary words from the summer of 2007: "When the music stops, in terms of liquidity, things will be complicated. But as long as the music is playing, you've got to get up and dance. We're still dancing." A little over a year later, the S&P was trading over 50% lower.