---
Israel Announces Deal To Resettle African Migrants In Western Countries; Hours Later Netanyahu Walks Back
Hours after Israel announced the planned resettlement of 16,250 African migrants to Canada, Italy and Germany - which Prime Minister Benjamin Netanyahu said was a "good agreement" which "protects the interests of the state of Israel," - Netanyahu reversed course - "pausing" the deal struck with the U.N.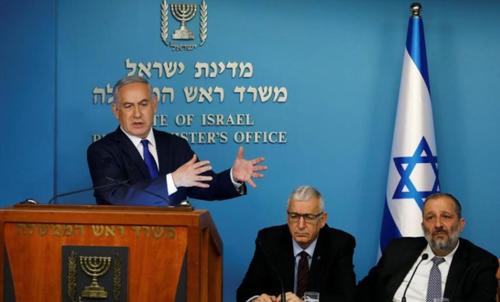 The U.N. deal would have seen Israel absorb the other half of the country's roughly 35,000 African migrants.
In a Monday tweet, Netanyahu said he will review the agreement when he meets with the Minister of the Interior on Tuesday morning.
ידידים יקרים, אני קשוב אליכם כמו תמיד ובראש ובראשונה לתושבי דרום תל אביב. לכן החלטתי להיפגש יחד עם שר הפנים אריה דרעי עם נציגי התושבים מחר בבוקר. בינתיים אני משעה את יישום ההסכם ולאחר שאפגש עם הנציגים אביא את ההסכם לבחינה מחודשת: https://t.co/6EijYZy1h4

— Benjamin Netanyahu (@netanyahu) April 2, 2018
Most of the refugees came from Eritrea and Sudan - beginning their migration in 2005 after neighboring Egypt violently put down a refugee demonstration and "word spread of safety and job opportunities in Israel," reports AP.
While Israel's border wall, completed in 2012, stopped the influx, the country has been divided on what to do about refugees who made it before its erection - with some Israelis arguing that Israel has a special responsibility to take in those in need. "Groups of Israeli doctors, academics, poets, Holocaust survivors, rabbis and pilots had also objected to the planned expulsion," notes AP, while others, such as Netanyahu, believe the migrants threaten Israel's "interests."
Tens of thousands crossed the porous desert border before Israel completed a barrier in 2012 that stopped the influx. But Israel has struggled with what to do with those already in the country, alternating between plans to deport them and offering them menial jobs in hotels and local municipalities.

Thousands of the migrants concentrated in poor neighborhoods in south Tel Aviv, an area that has become known as "Little Africa." Their presence has sparked tensions with working-class Jewish residents, who have complained of rising crime and pressed the government to take action. -AP
Prior to Monday's announced UN resettlement deal (which is now "paused,"), Israel threatened migrants with prison - placing them in a new-shuttered desert detention camp and offering them money and a one-way ticket back to Africa. When that failed, Israel announced plans to send them all to an unnamed African country believed to either be Uganda or Rwanda, on April 1.
The plan was scrapped, according to Netanyahu, when the planned "third country" which he did not identify, could not handle the influx.
"From the moment in the past few weeks that it became clear that the third country as an option doesn't exist, we basically entered a trap where all of them would remain," he said - describing Monday's compromise with Canada, Italy and Germany as the best available option.
The U.N. refugee agency said it signed a framework of common understanding "to promote solutions for thousands of Eritreans and Sudanese living in Israel." The UNHCR said it will work to relocate about 16,000 Sudanese and Eritrean nationals and that others will receive "suitable legal status in Israel." -AP
A debate raged on Twitter following both the announced resettlement and Netanyahu's rescinding of the deal he signed just hours before.  
UPDATE: In a sad and unsurprising turn, @netanyahu suspends the deal with the UN after complaints from the Right. Now the futures and fates of tens of thousands of African asylum seekers is back to where it was just a few hours ago: Unknown and unsafe.

— (((D Roth))) (@adanielroth) April 2, 2018
You could always invite some to stay at your place @adanielroth.

Thx @netanyahu 👌🏻 https://t.co/xTRIVvFIux

— Lauren Southern (@Lauren_Southern) April 2, 2018
Netanyahu told the truth today: the agreement with the UN is better & more realistic than any other plan. The political pressure caused him to cave for now, but the right wing is shooting itself in the foot: without the agreement, all asylum seekers will remain in Israel anyway

— Noa Landau (@noa_landau) April 2, 2018
Like the US, Israel is not the world's homeless shelter. These people need to work to make a better life in their own countries.

— Ronald Paul (@iamronaldpaul) April 2, 2018
Israel is a developed country and should have no problem taking in refugees. It would appear they don't like the idea of black Africans spoiling their ethnostate.
One rule for thee and another for me.

— rotekz (@rotekz) April 2, 2018
Israeli strengthens through diversity! #openbordersforisrael

— Skeleton Cowboy 🇩🇪🏴󠁧󠁢󠁥󠁮󠁧󠁿🇨🇮 (@Cowboy_Skeleton) April 2, 2018
It will be interesting to see what Netanyahu and the Interior Minister decide on in the coming days - perhaps only to un-decide hours later.