---
Stocks Suffer Worst Q2 Start Since The Great Depression
Well that really escalated quickly...
After last week's "paint the tape ahead of a long-weekend" melt-up into the close, the first trading day of the second quarter was a bloodbath... In fact the worst since The Great Depression...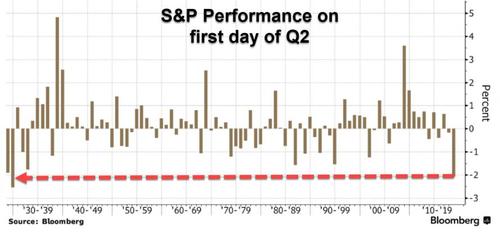 As David Rosenberg (@EconguyRosie) summed up so precisely: New math: every tweet by @realDonaldTrump subtracts 70 points off the Dow. Keep 'em coming.
Woah...a ubiquitous opening bounce, then puked into Europe's close, then another attempt to ignite momentum, fails and stocks puked into red for the year again...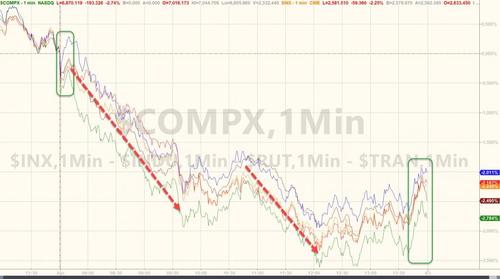 3rd dead cat bounce in a week...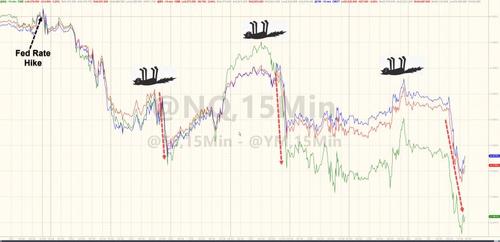 The S&P 500 and The Dow broke below their critical 200DMA... (Nasdaq is closest to its 200DMA since Brexit plunge) -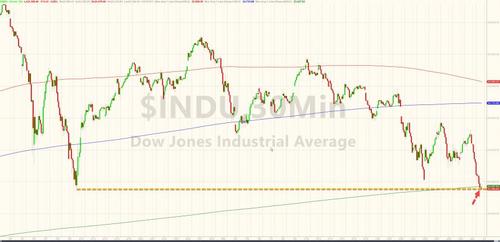 there was a desperate last few minutes attempt to rally 'em back above the 200DMAs - Dow ended back above its 200DMA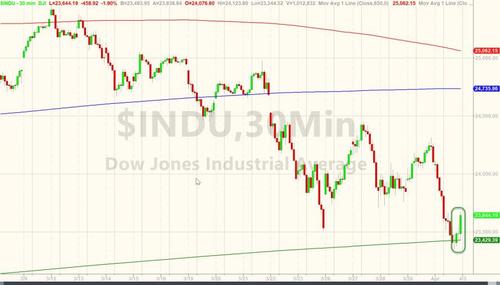 First time the S&P has closed below the 200DMA since June 27th 2016 (Brexit)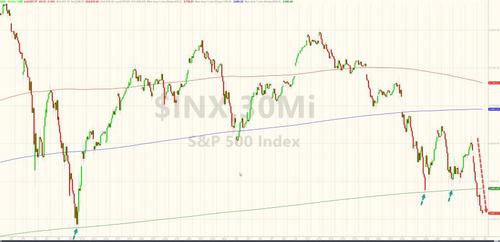 VIX topped 25, leading the US equity index vols higher today...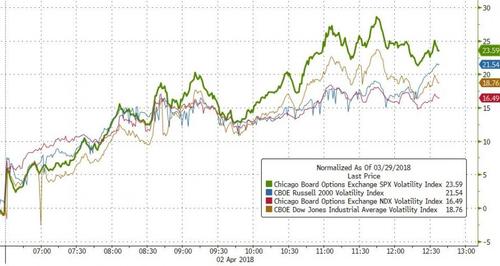 Tech led the tumble...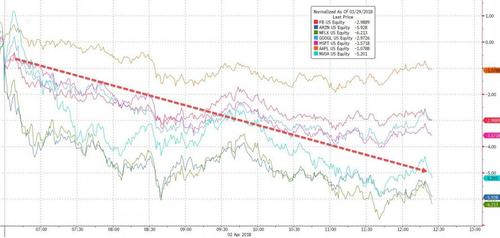 Lowest close for NYSE FANG+ Index since January 5th...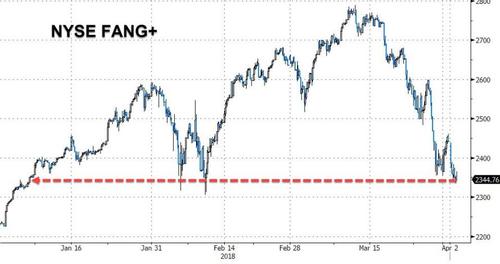 With Tesla bonds...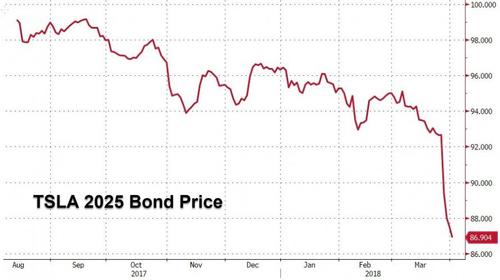 and Stocks really ugly - We suspect Elon is regretting the April Fools' joke...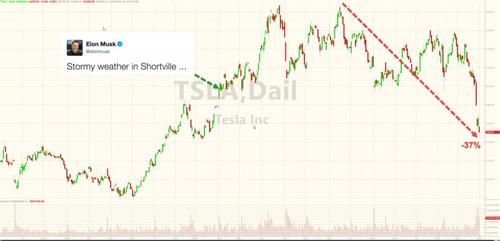 Remember Friday's reassuring bounce in bank stocks?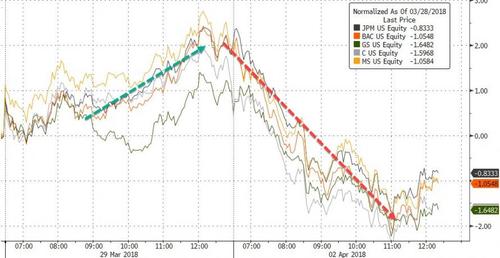 Stocks caught down to bonds' reality once again...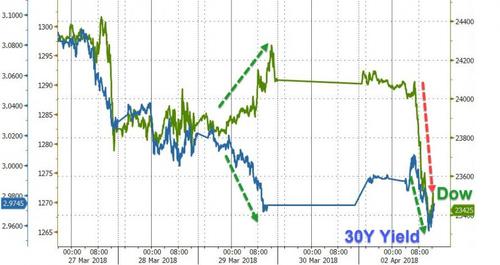 Treasury yields slipped lower from the US open (after opening higher)...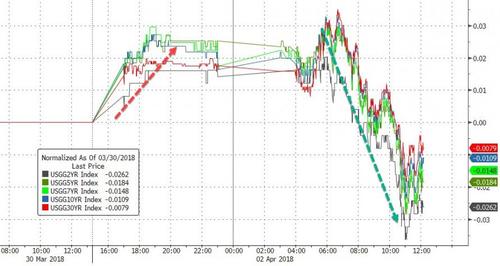 With the 10Y Yield dropping to neat two-month lows...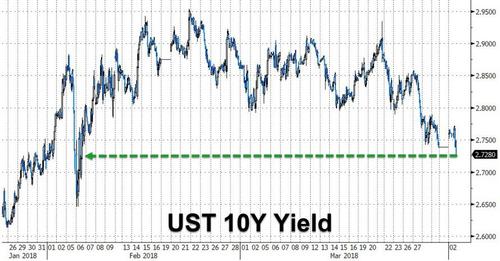 And Copper/Gold signals another 20-30bps lower for 10Y Yields...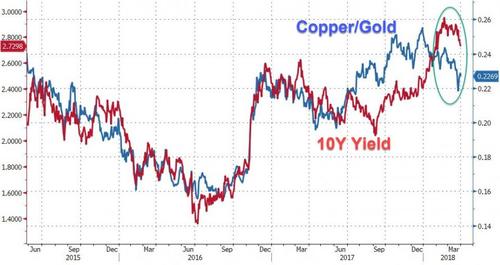 The Dollar Index rebounded modestly as safe-haven liquidity flows picked up like last week...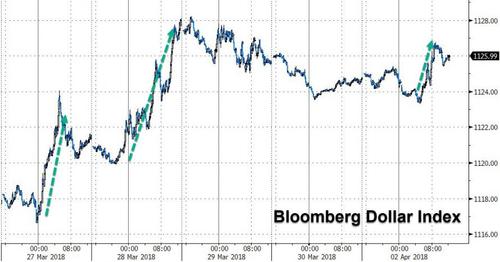 Cryptos looked ugly over the weekend but ramped back to even today...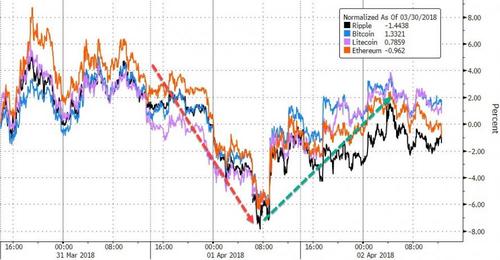 Despite dollar strength, PMs rallied on the day as crude was crushed...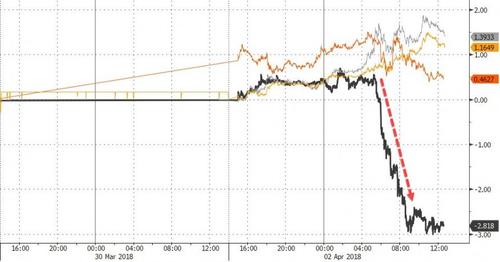 And finally, as stocks sink, gold gains most year-to-date...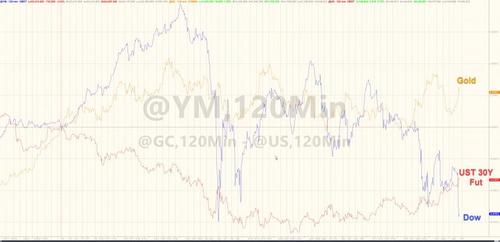 Bonus Chart: Fool me once, shame on - shame on you. Fool me - you can't get fooled again...