---
Trump Hits 50% Approval Rating, Surpasses Obama At This Time In His Presidency
President Donald Trump's approval rating stands at 50 percent according to Rasmussen's daily presidential tracking poll released Monday morning - putting Trump ahead of Obama at the exact same point in his predecessor's presidency.
Obama was at 46% on 4/2/10... pic.twitter.com/khXmSjS77j

— MATT DRUDGE (@DRUDGE) April 2, 2018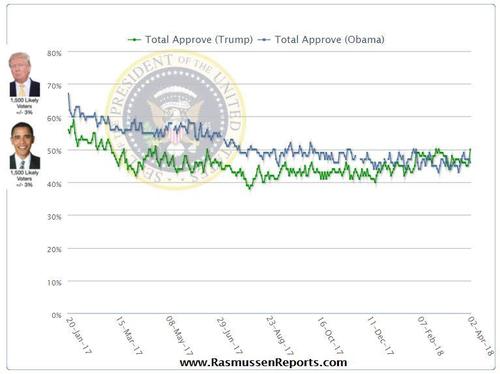 Obama approval rating 4/2/10 - 46%

Trump approval rating 4/2/18 — 50%

— Charlie Kirk (@charliekirk11) April 2, 2018
Trump last hit a 50% approval rating on February 27, as he had been hovering around the 47-50 percent range.  
As the Daily Caller's Saagar Enjeti notes, a CNN poll found that Trump's approval rating is at an 11-month high of 42 percent, which was in line with results from the Associated Press.
CNN Poll: 42% approve of Trump, highest in 11 months @CNNPolitics https://t.co/3wutybOaf8

— Jason Miller (@JasonMillerinDC) March 26, 2018
AP poll sees Trump's approval rating rise – to 42%: WASHINGTON – The good news for President… https://t.co/VwvPRpt46v https://t.co/zd8y2ntJ56

— Business World (@BusinesssWorld_) March 28, 2018
Methodology via Rasmussen; "Daily tracking results are collected via telephone surveys of 500 likely voters per night and reported on a three-day rolling average basis. To reach those who have abandoned traditional landline telephones, Rasmussen Reports uses an online survey tool to interview randomly selected participants from a demographically diverse panel. The margin of sampling error for the full sample of 1,500 Likely Voters is +/- 2.5 percentage points with a 95% level of confidence."
Trump's base is predictably pleased with the results:
President Trump approval rating: 50%
Disapproval rating: 49%

FYI this is better than Obama's rating at the same time in Obama's presidency.

— Liz Wheeler (@Liz_Wheeler) April 2, 2018
BREAKING NEWS:

Obama: 4/2/10
Trump: 4/2/18

Obama approval: 46%
Trump approval: 50%

Obama Media Coverage: 95% POSITIVE
Trump Media Coverage: 95% NEGATIVE

Obama: EMPTY Hype
Trump: REAL Results

Media lies dont work. More are waking up every day.

Media GOPe Dems panic mode

— C3 (@C_3C_3) April 2, 2018
Trump's 50% approval rating is a slap in the face to all those nevertrumpers who thought that the omnibus bill would be his downfall. At some point you would think the coyote would understand he is never going to get the roadrunner. Beep, beep.

— unseen1 (@unseen1_unseen) April 2, 2018
No his approval ratings are rising because independents like myself are opening our eyes to lefts demonic actions.

— Roger Griggs 🇺🇸 (@rogergriggs) April 2, 2018
Despite massive pro-Obama propaganda and massive anti-Trump propaganda by #FakeNews @CNN - Trump's approval rating is higher than Obama's was.
It must be hard for CNN to accept the fact that their propaganda doesn't work any more. pic.twitter.com/76Dsp8CAgr

— Steve Goddard (@SteveSGoddard) April 2, 2018
CNN and Other Fake News Networks are struggling to survive through record low ratings. Meanwhile, Trump's approval is at Record Highs! pic.twitter.com/lfvP2jSPsI

— Jacob Wohl (@JacobAWohl) April 2, 2018