Back on the 26th of March, Citron Research tweeted this out calling Longfin a 'pure stock scheme'. That got the ball rolling downhill, which was then capped off with an SEC investigation.
If you are fortunate enough to get a borrow, indeed $LFIN is a pure stock scheme. @sec_enforcement should not be far behind. Filings and press releases are riddled with inaccuracies and fraud.

— Citron Research (@CitronResearch) March 26, 2018
The U.S. Securities and Exchange Commission is investigating trading activity in shares of Longfin, a tiny stock that surged astronomically in December after the firm announced a cryptocurrency-related acquisition, the company disclosed late Monday. Longfin shares, which go by the ticker symbol LFIN, plunged 30.89 percent to $9.89 a share. The stock is now down 82.43 percent for the year so far. The Division of Enforcement of the SEC informed Longfin on March 5 that the agency is investigating trading in the company's shares and requested documents related to its IPO and acquisition of Ziddu.com, according to a required 10-K filing.
Shares are down 80% over the past two weeks.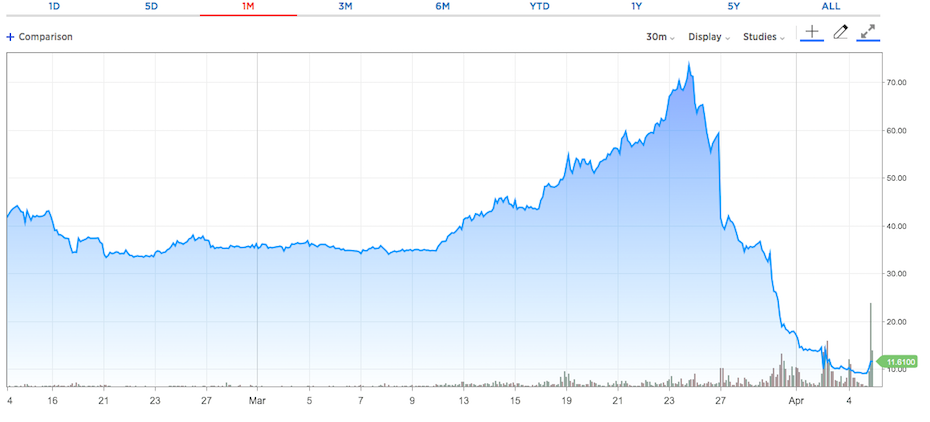 So naturally it was time for the CEO to visit CNBC again in order to deliver an absolutely brutal interview, decrying his company to be under attack by short sellers -- who are trying to destroy him. Bear in mind, the last time he visited CNBC, the interview was the worst ever aired on teevee, which sent the stock packing lower.

Here's the CEO of $LFIN, destroying his company live on CNBC. pic.twitter.com/MlKRhJ55Jr

— The_Real_Fly (@The_Real_Fly) April 5, 2018