Parkland shooting victim Anthony Borges slammed Broward County Sheriff Scott Israel and Marjory Stoneman Douglas High School Superintendent Robert Runcie for failing "on so many levels" leading up to the February 14 massacre that left 17 students and teachers dead, reports CBS Miami via The Red Elephants. 
"To Sheriff Israel of the Broward Sheriff's Office and Robert Runcie, the Superintendent of schools in Broward, I want to thank you for visiting me at the hospital, but I want to say that both of you failed us, students, teachers and parents alike, on so many levels," read Borges's attorney Alex Arreaza.
Borges is being hailed as a hero for saving the lives of 20 classmates for attempting to close and lock a classroom door during the shooting - taking five bullets in the process.
The 15-year-old shooting victim also criticized school officials for allowing self-confessed gunman Nikolas Cruz to continue to attend school even after realizing he was a threat. 
"I want to ask you today to end your policy and agreement that you will not arrest people committing crimes in our school," read Borges's statement, a reference to the Broward County's "Preventing Recidivism through Opportunities, Mentoring, Interventions, Support & Education Program" (PROMISE) - designed to allow students who commit crimes to receive counseling and other treatment instead of facing jail time. While Cruz was not part of the PROMISE program, the Borges family expressed  concerns over its existence.
Borges also wrote to the families of the deceased;
"They were not as fortunate to survive as I was. I don't know why I survived and they didn't but I will tell you that my family and I will dedicate our lives to make sure nothing like this ever happens again. To the other injured, I hope you are recovering well. We have the responsibility to tell the world what happened here." 
While the Borges's say they are grateful for the hero label bestowed upon Anthony, they would like to see that end. Instead, the family would like people to focus on the failures within the system that allowed law enforcement to miss warning signs on Cruz.
Failures at multiple levels...
Between the Broward Sheriff's Office, the FBI, school officials, and others involved with Nikolas Cruz and his brother, authorities had clear and specific warnings that Cruz intended on shooting up a school.
In February, Senator Chuck Grassley (R-IA) noted that the FBI never contacted YouTube parent Google - after it was reported that suspect Nikolas Cruz, under his own name, wrote "I'm going to be a professional school shooter" in a YouTube video comment last September.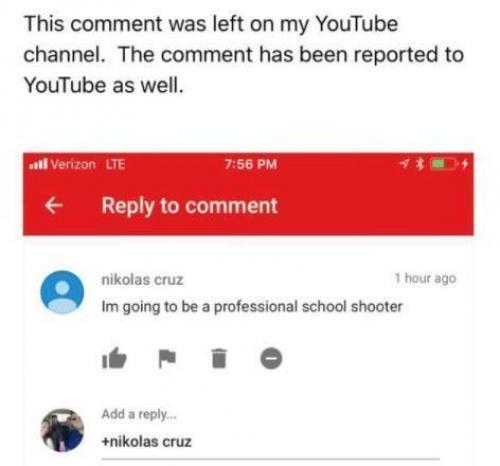 When the uploader of the video, Ben Bennight, contacted the FBI shortly after Cruz left the comment, officials spoke with him for 20 minutes, after which there was no follow up until the same agent or agents came to his home on Wednesday after the shooting. 
In a March press conference, Special Agent Robert Lansky who is in charge of the Miami FBI division said that the FBI received the tip, however they were "unable to further identify" the person who made the comment, despite conducting "database reviews" and "checks."
"No other information was included with that comment, which would indicate a time, location or the true identity of the person who made the comment," Lasky said. "The FBI conducted database reviews, checks, but was unable to further identify the person who actually made the comment."
Had they simply followed up, agents would have also discovered from Florida's state social services agency that Cruz intended to buy a gun, and that he had been cutting his arms on snapchat. 
FBI investigators could have then called the Broward County Sheriff's department and found out about the 23 times deputies responded to Cruz's home over a seven year period for emergencies including a "mentally ill person, " "child/elderly abuse", "domestic disturbance," and "missing person." The last call received by Broward County Sheriff's office on November 30, was a warning a caller who warned that  Cruz is collecting guns and knives. Concerned he will kill himself one day and believes he could be a school shooter in the making."
To top things off, a young woman close to Cruz warned the FBI she was concerned he would "get into a school and just shoot the place up," according to a leaked transcript of her call to the bureau's tip line one month before the massacre.
The transcript can be seen here.
"You know, its just so much," said the caller. "I know he's going to explode." The woman said she was making the call because she wanted a clear conscience if he takes off and, and just starts shooting places up, according to the transcripts which were reviewed by the Wall Street Journal. 
There were plenty of other incidents along the way which contributed to Cruz's ability to conduct his shooting spree. For example, had Cruz been properly arrested and prosecuted for holding a gun to his brother and mother's head, threatening their lives - he would have likely been charged with a felony and been unable to legally obtain weapons.
Meanwhile, Parkland school officials and a sheriff's deputy recommended in September 2016 that Cruz be involuntarily committed to a psychiatric facility for a mental evaluation, according to documents obtained by the Associated Press. Under the law, having been committed would have made it more difficult, if not impossible for Cruz to have legally obtained firearms. 
The documents, which are part of Cruz's criminal case in the shooting, show that he had written the word "kill" in a notebook, told a classmate that he wanted to buy a gun and use it, and had cut his arm supposedly in anger because he had broken up with a girlfriend. He also told another student he had drunk gasoline and was throwing up. Calls had even been made to the FBI about the possibility of Cruz using a gun at school. -AP
A psychological assessment service initiated by Cruz's mother, Henderson Behavioral Health (HBH), reveals that high school resource officer and Sheriff's deputy Scot Peterson along with two high school counselors recommended that Cruz be committed for mental evaluation under Florida's Baker Act - which allows for the involuntary commitment of a person for at least three days. Florida law would have allowed Peterson to unilaterally commit Cruz. 
Peterson notably resigned after his failure to enter the building as shots rang out, with many dubbing him the "Broward Coward" following the incident. 
#BREAKING: Broward County Sheriff's Office releases security video showing Deputy Scot Peterson's actions during the February 14 shooting. pic.twitter.com/gs9kAbfgRq

— Ryan Saavedra 🇺🇸 (@RealSaavedra) March 15, 2018
Speaking at a press conference, Broward Sheriff Scott Israel said the on duty officer at Stoneman "never went in." Israel said he was "devastated" after watching the video showing the deputy taking a position outside the Western side of Building 12 while shots rang out, "and he never went in" despite having a clear view of the entrance.
"I think he remained outside upwards of four minutes," Israel said.
Broward Sheriff Israel says armed school resource deputy at Stoneman Douglas "never went in." The deputy was suspended without pay pending investigation. pic.twitter.com/Qx87WtFSF8

— Josh Caplan (@joshdcaplan) February 22, 2018
Of note, Judicial Watch uncovered Broward County Sheriff's Office training and operation manuals which specifically dictate that the first one or two officers on the scene of an active shooter incident "will immediately go to confront the shooter." 
History shows when a suspect is confronted by any armed individual (police, security, concealed carry person) they either shoot it out with that person or kill themselves. Either way, the shooting of innocent bystanders must stop. Now, the first officer or two officers on scene will immediately go to confront the shooter. Military tactics work well in this situation. The two man "bounding overwatch" is our response.
Broward County Sheriff Scott Israel said during a news conference that "What I saw was a deputy [Peterson] arrive … take up a position and he never went in." Israel said Peterson should have "went in. Addressed the killer. Killed the killer."

The lesson plan clearly states: "If you are on scene or in the area and hear gunshots, you should immediately access what you have and prepare to respond. Remember, every time you hear a gunshot in an active shooter incident; you have to believe that is another victim being killed."

The training materials also state that the first officers on the scene will "engage the suspect," which Peterson did not do. "There are now three teams during Active Shooter Incident [Contact, Extraction and Rescue Task Force]: Contact Team: Is first on scene, 1-4 deputies, they will be actively engaging/searching for suspect (HOT ZONE)." -Judicial Watch
Meanwhile, aside from Parkland survivor Kyle Kashuv and now Anthony Borges - the nation has been swept up in a discussion on gun control, instead of the multiple failures of authorities to prevent the clearly mentally ill Nikolas Cruz from murdering 17 people. 
While many people say the common denominator in these mass shootings is a gun, I see that it's a lack of intergovernmental communication and governmental failure. All the more reasons to strengthen #2A https://t.co/oKtGJPzPRD

— Kyle Kashuv (@KyleKashuv) April 4, 2018