---
In Direct Rebuke To US, China Installs Radar Scramblers On Spratly Islands
As we've documented again and again (and again and again), China's military buildup in the Pacific, particularly surrounding the Spratly Islands, a collection of small islands, cays and atolls in the South China Sea, is one of the greatest long-term risks to peace and stability in the US and many of China's neighbors, who have territorial claims in the region that may conflict with China's.
While the trade disparity between the US and China has garnered most of the attention in the press since then-candidate Trump began railing against the world's No. 2 economy during the early days of his campaign, military commanders and other experts have repeatedly warned that a military conflict in the region over the coming decades is looking increasingly unavoidable.
Roughly two weeks ago, satellite images showed China had deployed its only aircraft carrier, the Liaoning, for a series of live-fire drills in the South China Sea (the ship was flanked by 40 other warships and submarines) - an unprecedented exercise of naval force that immediately prompted a US response (not to be outdone, the Navy sent three aircraft carrier battle groups to the region to try and check Beijing's influence).
Those drills took place between March 24 and April 5, and were aimed at improving the Navy's conflict-readiness - though Beijing insisted they weren't intentionally targeted at any one country. They followed a series of aerial exercises earlier this year involving Su-35s and H-6s over the South China Sea - another unprecedented escalation. Taken together, these are China's largest military exercises to date.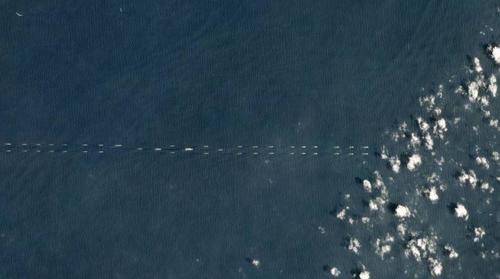 Improving the People's Liberation Army's capacity for US-style joint combat operations - involving all the armed services - is one of the main goals of a four-year military-restructuring plan authorized by Xi Jinping.
Amid all of this, the US has engaged in at least one military escalation of its own: The US has already carried out two "freedom of navigation" - or "freeop" - missions in the area. These exercises entail sending a US destroyer or some other warship to sail within 12 miles of the Spratly Islands. That's compared with four freeops for all of last year. They're meant to assert the US's right to travel freely in the South China Sea, but they've reportedly angered Beijing.
Now, in the latest galling assertion of its dominance over the region, the Wall Street Journal has reported that China installed equipment on two Spratley outposts capable of scrambling military communications and radar systems used by US ships - a clear rebuke to the US and China's neighbors.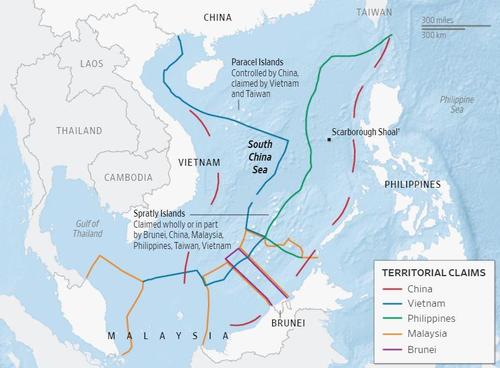 The Chinese leadership is sending a clear message to the US: Despite what you might believe, you don't have the "freedom" to navigate in the South China Sea. The scrambling technology will strengthen China's ability to assert its extensive territorial claims in the region, while hindering US military operations in a contested region that includes some of the world's busiest shipping routes.
A US official confirmed to WSJ that "China has deployed military jamming equipment to its Spratley Island outposts." Furthermore, the equipment was likely installed during the last 90 days.
The U.S. assessment is supported by a photo taken last month by the commercial satellite company DigitalGlobe and provided to The Wall Street Journal. It shows a suspected jammer system with its antenna extended on Mischief Reef, one of seven Spratly outcrops where China has built fortified artificial islands since 2014, moving sand onto rocks and reefs and paving them over with concrete.

China's Defense Ministry didn't respond to a request for comment.
The US's biggest concern regarding China's Spratleys presence is that building outposts on the islands is allowing it to control crucial trade routs, consolidate its claims to the South China Sea, reduce the US's capability to defend Taiwan and enable the People's Liberation Army to launch an attack or counterattack with little or no warning.
Beijing claims "indisputable" sovereignty over all South China Sea islands and their adjacent waters and demarcates its claims with a U-shaped line stretching from the Chinese coast almost as far south as Malaysia.

China says its island-building is for defensive purposes only, but the activity has stirred fears that it could use the outposts to enforce territorial claims that overlap with those of Brunei, Malaysia, Taiwan and Vietnam, as well as the Philippines, which is a U.S. treaty ally. In the last year or so, China has tried to smooth relations with other claimants while continuing work on the islands.

Three of its outposts in the Spratlys—Fiery Cross Reef, Mischief Reef and Subi Reef—now feature 10,000-foot runways, hangars for fighter planes, ammunition bunkers, barracks and deep-water piers for ships.

While Chinese military personnel are at the Spratly outposts and Chinese ships dock there, China has yet to station ground units or fighter planes on the artificial islands, U.S. officials say. Nor have surface-to-air missiles or antiship cruise missiles been deployed in the Spratlys, though spots to install such weapons have been prepared, U.S. officials said.

But China's ability to quickly shift military assets to the outposts is a serious concern for the Pentagon since it could enable China to control vital trade routes, exclude other claimants from disputed areas and interfere with the U.S. military's plans to defend Taiwan.

"China has built a massive infrastructure specifically—and solely—to support advanced military capabilities that can deploy to the bases on short notice," Adm. Harry Harris, the head of the U.S. Pacific Command, told the Senate Armed Services Committee last month.

According to U.S. intelligence, the new jamming equipment was deployed within the past 90 days on Fiery Cross Reef and Mischief Reef.
China has been building up its military presence in the area since Beijing deployed HQ-9 surface-to-air missiles and J-11B jet fighters in the disputed Paracel Islands back in 2016. Those islands are about 500 miles north of the Spratlys. Recently, Beijing established a Southern Theater Command to supervise Chinese forces responsible for controlling the South China Sea.
But aside from bulking up its military forces, China's escalation in the region has served a political purpose as well.
Timothy R. Heath, a senior analyst at the Rand Corporation, said that while the main purpose of the exercise was to improve the readiness of China's forces, it was also sending a political message.

"To Chinese domestic audiences, Beijing is signaling strength and readiness to defend the country's interests, which may bolster nationalist support for the government," Mr. Heath said. "To the region and the United States, Beijing is signaling that it has been acting with restraint, but that it is willing to meet confrontational policies with its own confrontational policies."

Maj. Gen. Jin Yinan of China's National Defense University said the South China Sea drills weren't connected to the recent U.S. deployment of three aircraft carriers to the region. The USS Theodore Roosevelt arrived in Singapore last Monday. The USS Carl Vinson visited Vietnam last month and did joint exercises with Japan in the South China Sea. The USS Ronald Reagan is currently based in Japan.

"Even if all three carriers came to the South China Sea, what about it?" Gen. Jin told state-run China National Radio. U.S. carrier operations in the area gave China a chance to study their operations and their radar and other electronic signals, he said.

"What else can you do apart from a show of strength? Can you attack me? Do you dare to open fire?" he said.
Given all this, the fallout from another yuan devaluation appears inconsequentially mild.