Maybe the Aramco IPO will move forward after all.
In the weeks since Aramco put the word out that it would cancel (or possibly just delay) a foreign offering of 5% of the company's shares, Saudi Crown Prince Mohammad bin Salman has met with Silicon Valley luminaries, as well as the leaders of the UK, several European countries and - of course - President Trump and his son-in-law, Jared Kushner.
Following this surprisingly well-received tour of the West (surprising considering the many human rights violations the Saudi government is accused of), Bloomberg on Friday published the most comprehensive accounting yet of Aramco's finances.
According to Bloomberg, this data has previously only been available to Aramco executives and certain members of the royal family.
But it's release begs the question: Why now? Obviously, these data weren't just left in a taxi cab for a reporter to find. The leak of this information was almost certainly deliberate. Anybody who has been following the longrunning Aramco saga - a story that has become inextricably tangled with MbS's ascension to power - will remember that one of the biggest sticking points between KSA and foreign investors was the valuation of Aramco. The Saudi government was pushing for a valuation close to $2 trillion, while some foreign investors believed it could be worth half of that.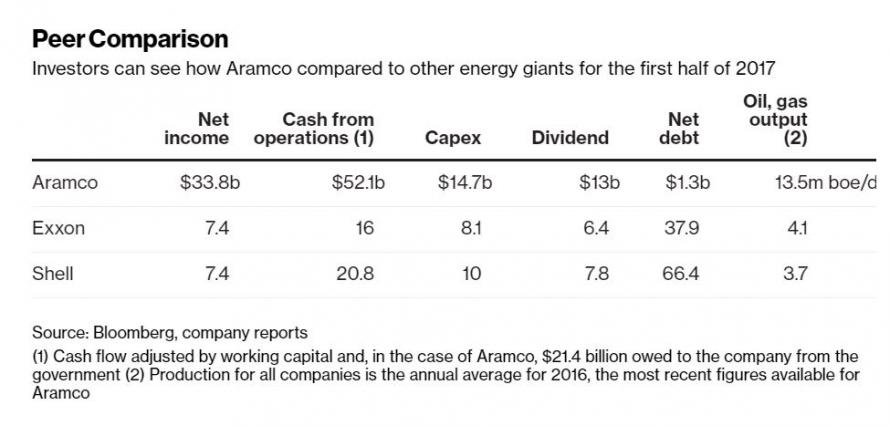 Just look at the section of the story explaining Aramco's capex expenditures as well as its production costs per barrel:
Aramco is also investing heavily. According to the data, the company's reported capital expenditures were $14.7 billion in the first half of 2017, well ahead of the $8 billion to $9 billion reported in the same period by Exxon and Shell.

There's plenty to cover investors, however. Aramco produces from some of the largest, lowest-cost fields in the world and spent just $7.9 billion in production and manufacturing costs in the first half of last year, according to the data.

Using a rough measure of total oil, condensate and gas production, Aramco spent less than $4 per barrel to pump hydrocarbons, compared to similarly rough calculations of around $20 a barrel for Exxon and Shell.
These factors have helped cement Aramco's position as the world's most profitable company.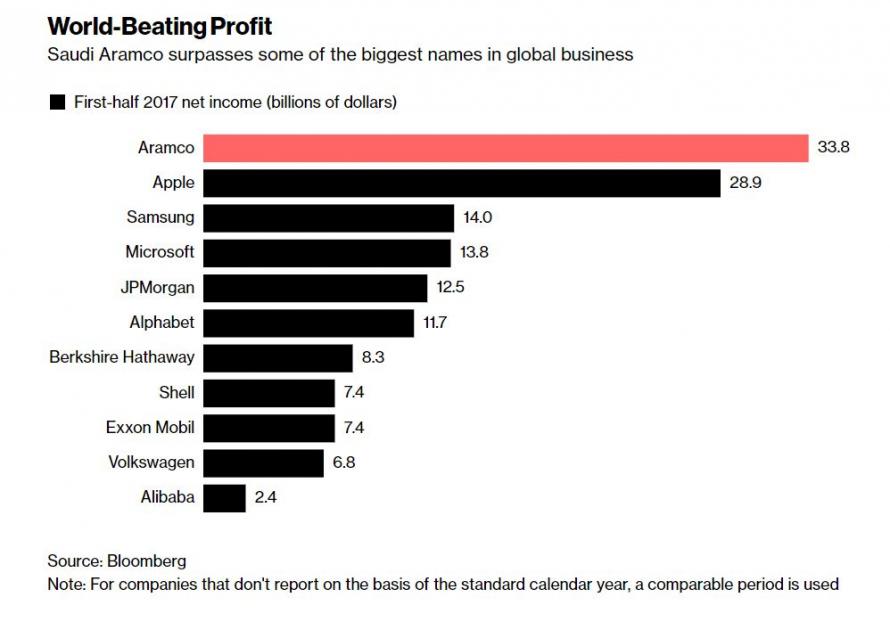 While it's true the Saudi government siphons off a sizable chunk of Aramco's profits, the company is incredibly efficient. Furthermore, As BBG shows, the company is nearly debt free, with just $20.2 billion in debt as of the end of the first half of 2017. That debt is offset by cash and cash equivalents owned by Aramco worth some $19 billion.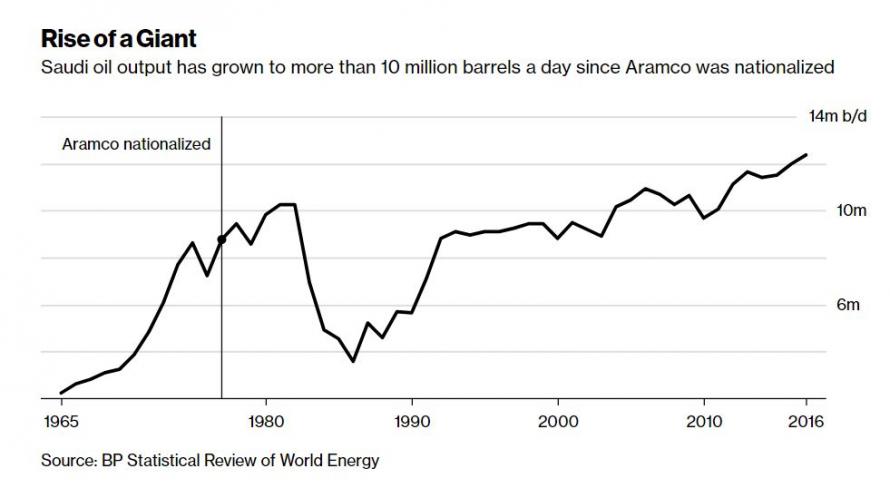 Of course, other details of the story are less flattering:
One stat that might ward off foreign investors is the company's onerous tax rate: Aramco pays 50% income tax and an additional royalty on its revenue to the Saudi government. And now that oil prices are climbing once again, the Saudi government has introduced a sliding royalty rate that will rise along with prices.
Meanwhile, the dividend, while large, isn't huge when compared with other industry leaders. Aramco paid a cash distribution to the government of $13 billion in the first half of 2017. That compares with shareholder payouts of $6.4 billion by Exxon and $7.8 billion by Royal Dutch Shell Plc, even though those two combined produce less oil than Aramco.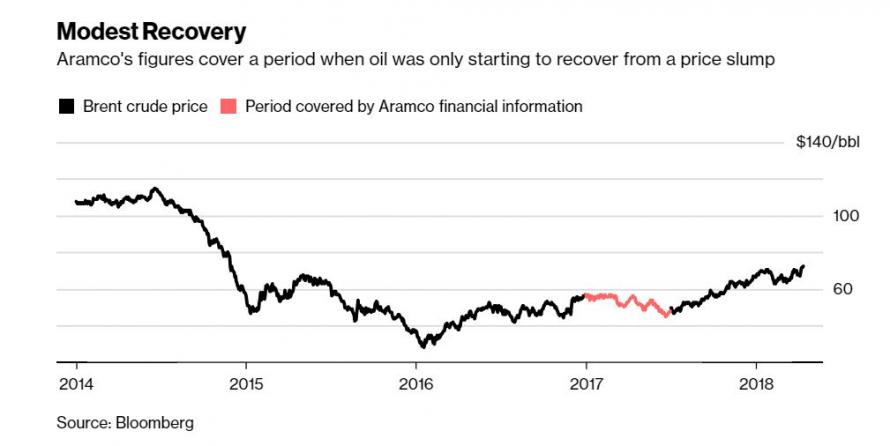 The royalty is set at 20% for oil prices up to $70 a barrel, 40% between $70 and $100, and 50% in excess of $100.
The first look at the company's books since KSA nationalized it in 1976 reveal the amazing deal the House of Saud received: It paid the progenitors of Chevron and Exxon roughly $1.5 billion for what is now Aramco.
Now that these numbers are out in the open, and MbS has finished trotting the globe and returned to KSA, we wouldn't be surprised to hear in the coming weeks that a foreign listing for Aramco is back on the table. Though it will probably be at least another year before the shares start to trade, this is clearly a trial balloon that investors can't afford to ignore.