Surely unconnected to Monday's raid of Trump attorney Michael Cohen's home and office, the Wall Street Journal reports that Cohen arranged a $1.6 million payoff to a former Playboy model in late 2017 who says she was impregnated by a top Republican fundraiser, "according to people familiar with the matter" (96 hours after the raid). 
Michael Cohen, whose office, home and hotel room were raided by federal agents this week, arranged the payments to the woman on behalf of Elliott Broidy, a deputy finance chairman of the Republican National Committee with ties to Mr. Trump, the people familiar with the matter said. Mr. Broidy, a Los Angeles-based venture capitalist, works on the Republican committee with Mr. Cohen, who is also a national deputy finance chairman. -WSJ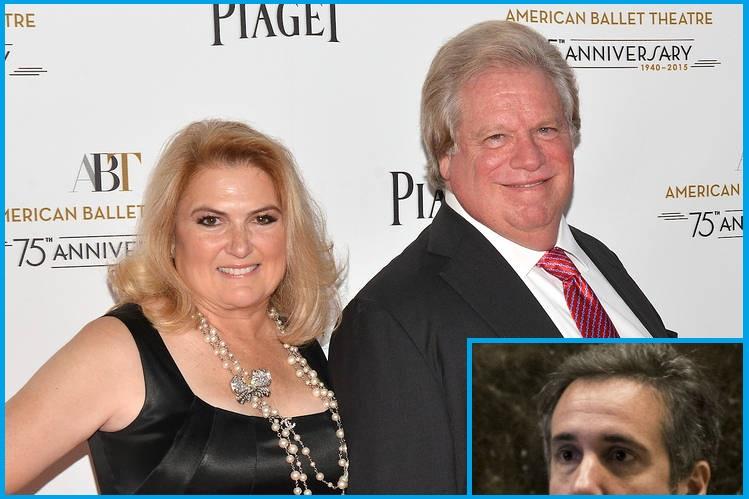 The deal, which hasn't previously been reported, prohibits the Los Angeles woman from disclosing her alleged relationship with Mr. Broidy in exchange for $1.6 million to be paid to her over two years in quarterly installments, these people said. The first payment was due Dec. 1, according to one of the people.
So it looks like Trump and Broidy may have cheated on their wives, then paid off the women who they slept with to avoid political embarrassment using Cohen as the clean-up guy. Recall that we started with certain claims of "Russian collusion" and have now arrived at marital indiscretions allegedly committed by Trump and an associate. Also - if the WSJ's account of the $1.6 million deal is correct - Broidy may have to continue to pay the Playmate if she wasn't the one who leaked to The Journal... 
Of note, the Broidy agreement resembles a $130,000 deal in which Cohen agreed to pay former porn star Stephanie Clifford - prohibiting her from discussing an alleged sexual affair with President Trump from 2006. The Broidy agreement "uses the same pseudonyms for Mr. Broidy and the woman with whome he was allegedly involved - David Dennison and Peggy Peterson," according to the WSJ.
Even Cohen used a pseudonym: 
In the Broidy agreement, Mr. Cohen, who represented Mr. Broidy, is referred to as Dennis Donohue; Mr. Davidson, the Los Angeles lawyer who represented the woman alleged to have had a sexual relationship with Mr. Broidy, is referred to as Paul Patterson, according to the person familiar with the matter. -WSJ
In response to the leak, the GOP bundler owned up to it:
"I acknowledge I had a consensual relationship with a Playboy Playmate," Mr. Broidy said in a statement provided by a spokesman. "At the end of our relationship, this woman shared with me that she was pregnant. She alone decided that she did not want to continue with the pregnancy and I offered to help her financially during this difficult period."
Broidy was a vice chairman for the Trump campaign's joint fund with the Republican Party throughout the 2016 presidential campaign - directly helping it raise over $108 million, while also giving over $160,000 last year to the RNC. 
The Republican bundler has also met with President Trump several times at the White House and Mar-a-Lago, according to yet more people "familiar with the matter." Broidy helped arrange a Los Angeles fundraiser in March that Trump attended, said the WSJ's sources. 
Meanwhile, the RNC accepted Broidy's resignation earlier today as National Deputy Finance Chairman.
Three quarters of the RNC financial leadership team has been implicated in sexual misconduct, adultery, or paying people off to cover up such activity. Solid job, guys. pic.twitter.com/qiilRUV1R1

— Ben Shapiro (@benshapiro) April 13, 2018
Sad!