Update 2: According to AP, the shooting suspect was arrested last year by the U.S. Secret Service for being in a restricted area near the White House. Metro Nashville Police Department spokesman Don Aaron said 29-year-old Travis Reinking's firearms authorization was then revoked at the request of the FBI, and four weapons were seized, including the AR-15 that he allegedly used in the shooting at the Waffle House restaurant early Sunday, killing four people. Aaron says the four guns were returned to the suspect's father, who acknowledged giving them back to his son.
In a subsequent report, a Secret Service agent said the suspect in a fatal Tennessee restaurant shooting who was arrested last July outside the White House complex had hoped to talk to President Donald Trump. Special Agent Todd Hudson in Nashville says Travis Reinking "wanted to set up a meeting with the president."
Hudson says Reinking tried to cross bike racks near the White House grounds that were part of security barriers. Reinking was asked to leave the restricted area, and when he declined, Hudson says he was arrested on a charge of unlawful entry. Reinking, who is from Morton, Illinois, was subsequently released and was later interviewed by the FBI and authorities in Tazewell County, Illinois.
Also on Sunday afternoon, an Illinois sheriff said Reinking's state firearms card was revoked last year by state police, but his guns were given to his father with the promise that they wouldn't be shared with his son.
* * *
Separately, the man who wrested the gun away from the suspect says he had entered the restaurant just two minutes ahead of the gunman. James Shaw Jr. says he had gone to eat early Sunday after visiting a nightclub. He then heard gunshots, but initially though they were stacks of plates that had fallen over. Shaw says it was then that he saw restaurant workers scatter and a body near the front door as the gunman burst through the entrance.
"He shot through that door; I'm pretty sure he grazed my arm. At that time I made up my mind ... that he was going to have to work to kill me. When the gun jammed or whatever happened, I hit him with the swivel door," Shaw told a news conference Sunday.
The gun then jammed up, and Shaw managed to get one hand on the gun and grab it. He then threw it over the countertop and took the shooter with him out the entrance. Shaw says the shooter then trotted away.
Authorities are hailing Shaw as a hero for preventing further bloodshed at the restaurant.
* * *
Update: An explosion has been reported at an Antioch property believed to be the home of the naked waffle house shooter who killed four.
A loud bang just went off at the apartment complex in Antioch where the alleged gunman Travis Reinking suspect supposedly lived. Swat has parked outside. @WKRN pic.twitter.com/gQQc1PLYLa

— Brent Remadna (@RemadnaWKRN) April 22, 2018
Swat has moved their way up to the apartment where the gunman supposedly lived. More details to come. @WKRN pic.twitter.com/spaAZkebIp

— Brent Remadna (@RemadnaWKRN) April 22, 2018
The search for Reinking continues.
*  *  *
Four people are dead and at least seven others injured after a gunman who was naked but for a green jacket opened fire at a Waffle House in Antioch near Nashville, Tennessee early Sunday morning before a patron wrestled the gun away, Metro Nashville Police reported.
The suspect, who was armed with what was described as an AR-15 assault rifle, opened fire at about 3:25 a.m. at the Waffle House at 3571 Murfreesboro Pike. He remains at large.
BREAKING: 3 persons fatally shot & 4 others wounded at the Waffle House, 3571 Murfreesboro Pike. Gunman opened fire @ 3:25 a.m. A patron wrestled away the gunman's rifle. He was nude & fled on foot. He is a white man with short hair. pic.twitter.com/d1qxRxsGNx

— Metro Nashville PD (@MNPDNashville) April 22, 2018
According to The Tennessean, the suspect first fired from the parking lot, shooting two men and shattering the glass window at the front of the restaurant before going inside and continuing to pelt the restaurant with bullets. Eight people were hospitalized after the shooting, six of them with gunshot wounds. Police said that tally could have been much higher if a 29-year-old "hero" had not intervened and wrested the gun away from the suspect.
The suspect then fled on foot, nude, after shedding his coat, and remains at large, according to police. A shirtless man wearing pants who was believed to be Reinking was spotted in woods near the restaurant, police said.
The gunman's vehicle was registered to Travis Reinking, 29, of Morton, Illinois, who police identified as a person of interest in the shooting.  Federal and local law enforcement were already aware of Reinking "due to previous interactions," police spokesman Don Aaron said. FBI investigators were on the scene Sunday morning.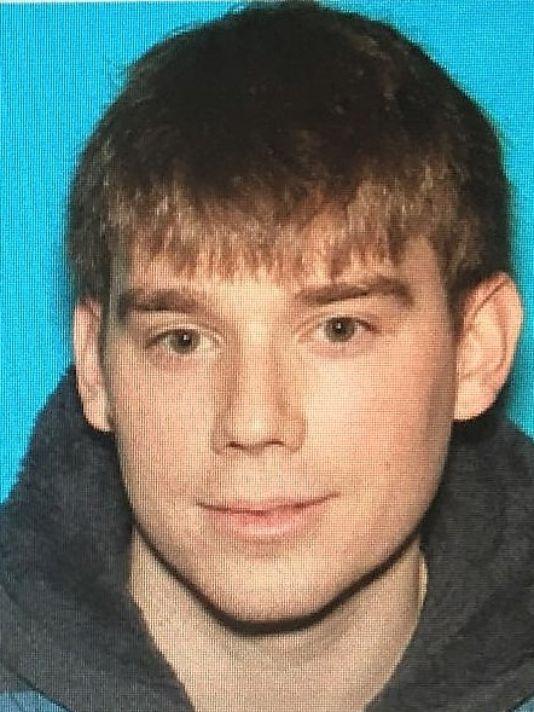 A man believed to be Reinking was last seen in a wood line near Discovery at Mountain View Apartments on Mountain Springs Drive, near the Waffle House. The man was wearing black pants and no shirt, police said.
A man believed to be Travis Reinking was last seen in a wood line near Discovery at Mountain View Apts. on Mountain Springs Dr. near the Waffle House. The man was seen wearing black pants and no shirt.

— Metro Nashville PD (@MNPDNashville) April 22, 2018
Police dressed in full SWAT gear stormed into an apartment at that complex with their guns drawn later Sunday morning, screaming for by standers to "get back."
While police do not believe the suspect is still armed but said residents in the area should lock their doors.  Local media reported that a second shooting nearby might be connected to this incident.
Three victims were transported to Vanderbilt University Medical Center. One victim died at the hospital, while one person remains in critical condition and one person is in critical but stable condition, according to hospital spokeswoman Jennifer Wetzel. Two people were taken to Southern Hills Medical Center, where they were treated for minor injuries and released Sunday morning, a spokeswoman said.
Witness Chuck Cordero, 50, had come by to grab a cup of coffee Sunday morning when he saw the suspect get out of his vehicle and open fire.
Cordero described the suspect shooting through the glass and at a man standing by the door before heading inside.
"He did not say anything," Cordero said of the shooter. "He pulled up, got out of his car and was all business."
"He did not say anything. He pulled up, got out of his car and was all business." Witness tells me he fired several rounds from parking lot before entering restaurant around 3:25 a.m. pic.twitter.com/qu4sEjrAnN

— Natalie Allison (@natalie_allison) April 22, 2018
Cordero, who works at the Waffle House but was not on the clock at the time, praised the man he saw wrestle the gun away from the shooter.
"He really saved some people. I'm positive he did," Cordero said. "Had that guy had a chance to reload his weapon, there was plenty more people in that restaurant."
In a statement, Mayor David Briley called it "a tragic day for our city anytime people lose their lives at the hands of a gunman."
"My heart goes out to the families and friends of every person who was killed or wounded in this morning's shooting. I know all of their lives will be forever changed by this devastating crime. There's clearly more to be said about these circumstances, but for now I ask Nashville to pray for and rally around these victims and join me in thanking the Metro Nashville Police Department as it works to find and apprehend the shooter."
Waffle House corporate officials are on site at the restaurant Sunday morning, according to a spokesperson.
"We are deeply saddened by this tragic incident," the spokesperson said in a statement. "This is a very sad day for the Waffle House family, and we ask for everyone to keep the victims and their families in their thoughts and prayers."
Police are asking anyone who has seen Reinking to call the police's non-emergency number immediately: 615-862-8600.