Former Deputy FBI Director Andrew McCabe reportedly gave a "stand-down" order to FBI agents who began probing Hillary Clinton's use of a private server for official government business following a report in the New York Times, reports journalist Sara Carter, citing "multiple former FBI officials, along with a Congressional official." 
After The New York Times publication, the FBI Washington Field Office began investigating Clinton's use of private emails and whether she was using her personal email account to transmit classified information. According to sources, McCabe was overseas when he became aware of the investigation and sent electronic communications voicing his displeasure with the agents. -Sara Carter
"Electronic communications" you say? Sounds like McCabe picked the right time to relaunch his new legal defense fund. 
McCabe's reported March 2015 "stand down" order to agents investigating the New York Times report may have broken FBI rules, to say the least. The official DOJ request to investigate Clinton would not be issued until the end of July 2015, four months later.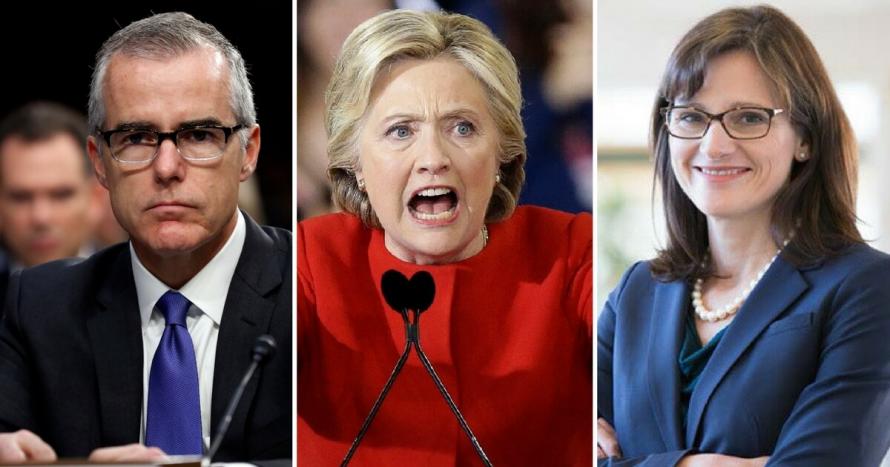 "McCabe tried to steer people off the private email investigation and that appears to be obstruction and should be investigated," said one former FBI official with knowledge of the circumstances surrounding the investigation. "Now if the information on the 'stand-down' order is obtained by the IG that could bring a whole lot of other troubles to McCabe."
Last week, Inspector General Michael Horowitz released an internal report which revealed that McCabe had lied four times to investigators, including twice while under oath, about authorizing an F.B.I. spokesman and attorney to tell Devlin Barrett of the Wall St. Journal, just days before the 2016 election, that he had not issued a similar "stand-down" order on the reported FBI investigation into the Clinton Foundation - right around the time McCabe was coming under fire for his wife Jill taking a $467,500 campaign contribution from Clinton proxy pal, Terry McAuliffe. 
So McCabe was accused of a "stand-down" order during the 2016 election, for which he authorized the leak that got him fired - and he now stands accused of a separate, previous "stand-down" order as agents began to follow up on a March 2 2015 New York Times report into Clinton's use of a private server.
Horowitz and his team of investigators at the Office of the Inspector General (OIG) have been sifting through more than 1.2 million documents, of which Sara Carter's sources say 46,000 are connected to ongoing investigations. "Of those documents, Congress has received a tiny fraction of the emails pertaining to their oversight investigations."
Judicial Watch, a conservative government watchdog group, filed a Freedom of Information Act (FOIA) lawsuit in September 2017 against the FBI for the communications on behalf of retired FBI Supervisory Special Agent Jeff Danik, as previously reported. Danik spent more than 28 years with the bureau as a supervisor in the counter-terrorism division and special overseas advisor. Thus far, the FBI has failed to abide by a judge's order to turn over all of former McCabe's text messages, emails and SMS phone messages. -Sara Carter
According to the OIG report on McCabe, the Wall Street Journal article which used McCabe's leak "discussed not only the FBI's handling of the Clinton E-mail Investigation but 'internal disagreements within the Bureau and the Justice Department surrounding the Clintons' family philanthropy.'" It stated that "McCabe, in particular, was caught . . . [in] an increasingly acrimonious fight for control between the Justice Department and FBI agents pursuing the Clinton Foundation case."
The former law enforcement sources who spoke to this reporter said a possible stand-down order on the Clinton Foundation investigation doesn't preclude another stand-down order from McCabe on the Clinton email server investigation. They noted that it appears from the IG's report that the Justice Department was attempting to dissuade McCabe from moving forward with the FBI's investigation into the Clinton Foundation. McCabe said he authorized the disclosure to The Wall Street Journal of his conversation with the DOJ's Principal Assistant Attorney General (PADAG) in an effort to counter the narrative that he had given a stand-down order on the Bureau's Clinton Foundation investigation. -Sara Carter
Meanwhile, ol' Andy has received two referrals seeking criminal prosecution - the first sent last week by 11 GOP Congressional legislators, and the second coming from Inspector General Horowitz. As Carter notes, evidence collected by the Inspector General has raised new questions over McCabe's role in the FBI's investigations of Clinton and Trump - as well as what role President Obama's DOJ (and State Department) may have played in both.