The Ten-Year United States Treasury Bond closed Friday, April 19th with a yield of 2.951%. That is the highest yield and the lowest price since the last day of 2013 when it closed at 3.026%.
The average interest rate on a 30-year fixed rate mortgage also rose to its highest—4.47%—since that same day in 2013 when it closed one basis point (one one-hundredth percent) higher at 4.48%. An average 30-year mortgage has, for the last decade, carried an interest rate of about 1.5% above the "benchmark" Ten-Year Treasury. As the Treasury yield rises and falls, so does the average mortgage interest rate.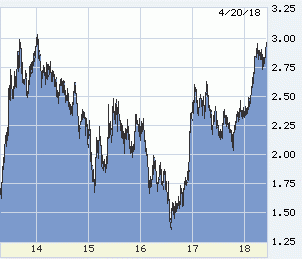 Source: Wall Street Journal
The yield on the Ten-Year Treasury is based on the market's best guess of where rates should be over the next decade. The rate falls in yield when the bond rises in price—when demand exceeds supply—as was the case in September. When Hurricane Harvey approached Houston, and catastrophe insurers faced possible ruin, the 10-year Treasury dropped in yield to 2.06%. That was the lowest the bond had been priced since the day before the 2016 election. The low mortgage rate in September of 2017 was 3.78%. Mortgage rates get "stickier" on the way down, that is, while mortgage rates will rise in near lock-step with Treasuries when Treasury rates fall, mortgage rates will not fall as fast. For example, July of 2016 was when the 10-Year Treasury was 1.366% and the average 30-year mortgage rate was 3.41%.
The average list price of a house for sale in the United States at the end of March was $261,500. A 30-year mortgage at a 4.47% fixed rate would entail a monthly payment of $1315. But that is just the mortgage. Lenders also require Personal Mortgage Insurance (PMI), which works out to about 1% of the total loan amount per year. So the average home listed today would require, with PMI, $1533 per month or $18,400 per year. A borrower's front-end ratio includes mortgage payment, fees, property taxes, PMI and homeowner insurance and must be less than 31% of the home-buyer's income for a Federal Housing Administration (FHA) home loan (28% for a bank loan). Just the mortgage payment and PMI on an average 30-year fixed rate mortgage would require that the homeowner have an income of $59,354. The average household income in the United States in 2016 was $59,039.
A prospective homebuyer, whose annual income does not qualify for traditional financing, but wants to own a property now has alternatives. A motivated seller might choose a "rent-to-own" or "land-contract" arrangement for a known and trusted buyer, thereby sidestepping institutional financing. Before the Great Recession of 2008, mortgage brokers used adjustable-rate loans with very low initial rates that adjusted upward in as little as three months. Buyers were soon unable to make the increased monthly payments and lost their houses, but the mortgage brokers and real estate agents were paid their commissions. Loans were made for as much as 125% of the appraised values of the purchased homes. Those appraised values were also often inflated. This practice was later labeled predatory lending. Prospective homebuyers trusted mortgage brokers, real estate agents and home appraisers who told their customers what they wanted to hear.
Trust between parties in a transaction can now be programmed into a smart contract on a distributed ledger network. Parties unknown to each other can decide to trust an encrypted transaction, which cannot be reversed and is permanently recorded on a decentralized network of computers that simultaneously affirms the settlement. Using blockchain technology, Homelend has created another alternative for housing finance. Unlike the traditional mortgage application, which is paper-based and can take weeks or months; Homelend digitally speeds the process and establishes trust via an encrypted, anonymous, transparent and immutable distributed ledger. Instead of trusting one centralized institution to coordinate all the disparate parties involved in a real-estate transaction, Homelend's digital process coordinates the various phases in real-time. The roles of buyer, seller, financial institution, rating agency, appraiser and broker are updated instantaneously as to the progress of each.
Beyond the efficiency and absolute trust provided by blockchain, Homelend offers a crowd-funding alternative. A member of the Homelend network can decide to fund a "slice" of a borrowers mortgage. Each slice—$10,000 for example—is given a "risk score" and a commensurate interest rate. Those member-lenders who wish to take the least risk will be rewarded with a lower interest rate. Less risk-averse lenders might choose slice with a higher payout. Homelend's slices are very similar to the "tranches" into which collateralized mortgage obligations (CMO's) are divided. Tranches with shorter maturities carry lower interest rates; those with longer maturities have higher yields. The Homelend crowd-funding platform will be enabled with Homelend tokens (HMD), which the borrower will use to pay a fee at the time of closing.
With the 10-year Treasury nearing its highest yield in a decade and mortgage rates being pushed ahead of them, the annual incomes of fewer potential real-estate buyers will qualify for traditional mortgage financing. With housing prices having risen 8% in the last year and projected to rise 4.2% in the next, even more buyers could be priced out of the market. Another contribution to rising housing prices could be the labor shortage in the construction industry. Fewer houses on the market could also mean higher prices for those being listed.
When the Dow Jones Industrial Average (DJI) failed to make a new high after its February fall and then established a new low (23,957 3/22/18), one Dow Theory bear market signal fell into place. The second occurred when the Dow Jones Transportation Average (DJT) established its lower low (10,119 4/9/18). With the 10-year Treasury Bond closing within 8 basis points of a new 10-year high, stock investors may wish to retreat to a guaranteed 3% return versus the less than 2% dividend yield available from the Standard & Poor's 500 Index, since a bear market could erase another 10% or more of market value. First the DJI signaled the coming bear market, and then the DJT confirmed that signal. Now a 3% Treasury may prove that bad news really does come in threes.