---
Top Secret Intel Source Aiding Mueller Probe Is Behind Latest Clash Between DOJ And Nunes
House Intel Committee Chairman Devin Nunes (R-CA) was denied a cache of classified information by the Department of Justice (DOJ) after the White House backed senior FBI and national intelligence officials who told them the materials were too hot to give to him - and "could risk lives by potentially exposing the source, a U.S. citizen who has provided intelligence to the CIA and FBI, reports the Washington Post, citing multiple sources. The FBI made the urgent request to the White House last Wednesday claiming that even a redacted version of the request could risk lives by exposing a top-secret intelligence source.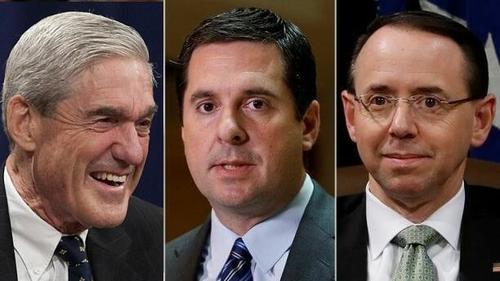 Which begs the question:
If this individual working with law enforcement is such a high value asset of paramount importance to national security, why are we finding out about it via the Washington Post? https://t.co/hU2pVbDoxc

— Benjamin Weingarten (@bhweingarten) May 9, 2018
White House officials agreed to the DOJ's request with President Trump's blessing - however the Post notes "it is unclear whether Trump was alerted to a key fact -- that information developed by the intelligence source had been provided to the Mueller investigation." 
Whatever the case, the U.S. intelligence community clearly doesn't trust Nunes with this information. 
For the intelligence agencies, Nunes's request threatened to cross a red line of compromising sources and methods of U.S. intelligence-gathering, according to people familiar with their views. Intelligence officials fear that providing even a redacted version of the information Nunes seeks could expose that person and damage relationships with other countries that serve as U.S. intelligence partners. -Washington Post
Nunes requested the information in a classified April 24 letter to the Justice department. Due to the confidential nature, we don't know exactly what the DOJ is holding back, however he told reporters this week that he is investigating FBI Foreign Intelligence Surveillance Act (FISA) abuse and "other matters." 
The Post notes that the involvement of the White House marks a rare "moment of alignment between the Justice Department and Trump, who has relentlessly criticized Attorney General Jeff Sessions and other top Justice officials for the probe into Russia's interference in the 2016 election led by special counsel Robert S. Mueller III." 
House Republicans and the DOJ are now in a heated battle over the actual risk to the agency's top-secret source - with Nunes saying Sunday that he may try to hold Sessions in contempt for refusing to comply with his request. 
Nunes told OAN News: "The bottom line is we've had this investigation going for a long time into FISA abuse that occurred by the executive branch."
"We need documents to be able to verify if things were done properly or improperly, so that's what we're waiting on. So we sent a letter a few weeks ago, a classified letter. That letter was not responded to, it was ignored. We issued a subpoena... We got back on Thursday that they will not comply, so now we have no other choice but to move to hold the Attorney General in contempt if they don't provide the documents."
"They are citing spurious national security concerns to evade congressional oversight while leaking information to The Washington Post ostensibly about classified meetings," Nunes told The Post. "Congress has a right and a duty to get this information and we will succeed in getting this information, regardless of whatever fantastic stories the DOJ and FBI spin to the Post."
Administration officials tell The Post that they are concerned Trump will change his mind and support Nunes' argument. 
The role of the intelligence source in the Mueller investigation may now be seized upon by conservative Republicans who have publicly accused the Justice Department and intelligence agencies of overreach and misuse of their surveillance powers. -WaPo
To that end, several House GOP drafted articles of impeachment against Deputy Attorney General Rod Rosenstein as a "last resort" if he doesn't hand Congress more information. 
In a similar vein, Nunes threatened to impeach DAG Rosenstein and FBI Director Chris Wray if they didn't immediately hand over an unredacted copy of the two-page document outlining the original scope and mandate of the Mueller Special Counsel investigation. The DOJ eventually acquiesced to Nunes' threat, providing him with access to modestly redacted copies - for which Nunes thanked Rosenstein.
That said, Rosenstein pushed back in comments at the Freedom Forum Institute - telling the audience that while he is willing to work with Congressional investigators - he will draw the line when he needs to, exclaiming that the Justice Department was "not going to be extorted" into handing over documents that could harm national security or interfere with ongoing investigations. 
"If we were to just open our doors to allow Congress to come and rummage through the files, that would be a serious infringement on the separation of powers, and it might resolve a dispute today, but it would have negative repercussions in the long run, and we have a responsibility to defend the institution," Rosenstein said.
Not everyone agrees...
Not buying it, given constant games played by DOJ to obstruct Congress. This looks a lot more like pre-emptive hostage-taking for PR purposes, hence the leak that insinuates a bunch of stuff it doesn't quite deliver. https://t.co/ioZieWqs5T

— Sean Davis (@seanmdav) May 9, 2018
WaPo is doing a poor job masking the fact they're playing defense for Mueller. Nunes must stop because "national security". Yet FBI Obama holdovers have been busted countless times using nat sec excuse only to find out in unredactdd reports they had a purely political motive. https://t.co/N0OOAGMcQa

— Jordan Schachtel (@JordanSchachtel) May 9, 2018
Last time DOJ claimed Nunes was "reckless" and "harming national security" was when they were trying to hide their FISA abuse. Proponents of Russia probe later said HPSCI memo on same was no biggie. It was of public interest, but it obviously wasn't a threat to national security.

— Mollie (@MZHemingway) May 9, 2018
Gregg Jarrett on why Sessions and Rosenstein must be held in contempt: The FBI and DOJ redacted the very documents they kept secret in order to cover up the corruption of James Comey and Robert Mueller. pic.twitter.com/wLRUYlDVOz

— Josh Caplan (@joshdcaplan) May 9, 2018