A day after Israel fired over 20 missiles into the Gaza Strip, tensions exploded in the heart of Jerusalem's Old City where Jewish settlers attempted to storm Islam's third holiest site, the Al-Aqsa Mosque, and raise Israel's flag.  "Hundreds of settlers stormed the compound along with a large Israeli police force," Firas al-Dibis, a Palestinian official who oversees the city's Islamic religious sites said in a statement.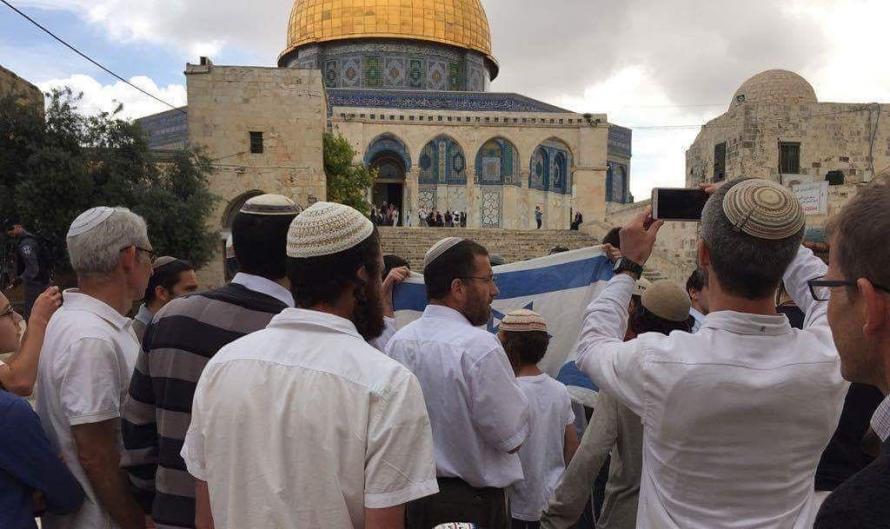 Though tensions are already high with the impending American embassy opening in Jerusalem as part of the White House's recognition of Jerusalem as Israel's capital, today also marks 'Jerusalem Reunification Day' (or simply Jerusalem Day) - an Israeli national holiday commemorating the reunification of Jerusalem in the aftermath of the June 1967 Six-Day War, when the Israelis gained permanent control over the Old City. 
During the morning hours on Sunday, hundreds of Jewish settlers reportedly forced their way into East Jerusalem's Al-Aqsa mosque compound and unfurled a large Israeli flag in the courtyard before being pushed back by police as fighting ensued.
More than 500 #Israeli settlers enter #alAqsa mousqe in the day of what Israeli consider #Jerusalem unification day, leading to clashes between #Palestinians and Israel security. Video by Rami khatib pic.twitter.com/nC5kWqrPRJ

— Nasser Atta (@nasseratta5) May 13, 2018
#Israeli settlers who stormed #alAqsa mousqe raised the Israeli flag inside the the Plaza of al Harem al sharif in #Jerusalem , very tense now and several #Palestinians were arrested. Video by Firas Dibs pic.twitter.com/09N8MTOpF6

— Nasser Atta (@nasseratta5) May 13, 2018
Israelis refer to the area on top of which Islam's third holiest mosque sits as the "Temple Mount" as it is purported to be the site of two Jewish temples in ancient times, now the location of the Western Wall. 
Much of the event was filmed and shows the aftermath, with both Israelis and Arabs chanting and screaming at each other while being separated by Israeli police. At the moment the flag was unfurled, however, Israeli police do appear to briefly allow the stunt to take place, before pushing the crowd of Jewish settlers back. 
Palestinian Authority (PA) government spokesman Yousef al-Mahmoud formally condemned the incursion: "What the settlers have done is a heinous crime against our people, our nation, our sacred sites and our history." Neighboring Arab countries like Jordan also issued formal statements of condemnation of "Israeli violations and provocations against Al-Aqsa Mosque"
It's the most tense days in #Jerusalem ( US embassy move , #Nakba day, ) and its even more intense after allowing hundreds of right wing settlers activist storming #alAqsa mousqe in #Jerusalem pic.twitter.com/91Xzh2DEld

— Nasser Atta (@nasseratta5) May 13, 2018
Israeli forces attack worshipers, arrest guard in al-Aqsa Mosque. Palestinians will mark anniversary of Nakba day or 'catastrophe' on Tuesday. #FreePalestine pic.twitter.com/T6D10flL2U

— Press TV (@PressTV) May 13, 2018
Middle East based reporter Nasser Atta put the Jewish settler numbers at 500. Meanwhile video footage shows the Palestinian side of the melee to be much smaller, and it appears that Muslim clerics were present. Atta further reported, "Israeli settlers who stormed Al-Aqsa Mosque raised the Israeli flag inside the the Plaza of al-Harem al-Sharif in Jerusalem, very tense now and several Palestinians were arrested.
And fighting in the Old City and around Jerusalem is sure to vastly increase in the coming days as Palestinians prepare for Nakba Day on May 15. The "Nakba" which literally translates to 'disaster' or 'catastrophe' is an annual day remembering the Palestinian displacement that preceded and followed the Israeli Declaration of Independence in 1948.
Jerusalem Day has arrived! Huge celebration at the Western Wall. pic.twitter.com/iQImDuyLpw

— Karen Vaughn (@KarenVaughn_GSM) May 13, 2018
Widespread protests and violence break out every year, but this week promises to be particularly explosive as ceremonies marking the opening of the new US embassy in Jerusalem are set to begin Monday — one day before the Nakba.
A number of high US officials will be in attendance for Monday's embassy opening ceremony, including Ivanka Trump and Jared Kushner who have already arrived in Israel on Sunday. 
Jerusalem embassy: Ivanka Trump and Jared Kushner arrive for Monday opening https://t.co/KFQvvYbb0v

— BBC News (World) (@BBCWorld) May 13, 2018
According to USA Today:
About 800 guests are likely to attend Monday's ceremony, including members of Congress. Deputy Secretary of State John Sullivan will lead the U.S. delegation, along with Ivanka Trump and her husband, Jared Kushner, the president's son-in-law and adviser; Treasury Secretary Steven Mnuchin; and U.S. Middle East peace envoy Jason Greenblatt, the White House said this week.
Good timing? We think not. Or perhaps it's a purposeful and forceful message to both Hamas and Palestinian National Authority leadership, and to Palestinians in general. But clearly they are not going to receive the message with any level of resigned passivity.